Wines for Winter
Jo Burzynska picks a dozen of the best to warm up the cold nights ahead
Saturday June 4, 2016
"Now winter nights enlarge
This number of their hours;
And clouds their storms discharge
Upon the airy towers.
Let now the chimneys blaze
And cups o'erflow with wine,
Let well-tuned words amaze
With harmony divine."
— From Now Winter Nights Enlarge by Thomas Campion

With winter on its way at last, it's time to reach for the rich, ripe, savoury wines that suit the season's more robust fare. I've selected a delicious dozen fitting for the winter table or curling up with by the fire.

RIPE DELIGHTS
Vidal Hawkes Bay Merlot Cabernet Sauvignon 2014 $15.99
We're lucky to be entering a winter in the wake of a succession of strong vintages from our main full-bodied red-producing region of Hawke's Bay. There are great ripe examples to had at all price points, such as this amazing value merlot cabernet with its concentrated cherry liqueur fruit laced with roasted spice and a hint of herb. Available in grocery and traditional liquor outlets.
Il Mandorlo Salento Negroamaro 2014 $18.95
Wines from warmer climes have the ripeness that works well once the mercury drops, such as this supple and full-bodied red from Italy's sunbaked south. It exudes ripe blackberry and black cherry fruit, along with notes of dried fig and sweet spice, finishing with a fragrant flourish of tobacco and florals. From Fine Wine Delivery Company, The Good Wine Company, Accent on Wine, Point Wines, Primo Vino.
Squawking Magpie "Stoned Crow" Gimblett Gravels Syrah 2013 $44.95
If you're looking for a treat, then this seriously seductive syrah should satisfy. Aromas of exotic pepper and cinnamon, violet and rose florals combine with a subtle savoury, earthy undercurrent wrapped around a core of tightly wound fresh black plum fruit. From Caro's, Herne Bay Cellars, Farro Fresh stores, Point Wines, First Glass, Matakana Liquor.
Columbia Crest Grand Estates Columbia Valley Syrah 2013 $27
This fragrant and sweetly-fruited American syrah is a vinous version of a onesie. Allow yourself to be enveloped in its plush bottled plum fruit, infused with sweet toasty oaky notes of vanilla and coconut. From Herne Bay Cellars.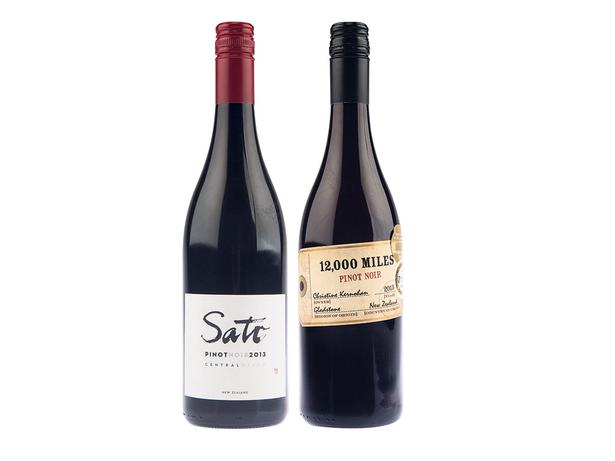 Sato Central Otago Pinot Noir; 12,000 Miles Gladstone Pinot Noir. Pictures / Supplied.
SAVOURY SIPPING
Sato Central Otago Pinot Noir 2013 $65
Pinot noir may have a lighter profile, but the savouriness of some examples comes into its own with winter dishes. This is an intriguing example made by natural winemaker Yoshiaki Sato with bold black and sour cherry fruits infused with aromatic notes of spice and wild flowers and hint of charcuterie supported by structuring tannins and thrilling line of acid. Take the time to witness this wine unfold over a long winter's night and you'll be well-rewarded. From winediamonds.co.nz
12,000 Miles Gladstone Pinot Noir 2013 $27
Another savoury style of pinot, this time from Gladstone in the Wairarapa. Over a base of forest floor and herb, tangy fruits of the forest are layered in an elegant, earthy example that punches well above its weight at this price. From Fine Wine Delivery Company, gladstonevineyard.co.nz, Boric Food Market, The Village Winery and New World Havelock North.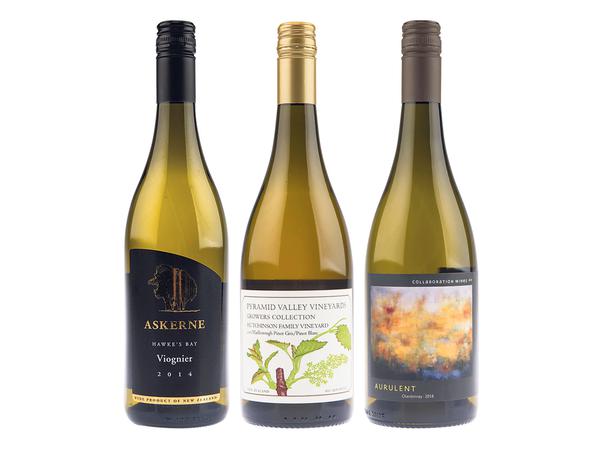 Askerne Hawkes Bay Viognier; Pyramid Valley Pinot Gris/Pinot Blanc; Collaboration Aurulent Hawkes Bay Chardonnay. Pictures / Supplied.
RICH WHITES
Askerne Hawkes Bay Viognier 2014 $22
You don't have to forgo whites in winter, just opt for more voluptuously textured varieties such as viognier, which with its weight and richness is something of a red wine drinker's white. Askerne's is a wonderfully mouth-filling example with ripe peach fruit and hints of honey, white pepper and florals, balanced by a fresh lift on its finish. From Primo Vino, Centre City Wines & Spirits, El Borracho Wine Shop, Glengarry Victoria, Matakana Liquor Centre.
Pyramid Valley Vineyards Growers Collection Hutchinson Family Vineyard Marlborough Pinot Gris/Pinot Blanc 2015 $35
A deeply impressive inaugural release from Pyramid Valley of a blend of pinots gris and blanc from the Hutchinson Family Vineyard. An opulently textured, intensely flavoured wine that layers rich baked quince and apple fruit with notes of acacia honey and nut, along with fragrant notes of blossom, spice, vanilla and a lift of lemon zest. From Great Little Vineyards, pyramidvalley.co.nz
Collaboration Aurulent Hawkes Bay Chardonnay 2014 $44.50
Umami-rich barrel fermented chardonnay has the savoury depth to work in winter. Collaboration has been making consistently impressive examples, the 2014 possibly its best yet. It balances power with elegance in its fresh palate of grapefruit zest and white peach fruit, with hints of spice and flint over a subtle savoury undercurrent. From Herne Bay Cellars, The Village Winery, Point Wines and collaborationwines.co.nz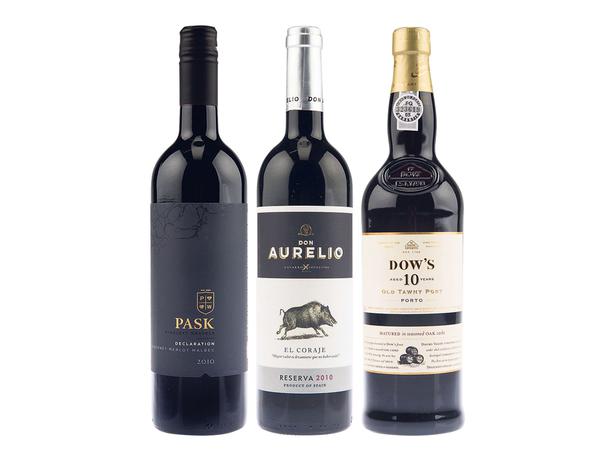 Declaration Hawkes Bay Cabernet Merlot; Don Aurelio "El Coraje" Valdepenas Reserva; Dow's Ten Year Old Tawny Port NV. Pictures / Supplied.
MELLOW MOMENTS
Declaration Hawkes Bay Cabernet Merlot 2010 $49.95
The rich stews and slow-cooked meats of the season are well-matched with the mellow, savoury characters that develop in reds as they age. In this marvellous mature cabernet blend, dense blackcurrant fruit with hints of herb, spice and savoury is underpinned by melting tannins. From Glengarry.
Don Aurelio "El Coraje" Valdepenas Reserva 2010 $17.95
Though most wines made to age sport significant price tags, this supple Spanish 6-year-old quite amazingly clocks in at under $20. Soft and savoury, its dark berry fruit is joined by notes of spice, leather, cocoa and tobacco in a newly imported older wine offering some of the best value you'll find this season. From Caro's Wine Merchants.
Dow's Ten Year Old Tawny Port NV $71.99
Russet-hued tawny is a style of port whose ageing has all been done in barrel, so it's smooth and mellow on release. In this classic example, redolent of fruitcake, notes of walnut meld with dried fruit and chocolate. From selected fine wine retailers.
Share this:
More Food & Drink / Wine & Drink