Rustic Winter Bake Recipe
Try Eleanor Ozich's bake with bechamel sauce for a delicious winter dish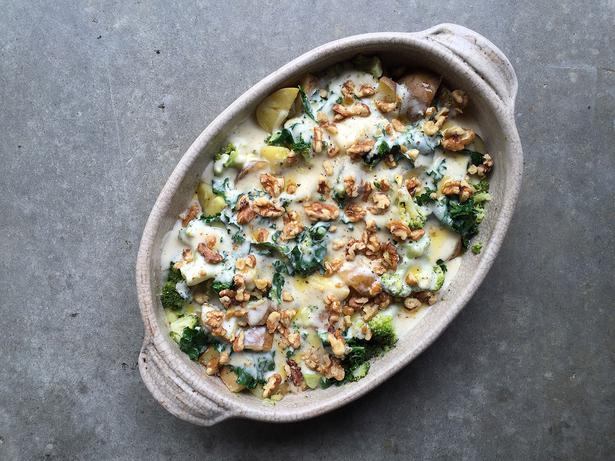 Thursday Aug. 4, 2016
One of those last minute affairs, using left over roasted vegetables to create a pleasing winter bake. Broccoli, potato and kale are cooked until ridiculously tender and then hidden under a blanket of luxurious béchamel. It's richness is made even more delicious using cream and parmesan in the sauce. I have also tried a version using almond milk for those who are avoiding dairy.

RUSTIC WINTER BAKE RECIPE
Serves 4 as a side 
For the béchamel sauce:
2 Tbsp butter
1 Tbsp tapioca flour or cornflour
2 cups milk*
A large handful of grated parmesan, about half a cup
½ tsp ground nutmeg
*You can use half milk and half cream for a more luxurious sauce, or almond milk as a dairy free option.
1. For the vegetables, you could use leftover cooked cauliflower, broccoli, collard greens and potatoes, enough to fill a large roasting dish.
2. For the topping, I used 1 cup walnuts, sourdough breadcrumbs and a mixture of seeds also works wonderfully.
3. To make the béchamel sauce, heat the butter in a saucepan until bubbling. Sprinkle over the flour, and cook while stirring for a minute or so. Remove from the stove top.
4. Slowly trickle in about 2 cups of milk (here you can use almond milk or a half ratio of milk/cream) whisking constantly, until smooth. Return to the heat, and stir with a wooden spoon until thick and luscious. Stir in the grated parmesan, a flick of ground nutmeg, sea salt and freshly ground pepper.
5. Arrange the vegetables in a large roasting dish, then pour the béchamel on top. Sprinkle generously with sourdough breadcrumbs, nuts or seeds. Bake in the oven until bubbling and golden.
• For more from Eleanor Ozich see petite-kitchen.com  
Share this:
More Food & Drink / Recipes