Behind the Scenes at Wither Hills' Winery
A day with the team at Wither Hills reveals much more than grapes go into a good bottle of wine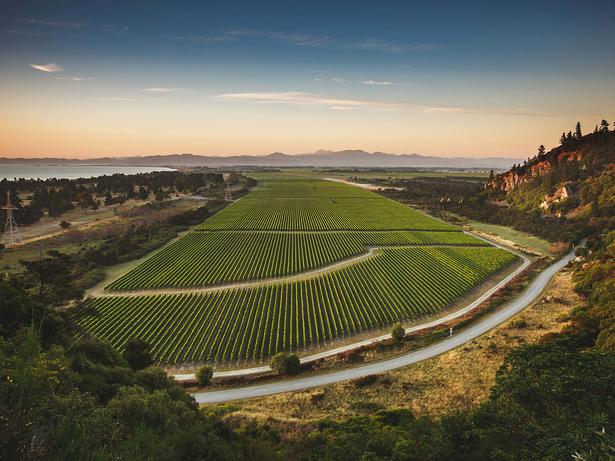 Tuesday June 13, 2017
There's a magic spot halfway up a hill just out of Blenheim that overlooks the long expanse of Cloudy Bay in one direction, and has views of the far-off snow-capped peak of Tapuae-o-Uenuku in the other. In the foreground are rows and rows of neatly planted vines, today glowing with the last of the afternoon sun on what's been a perfect autumn day.
Wither Hills viticulturalist Sam Scarrett has brought me to this special place, about 20 minutes northeast of the Marlborough town, to show me how the winery's Rarangi Vineyard sits just 600m from the coast, giving the grapes on it a unique flavour profile. But she's also proudly showing off her pet project, the Rarangi Wetlands, which occupies a 50ha section of the vineyard.
The restoration of the wetlands has been a labour of love to which Sam and many of her colleagues have dedicated years, successfully eradicating a lot of weeds (including Old Man's Beard and water-sucking willows) and seeing good results with young tree plantings in particular.
"We've got two kahikatea [white pine] now, which I think is one of the largest stands in the Wairau Plains."
Back at ground level, we take a drive through the vines, which are just starting to lose their autumnal red-brown leaves from a recent spate of frosts; the pruning and stripping process has just started and the vines will soon be wrapped to get them ready for next season. With more than a million vines across the winery's nearly 400ha of vineyards, this massive job will take several months.
Rarangi is one of three of the company's vineyards from which a Single Vineyard wine is produced (the other two are Ben Morvan and Taylor River), and its sauvignon blanc has a backbone consisting of minerality, sea salt and lime. Sam describes the flavour profile of the grapes — mostly riesling, pinot gris and sauvignon blanc — as "coastal".
"The soil profile is really different out here. We call it 'pea gravel'. Thousands and thousands of years ago [the vineyard] would have been part of the beach.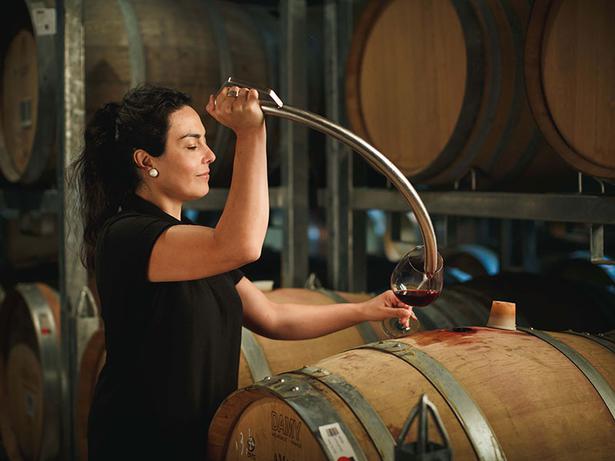 "I love this vineyard. When you're working in it, you can hear the waves crashing. It's relaxing."
I've managed to escape the layer of fog covering Auckland to spend a few hours with the team at Wither Hills, who are catching their collective breaths after one of the most challenging wine harvests in years thanks to the double whammy of cyclones Debbie and Cook.
The winery's cellar door is slightly elevated and faces north, with the Wither Hills themselves at its back, while the views in the other direction are of pretty vines and farmland. One of the rooms at the top is where William and Kate enjoyed a private lunch during their royal visit to New Zealand in 2014.
The responsibility of ensuring the pinot noir and chardonnay here sings lies on the petite shoulders of passionate Chilean winemaker Patricia Miranda-Taylor. Making these two varieties, she tells me, is a very hands-on operation. Every single drop goes into barrels — many of which are stored in the impressive Barrel Hall underneath the winery.
The style of chardonnay currently made at Wither Hills is a good reflection of the land its grapes are grown on: vibrant, with bright acidity and a smooth and creamy palate. And no variety expresses its sense of place better, she tells me, "than our pinot noir", with its bright fruit expression and well-balanced layers of complexity. Making pinot noir in particular is a challenge, Patricia explains, because it is such a sensitive and delicate variety.
"Every single decision you make in the vineyard has an impact on the result."
The blending and barrel process is a dynamic process, with constant tastings and analysis to get the wine just right. "As a winemaker, you keep seeking perfection, seeing what works and what doesn't to learn how we can make the wine better."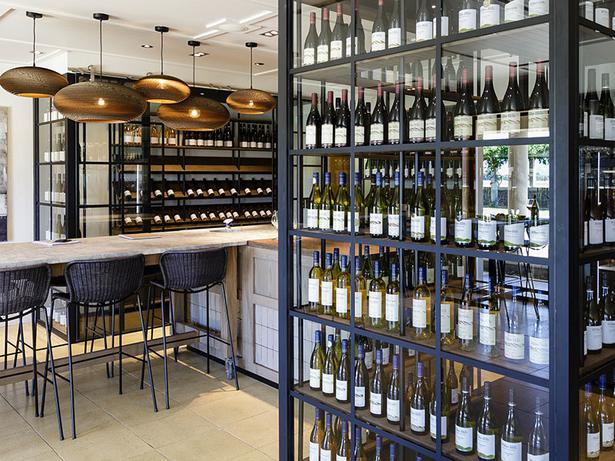 For consumers, it's all too easy to skip over the effort that it's taken to get a bottle of wine on to the shelves of your local supermarket or wholesaler. Thousands of variables play a part in each finished product.
The weather events during this year's harvest over March and April are an example of how circumstances out of your control can have an impact, but Sam and Patricia are happy with how the team handled the situation, and optimistic about the wine they'll produce despite of it. Picking decisions were proactive and made on the fly.
"We just had to change how we do things a little bit to bring in the fruit that was still to a quality standard that we were really happy with," Sam says.
Patricia: "Some fruit was excellent, some was compromised, so we picked around that fruit. A lot more was picked by hand this year to get the best. We worked very well with the growers to get the best outcomes."
The next step is blending and bottling the 2017 white wines and the 2016 reds. Harvest may be behind them, but life in this busy winery goes on.
IN THE FAMILY
One of the biggest developments at Wither Hills in recent times has been bringing the winery's restaurant in-house. Designer Paul Izzard has created a warm and inviting space with stylish interior finishes, and added an outdoor courtyard, all set up to make the most of the vineyard views.
Executive chef Ross Harrison's menu — an "honest use of local seasonal produce" — comes with Wither Hills or Daniel Le Brun pairing suggestions: think a delicate scallop and crayfish bisque ($19) with the SV Rarangi Sauvignon Blanc 2012 or the excellent Bruce's Road Duck Pansotti (big parcels of Italian Riviera ravioli with marinated and pulled duck) with a rich and flavoursome duck broth, pancetta, porcini, pecorino, onion and sage ($25), with the Cellar Release Gewurztraminer 2012.
Share this:
More Food & Drink / Wine & Drink