Yasmin Newman's Candied Kalamansi Cake
The magical citrus kalamansi radiates with a floral fragrance and a sour, slightly sweet juice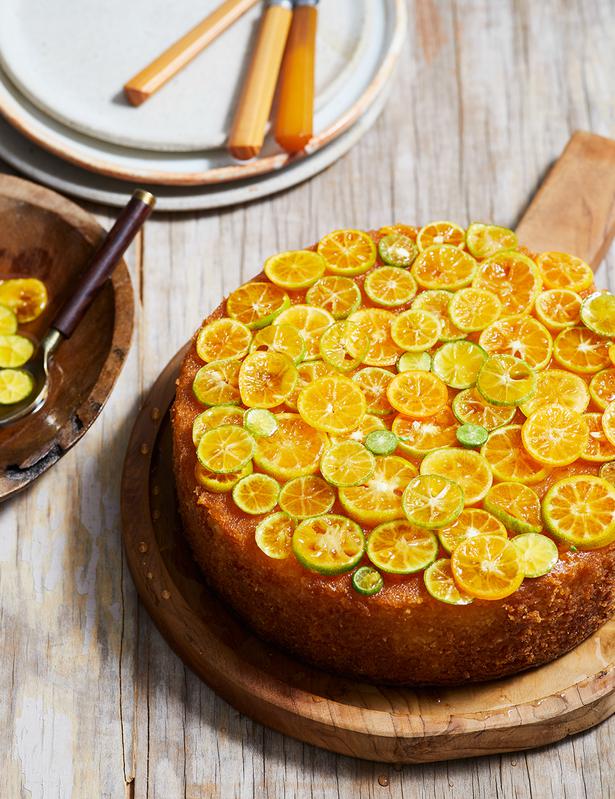 Tuesday Dec. 14, 2021
When asked what defines Filipino food, I always include kalamansi.
Despite its diminutive size, our magical native citrus radiates with a floral fragrance and a sour, slightly sweet juice – somewhere between lemon, lime and mandarin.
It grows everywhere and abundantly, which explains its presence in almost all our dishes and our love for tart, mouth-tingling flavours.
By contrast, it's less commonly used in traditional sweet dishes. I'm not sure why, but this enigmatic cake with a buttery coconut base drenched in kalamansi syrup is my sweet homage to our sour jewels.
Strictly speaking, the kalamansi isn't candied, which toughens its delicate skin and turns the glowing green brown.
Instead, paper-thin slices are plunged into syrup, then poured over just before serving so it's beautifully thick and glossy.
Buying fresh fruit is still difficult, but this cake is worth tracking down someone with a tree; if they're Filipino, they will always share their bounty with you.
CANDIED KALAMANSI CAKE RECIPE
Serves 8
1 ½ cups plain flour
1 ½ cups desiccated coconut
½ cups caster sugar
2 tsp baking powder
1 tsp sea salt
250g unsalted butter, melted, cooled slightly, plus extra for greasing
185ml coconut milk
3 eggs, lightly beaten
1 tsp kalamansi* zest
Candied Kalamansi Syrup
1 cup caster sugar
2 Tbsp kalamansi juice**
1 cup very thinly sliced kalamansi*** , seeds removed
1. Preheat the oven to 180C. Grease a 20cm round cake tin and line the base with baking paper.
2. Whisk the flour, coconut, sugar, baking powder and salt in a large bowl. Whisk the melted butter, coconut milk, egg
and kalamansi zest in a separate bowl. Add the wet ingredients to the dry ingredients and stir to combine.
3. Transfer the batter to the lined tin and bake for 45-50 minutes, until golden and a skewer comes out clean (if the top browns too quickly, cover the cake with foil). Transfer to a wire rack and cool for 10 minutes, then invert onto a serving plate.
4. Meanwhile, to make the kalamansi syrup, place the sugar and 125 ml of water in a saucepan and bring to the boil over high heat, stirring to dissolve the sugar. Reduce the heat to medium and cook for 12-15 minutes, until very thick and syrupy (if it starts to colour, you've gone too far). Remove from the heat and stir in the kalamansi juice. Cool slightly, then add the kalamansi slices and gently stir, just once, to coat.
5. Spoon the syrup and kalamansi slices over the warm cake and serve immediately.
* or use lime
** substitute for equal parts lime and fresh orange juice
***substitute for a mixture of lemon and orange slices, seeds removed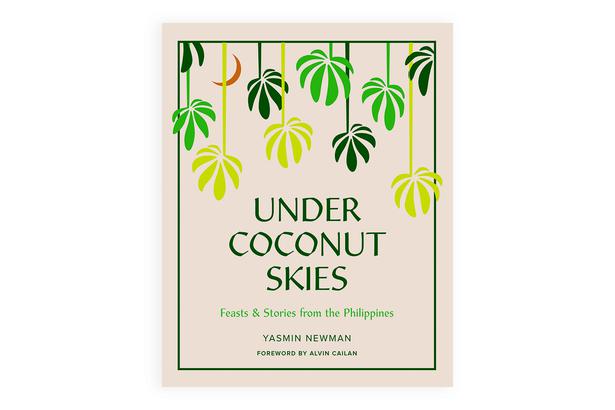 Recipe extracted from 'Under Coconut Skies' by Yasmin Newman, published by Smith Street Books, $55.
Share this: