Yellow Chicken Curry Recipe
Try this sublime yellow curry recipe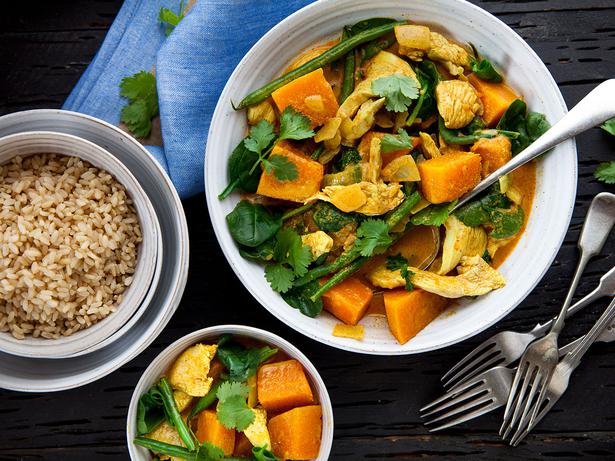 Tuesday May 17, 2016
Yellow curry is generally not too spicy, so it's a good one to serve to get youngsters used to the flavours. The golden colour of the pumpkin and the vibrant green of the spinach work well together and the flavour is sublime.

YELLOW CURRY WITH CHICKEN AND PUMPKIN
Serves 4
• 2 Tbsp oil
• 1 onion, chopped
• 2 cloves garlic, sliced
• 100g yellow curry paste
• 600g chicken breast sliced thinly
• 420g tin coconut milk
• 1 tsp brown sugar
• 3 cups pumpkin, cut in 2cm pieces
• 100g green beans
• 2 cups spinach
• Salt and pepper to season
• 4 cups cooked brown rice to serve
• Coriander leaves to serve
1. Heat the oil in a large pot. Add onion and garlic, cooking for 2 or 3 minutes until softened. Stir through the curry paste until fragrant. Add the chicken and sear the edges while coating in the paste.
2. Pour in the coconut milk and brown sugar and add pumpkin. Cook for 15 minutes until chicken is cooked through and pumpkin soft.
3. Add beans and cook for 5 minutes. Stir through spinach to wilt. Season with salt and pepper.
4. Serve with brown rice and garnish with coriander leaves.
Share this: