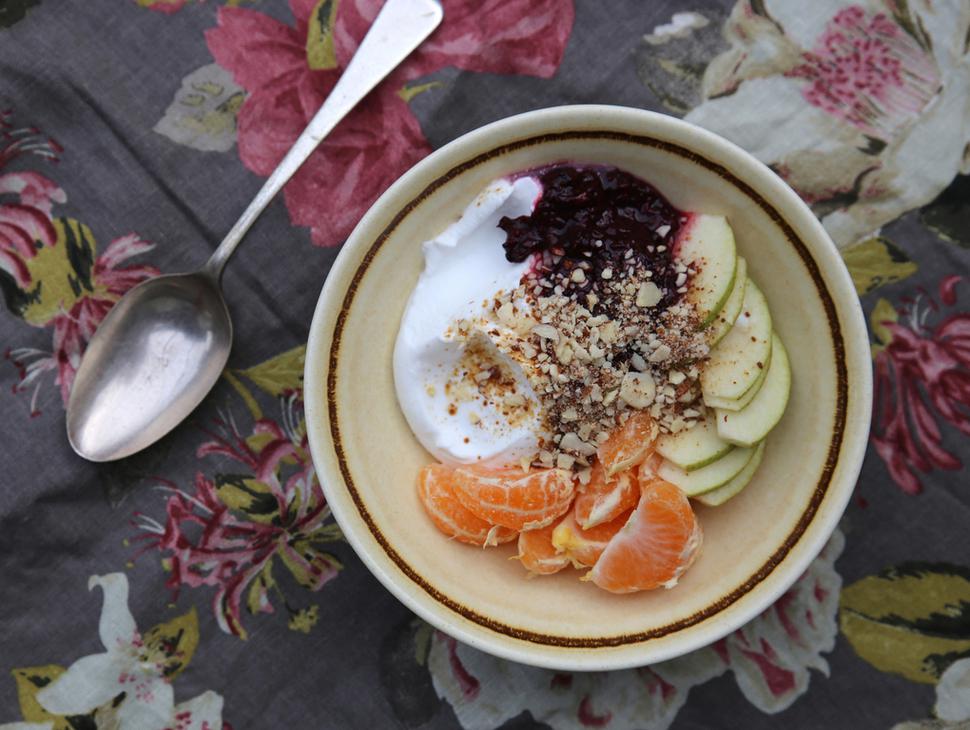 Yoghurt Bowls Recipe with Almond Pangrattato and Berry Jam
Brighten up your day with a delicious yoghurt treat from Eleanor Ozich of Petite Kitchen
Thursday Sept. 18, 2014
These pretty little yoghurt bowls are a perfectly light breakfast, morning tea or even afternoon tea in the summer time. The creamy yoghurt is perfectly balanced with a crunchy home made almond pangrattato and naturally sweetened berry jam. The recipe makes a small jar full of pangrattato, which can be enjoyed for a couple of weeks. You could use coconut yoghurt instead of natural if you are dairy free.

YOGHURT BOWLS WITH ALMOND PANGRATTATO AND BERRY JAM
Serves 4
For the jam:
• ½ cup fresh or frozen berries
• ¼ cup honey, maple or brown rice syrup
• ¼ cup water
• juice of half a lemon
For the pangrattato:
• 1½ cups toasted almonds
• ¾ cup coconut sugar
To serve:
• 1 cup of natural yoghurt or coconut yoghurt
• Fresh fruit, finely sliced

1. Add the berries, honey and water in to a small saucepan over medium heat. Bring to a soft boil, and simmer for 15-20 minutes or until soft and pulpy.
2. Stir in the lemon juice, and then leave to cool completely.
3. Add the toasted almonds and coconut sugar in to a food processor. Process until a rough bread crumb consistency is achieved. Transfer in to an airtight container or sterilised jar.
4. To serve, divide the yoghurt and fresh fruit between bowls, add a dollop of the berry jam and a generous sprinkle of the pangrattato.
Share this: