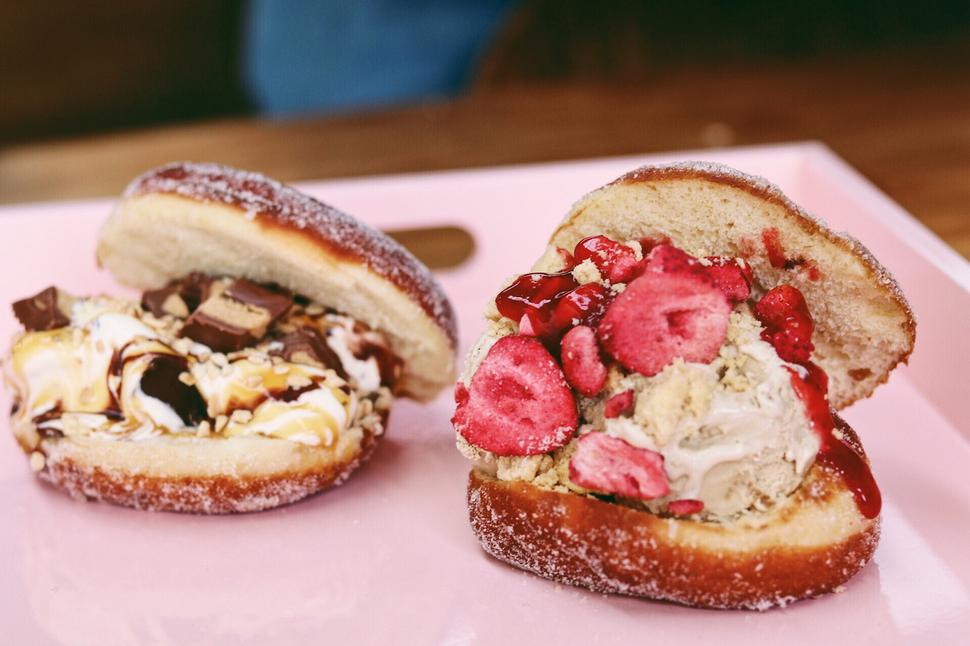 These Hobsonville Doughnuts Are Making Valentine's Day That Much Sweeter
Valentine's Day is the perfect excuse to get your mitts on Yolanda and Wolfe's coveted doughnuts
Thursday Feb. 7, 2019
The couple behind Yolanda and Wolfe, a coffee and doughnut caravan parked in Hobsonville, is making Valentine's Day a little bit sweeter with specialty doughnuts that come with all the bells and whistles.
Owners Amy and Chris Guy opened in April last year with the simple dream of serving good coffee and baked goods. Amy is a baker by trade and Chris a coffee technician and barista, and after living in Melbourne they decided to bring a taste of its food scene back home.
READ: Where To Find: Auckland's Best Nostalgic Baking
"We're locals out here too, and the area was crying out for somewhere with good coffee and tasty stuff," says Amy.
The pair started with a range of treats but it was the brioche doughnuts that took on a "cult following". Popular fillings include peanut butter and chocolate, lemon curd, and the classic raspberry jam and cream.
They decided to create a Valentine's special which is complete with icecream, sauces and toppings for two doughnuts so more of Auckland could tuck in. "We're all about creating small and delicious celebrations for people," says Amy.
The couple say they make a great team and share parallels to the characters from the movie Pulp Fiction, which inspired the name of their bright-blue caravan. "My husband is like Winston Wolfe: cool, calm and collected," says Amy. "I'm Yolanda, the crazy lady with the fringe and all the ideas!"
Amy says their V-Day plans will most likely be eating doughnut leftovers and then it's up at 4.30am as usual to bake.
• The Valentines special ($40) is available for pickup on the night from 5pm (3 Workspace Drive, Hobsonville) and delivery in Auckland central and west Auckland. Order at Yolandaandwolfe.com
Share this:
More Food & Drink / Desserts