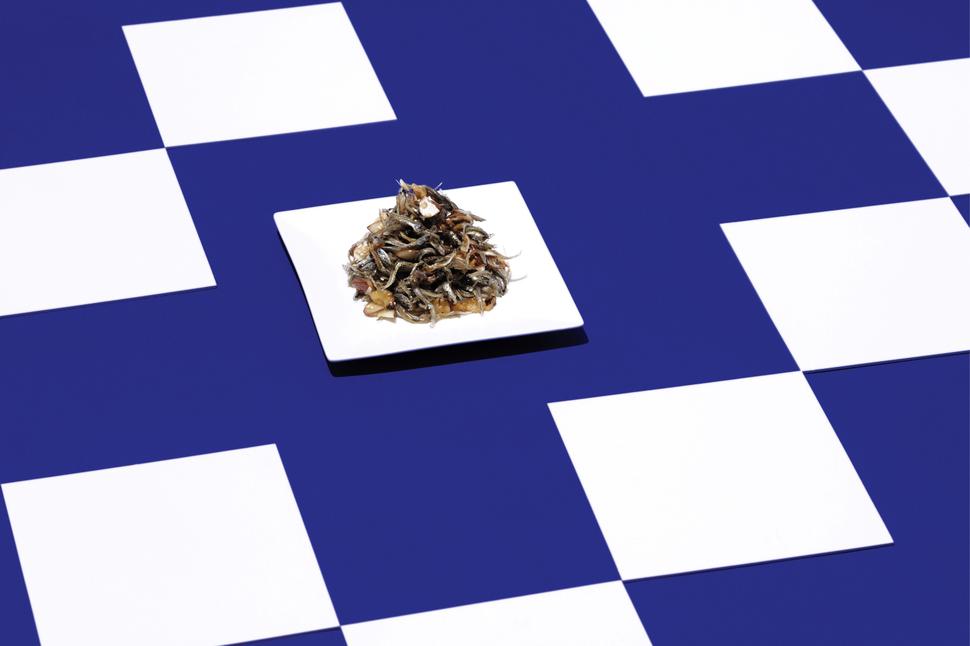 Top Chef Yutak Son's Korean Miyeok-Guk Soup & Myeolchi Bokkeum Anchovies
The head chef at The Shed at Te Motu Vineyard shares his recipes for a heart-warming soup and a deliciously salty anchovy dish, with a supporting act of delectable banchan side dishes
Thursday Sept. 30, 2021
For many Koreans in New Zealand celebrating Korean Thanksgiving (Chuseok) on September 21, meant spending that special day in lockdown.
"I was alone this year because my partner and kids were stuck in Christchurch," says Yutak Son, the head chef at The Shed at Te Motu Vinyard on Waiheke Island, who has previously worked at Little Bird Organics, Orphans kitchen, and Black Estate. "So, I celebrated with a pan full of kimchi and pork dumplings with rice."
As food plays an integral part in this celebration, Yutak shares two easy recipes made to be eaten with rice and banchan — the popular variety of side dishes are a staple part of Korean cuisine.
Chef Yutak recently recreated these side dishes for a special collaboration with the Korean Consulate of Auckland and art collective Satellites to mark Chuseok, with additional batches of braised potatoes and marinated soybean sprouts prepared for Piritahi Marae on Waiheke, to support whanau in need.
"I started working at Stafford Road wine bar in Northcote when I was 19. Over time, I've seen how ingredients can be transformed into components like granitas, gels, dehydrated foams, and much more. My thoughts on how food can be prepared and served has changed immensely."
"Like many nostalgic food memories, it goes back to childhood. Every birthday, I was served miyeok-guk to celebrate, accompanied by a few banchan dishes which included one of my favourites: mylochi bokkum."
MIYEOK-GUK (KOREAN SOUP) RECIPE
There is a tradition in Korea where the mother, after giving birth, is nourished with miyeok-guk for 100 days. The nutrients in the soup are known to help with recovery and producing milk for the baby. We drink this soup to thank our mothers as she ate this for us for 100 days! 
20g dried seaweed
1 Tbsp sesame oil
1 1/2 Tbsp soy sauce
1 1/2 tsp minced garlic
1 Tbsp cooking oil
100g cubed potato (1-2cm)
6 cups water
Salt and white pepper, to taste
1. Soak the dried seaweed in water, enough to cover for 10 minutes.
2. Rinse and drain the seaweed and squeeze to remove excess water.
3. Cut into 3-5cm chunks and set aside.
4. Heat your pot to medium heat, pour in cooking oil then add the seaweed. Stir-fry for 2-3 minutes. 
5. Add in the rest of your ingredients and bring to a boil. Simmer for 10-15 minutes, until the seaweed has softened and the potatoes are fully cooked.  
6. Check for seasoning and serve warm. 
MYEOLCHI BOKKEUM (FRIED ANCHOVIES) RECIPE
Myeolchi bokkeum are dried anchovies fried in soy sauce ('myeolchi' means anchovy and 'bokkeum' means pan-fried). It is a mit-banchan in Korea ('mit' meaning foundation) and a high source of calcium.
80g dried baby anchovies
2 cloves garlic, finely minced 1 tbsp soy sauce
1 Tbsp brown sugar
1 Tbsp honey
1/2 Tbsp toasted sesame seeds
1 Tbsp sesame oil
2 Tbsp cooking oil 
Tip: For something spicier, add in 10g of gochugaru and 20g of gochujang. 
1. In a medium frying pan, pour in the cooking oil and add the dried anchovies. Over a low–medium heat, sauté for 2–3 minutes, stirring occasionally, till aromatic.
2. Place the fried anchovies into a mixing bowl. Add in the rest of the ingredients and mix thoroughly.
3. Serve warm or cold. Keep refrigerated. This will last for at least two weeks in the fridge. 
Both the Mylochi bokkum, miyeok-guk and rice are all eaten together to form a meal. You can also enjoy these additional banchan dishes on the side: Ojingeo-jeot (salted squid), kong jorim (braised soybeans), gamja jorim (braised potatoes), kongnamul muchim (marinated soybean sprouts), and mumallengi muchim (marinated spicy dried radish).
Share this: