The Luxury Retreat in the Himalayas
India's quintessential health retreat Ananda offers the holistic healing of Ayurveda with a little luxury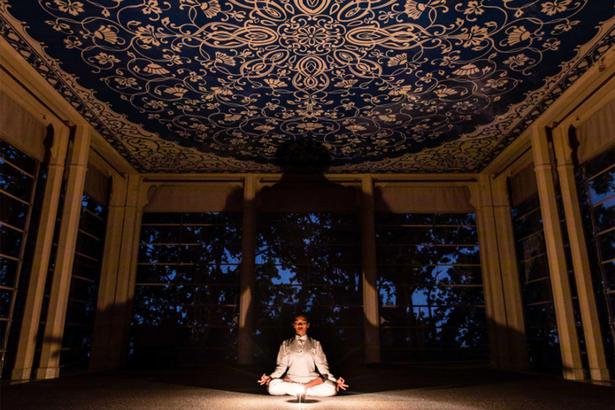 Monday Nov. 20, 2017
"Licence to Drive, Not Fly" and "Drinking whiskey makes driving risky" say the roadside witticisms/warnings. We're about 300 metres above the Ganges and there's another circuitous, vertiginous 600 metres to go before we reach Ananda in the Himalayas. Through the woods, I occasionally make out flashes of that mighty river, radiating silver in the sunlight.
The panorama is welcome distraction from the ceaseless twists and turns, and I'm promised the journey will be worth it - about an hour's flight north of Delhi, Ananda is one of India's most lauded health resorts and an international authority on all things relating to Ayurveda; I'm almost certainly guaranteed to feel far better on my journey down a week from now than I do on this dizzying drive up.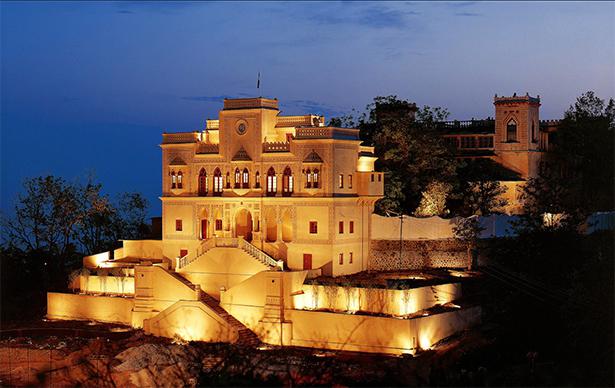 The setting, when we finally reach the property, gets things off to a promising start. In the foothills of the Himalayas, Ananda stands in a 100-acre estate surrounding a 19th-century maharaja's palace, is enveloped by mountains and feels removed from the world. It is pristine and peaceful, with an elevated yoga pavilion that overlooks the treetops; lower down, there's an outdoor swimming pool by the spa, a golf course and lush grounds patrolled by peacocks.
I see monkeys clambering from branch to branch as I make my way to the reception area within the palace. Dressed in the white kurta pyjamas that are provided to all, guests are taking a simple afternoon tea in the lounge next door.
READ: The Luxury Lodges Redefining The South African Safari
Just being here feels soothing and there's no obligation to follow a specific health regime while in residence, but for most visitors, Ananda's Ayurvedic expertise is a core draw.
One of the world's oldest medical disciplines, the Indian practice of Ayurveda asserts we are composed of three doshas, or elements: Vata, Pitta and Kapha. If they are askew rather than evenly represented (and they are for most people, apparently), we won't function at optimum capacity. Ayurvedic practice seeks to identify any imbalances in an individual's doshas, and to administer treatments and modify the diet to establish full equilibrium.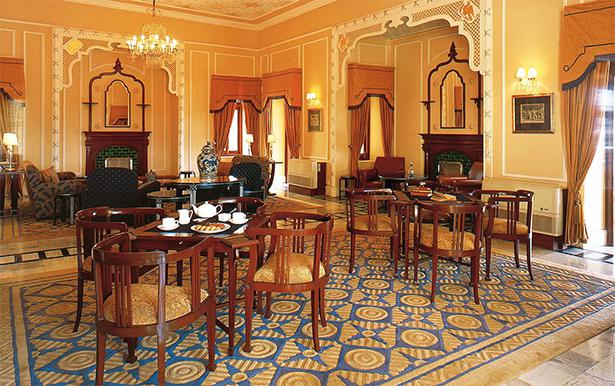 For European travellers new to Ayurveda, there's much that requires adjustment. To identify guests' dominant doshas, Ayurvedic doctors carry out a brief consultation that is both strangely casual and unusually contemplative.
My specialist asked me general, predictable questions about my lifestyle - the propensity for stress, sleeping habits and so on - and felt my pulse in silence and deep concentration for a few moments before delivering a weirdly precise percentage breakdown of my combating doshas. With that assessment in place, the Ananda team is ready to develop a tailored treatment programme that will supposedly realign my lopsided composition.
While many of Ananda's guests are Ayurveda adherents, I've arrived at the resort with some scepticism about the practice. Limited previous experiences seemed simplistic and unconvincing, and my doctor's assessment here, seemingly derived through intuition rather than the technology-aided testing I'm more accustomed to, also seemed spurious.
Though my doubts remain, I'm happy to sign up for a full programme; I'd been assured that if there was anywhere to convince me of the Ayurveda's efficacy it would be here.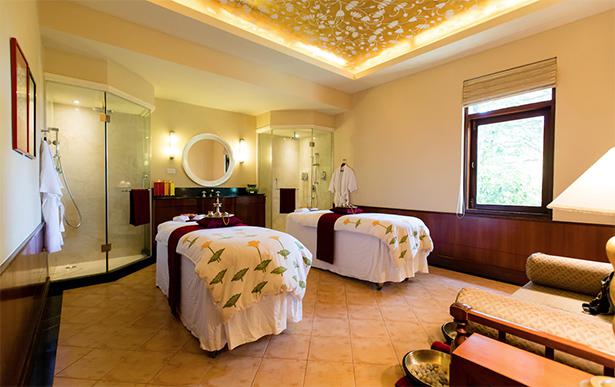 Those treatments take place in the resort's 2300sq metre spa, which features hydrotherapy facilities, a (dated but passable) gym, resident pan piper and a convoy of polite, gentle therapists who administer everything from head massages to reflexology sessions. But it's the Ayurvedic treatments that are the most interesting.
When I'm handed my schedule I'm obliged to ask for a definition of innumerable unfamiliar terms.
Choornaswedan, it turns out, is a four-handed massage whereby therapeutic sweating is induced by heated herb pouches that are bounced on the back like pogo sticks. Sneha vasti is an oil-based enema; nasyam sees medicated oil poured into the nostrils to cure migraines and clear congestion.
READ: Explore the World in the Luxury of a Cruise Ship
A typical programme is highly likely to see patients have foreign liquids inserted into their bodies, be pummelled with hot water shot from a hose and succumb to a series of highly intimate, tender massages while dressed in a minuscule strip of muslin, the process often concluding with a sweet sing-song blessing from the masseuses.
My own schedule follows much the same pattern, with mixed results. Anything involving liquid insertion or expulsion I don't particularly enjoy; some massages are fair, others deeply relaxing; I feel so unexpectedly leaden after a detoxifying hydrotherapy bath that it feels entirely plausible, as my therapist claims, that it is due to toxins leaving my body.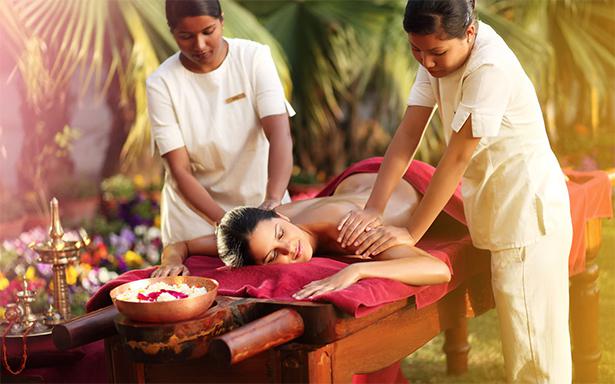 Indisputably impressive, however, is the resort's yoga offering. The property is just 16 kilometres from Rishikesh, also known as the 'yoga capital of the world', beloved by The Beatles in the 1960s and masses of visiting yoga practitioners and Eat, Pray, Love-type serenity-seekers today.
Exceptional local practitioners lead complimentary group classes and private tuition is available, and mindfulness and meditation are encouraged during guided sessions. A series of Vedanta lectures also give guidance on everything from parenting to governing business relationships, though on my first visit the tutor's rambling, fruitless monologue on mental detachment deterred me from joining any others.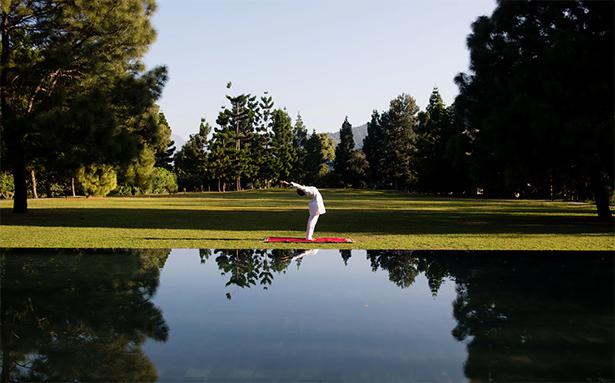 More satisfactory sustenance came during meal times. One of Ananda's greatest strengths is its culinary offering, which includes the expected emphasis on locally sourced, unadulterated ingredients and calorie-restricted menus, but here it's always pleasant and often delicious.
Alternating between a general detox menu and a menu assigned to my dosha, I sampled a full-flavoured, 195-calorie vegetable tian with beetroot puree, sauteed greens and pumpkin sauce; a sugar-free orange and almond cake (92 calories) was allowed for dessert; a generous healthy buffet was on offer at breakfast, menus were imaginative, pleasurable and adequately filling.
For those who want it, there's an expansive, 'regular' menu too offering indulgent curries, a spread of desserts and alcohol. During my meals, I would regularly see other guests enjoy beer and bottles of Coke, and on one occasion a woman celebrating her birthday was surprised by staff with a chocolate cake.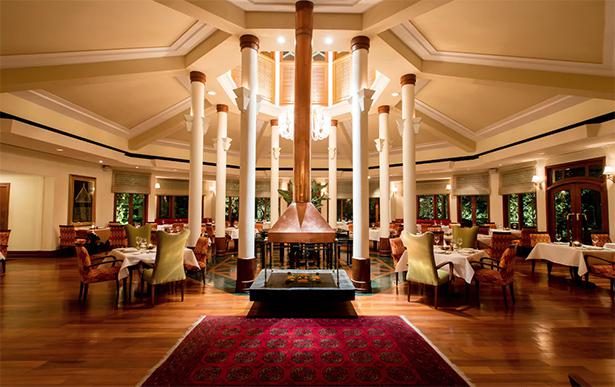 When the time comes to retire for the night, most guests retreat to the main accommodation building, where 70 near-identical bedrooms offer views of either the valley and distant mountains on one side or the tips of the original maharaja's palace to the other.
Having preceded my visit to Ananda with stays at spectacular palace hotels in Udaipur and Jaipur, I was disappointed by my room's interiors, drab and dated despite being recently refurbished. Finished in a bland palette of cream and pea green, there's little here to impress design fans and little to even indicate one is in India.
With the resort's nightly rate starting at $1100 (or US $770) per person for a seven-night all-inclusive stay, prices here are exceptionally expensive for India and comparable to various high-tech health resorts in Europe. I had assumed the rooms would offer more obvious signs of investment and some type of wow factor.
READ: We're Dreaming Of ... Luxury Maldives Resort Hurawalhi
Things are somewhat better in the property's small number of suites, particularly the characterful Viceregal Suite in the maharaja's palace, abundant with antique furniture and original features. Also impressive are three standalone villas, each with private pool and sauna and presumably the abodes chosen by privacy-conscious former guests such as Oprah Winfrey, Ricky Martin and Heidi Klum.
While my room is disappointing, my week at Ananda progresses pleasurably. I remain unconvinced by Ayurveda and in any case, I can't evaluate whether my dosha alignment is improving or not, but I find it's no hardship to submit to another massage.
Though it's sweltering in the valley below, the weather up high in the mountains is wonderful; I visit Rishikesh for a beautiful, colourful religious ceremony on the banks of the Ganges; and a challenging early-morning hike leads me along rocky pathways, past minute villages and to verdant plateaus until I finally reach a mountaintop temple where another ceremony is in full swing and the snow-capped Himalayas glisten majestically in the background.
When the time eventually comes to again drive down the mountainside, I feel rested, relaxed and lighter - and it turns out that last result is verifiable. Though I hadn't focused on weight loss, on my last day a final consultation at the gym revealed I'd lost two kilos and my body fat had dropped by two per cent. Although Ananda in the Himalayas didn't turn me into an Ayurveda advocate, this was a result I could have faith in.
— The Telegraph
Share this: