Fashion's New Breed of Art Collaborations
Thinking of investing in art? A new wave of luxury fashion collaborations offer an accessible take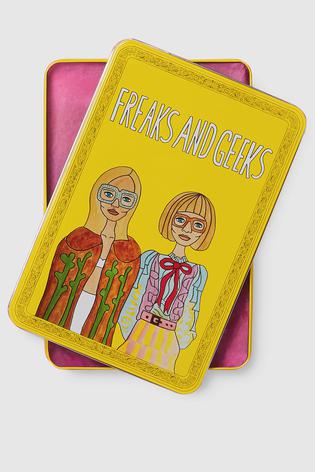 This week, 11 of British illustrator Angelica Hicks's irreverent prints will go on sale, in numbered editions of 100. So far, so normal, but this art sale has a difference: the illustrations are printed not on paper, but across the front of Gucci T-shirts.
"I think fashion is absolutely capable of being an art form," explains Hicks of her new partnership with the Italian luxury house.
They may have been repurposed, but the illustrations came from Hicks's pen long before there was any talk of a collaboration - and they have been reproduced exactly as they were first seen on her Instagram page, rather than commercialised for mass production.
"These were my genuine responses to looking at the shows through a computer screen. It's not a censored version - I was not asked to recreate; they liked what existed already, what I had produced as an independent artist."
Hicks is speaking to me from Milan, where one of her illustrations has been hand-painted 176 metres square in the city's Corso Garibaldi district (another has been scaled up to 760m2 in SoHo, New York). "I asked to climb up a ladder, a smallish ladder, but there are health and safety regulations," she laughs. The resulting image of two Gucci catwalk models, headed "Freaks and Geeks", is the same as you'll see on one of the T-shirts.
"They are literally exactly identical to my drawings, down to the slight wobble in one of the lines because I wasn't steady. There's no correcting; it's my work down to a slight imperfection."
This means that for £285 you get an illustrated T-shirt packaged in a metal box: a collectable in itself. And while it seems certain that these will quickly overtake last season's Gucci logo-tee as the brand's most instagrammed piece of the year (taking the illustrations full circle from Hicks's Instagram page, onto a T-shirt, then back to Instagram: very meta indeed), no doubt there will also be some buyers who keep their tees neatly boxed and unworn - the ultimate fashion collector's item.
It's not the first time Gucci has used the power of an artist to create cult items. Last year, the house commissioned a graffiti artist known only as the Gucci Ghost to put an anarchic spin on the brand's signature. Items such as the catwalk tote branded "REAL" in spraypaint script became instant "It" buys.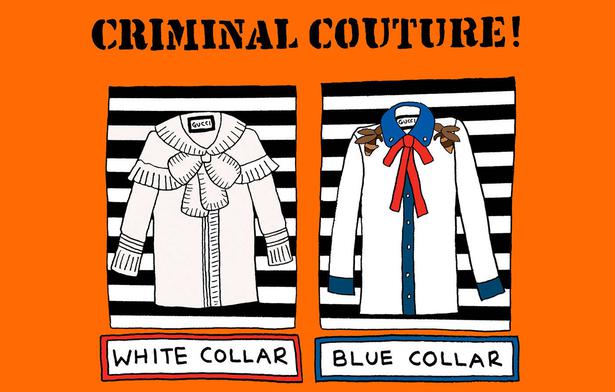 Indeed, collaboration between fashion and art is no new thing, says the V&A's senior fashion curator, Sonnet Stanfill. "It's a common occurrence throughout the history of fashion: see Elsa Schiaparelli working in close conjunction with the Surrealists and Salvador Dalí."
For Valentino's AW17 catwalk show, Pierpaolo Piccioli tapped two original members of the Memphis Group, a postmodern design and architecture movement set up in Milan in 1981. Though the group disbanded in 1987, their designs are collectable to this day.
Now this collectability is transferred to an elegant leather coat, illustrated with Nathalie du Pasquier's graphic waving hands and colour block numbers, and to a monochrome dress, unmistakeably Valentino in its modest cut, but printed with George Sowden's notebook doodles that twist like DNA strands.
Meanwhile, earlier this month in Milan, Prada covered dresses and handbags in artist James Jean's delicate hopping rabbits and flowers. Even in menswear, art is playing havoc. British illustrator John Booth created a very modern man-bag, as surrealist doodled faces took shape across tote bags and backpacks on the Fendi SS17 catwalk.
But while many brands are looking to little-known, long-lost or brand new artistic talent (Gucci's creative director Alessandro Michele discovered his collaborators on Instagram), at the other end of the spectrum, Louis Vuitton has been collaborating with some of the biggest names in art since 2001, when its then designer Marc Jacobs tapped Stephen Sprouse to graffiti over LV's iconic monogram.
Since then, the brand has worked with Richard Prince, Yayoi Kusama, and Takashi Murakami, creating trophy bags that tap not only into the DNA of the house, but also into that of the artist. Their latest pairing sees bags printed with paintings by Old Masters, repurposed and reworked by artist Jeff Koons - and launched with a party at the Louvre. But can such a bag really be classed as art?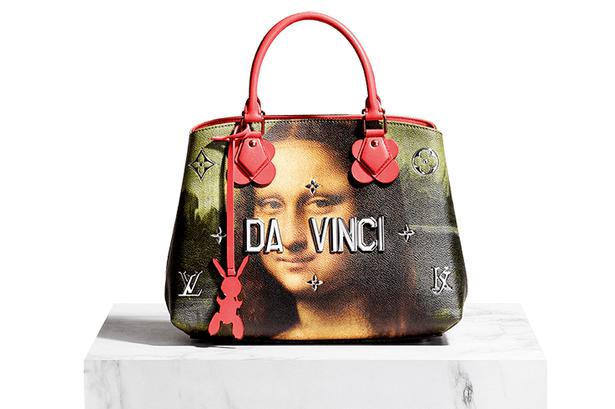 "Limited edition and runway bags are collectors' items that are treasured and displayed just like any other piece of art or collectible item," says Rachel Koffsky, handbags and accessories specialist at Christie's. Vuitton's collaborations are especially popular with the auction house's clients, many of whom keep their pieces in Grade 1, or as-new, condition, to retain value. For Koffsky, the Koons collection, "where this classic design is covered with a seminal painting", creates a bag that sits "within the context of both art history and contemporary art.
"I wouldn't be surprised if we saw bags such as the Jeff Koons Louis Vuitton Collaboration behind glass in the coming years."
READ: Art Insiders React to the New Louis Vuitton Collaboration
With prices ranging from £1960 to £2800 (classic versions of the same bags cost £695-£940) and a limited run of stock that, once sold out, is never reproduced, these bags are being packaged as investment pieces. It's certainly true that since their launch last month, bags from the Koons collection have already found their way onto luxury resale site Vestiaire Collective, where they're selling at up to 28 per cent more than the original price tag.
"These types of collections always generate a renewed interest in the brand, despite the increasing number of collaborations offered by designers," explains Sophie Hersan, the site's co-founder and product director, of how exclusivity and collectability drive sales.
Just as high street brands like H&M and Topshop have used collaborations with catwalk designers to elevate their pieces to designer desirability, so now are designer brands choosing associations with established artists to elevate their designs to collectible status. And if the sales - and price tags - are anything to go by, it seems to be working, though even a few thousand pounds is nothing compared with what you'd pay for a Koons or Kusama work of art.
Fashion editor Lisa Armstrong admits to keeping her Louis Vuitton x Richard Prince bag carefully wrapped at home, though personally, I'd be hard pressed to leave anything so beautiful in the box, or wrapped up in acid-free tissue paper. Because that's the best bit about fashion's new wave: rather than hanging it on the wall, this is art you can wear or your sleeve. Or even put your gym kit in.
- The Daily Telegraph
Share this: