Chanel is Uninspired This Season, But Chanel Groupies Will Buy It Anyway
The fashion house delivers its signature style to ardent followers, albeit with a less than impressive collection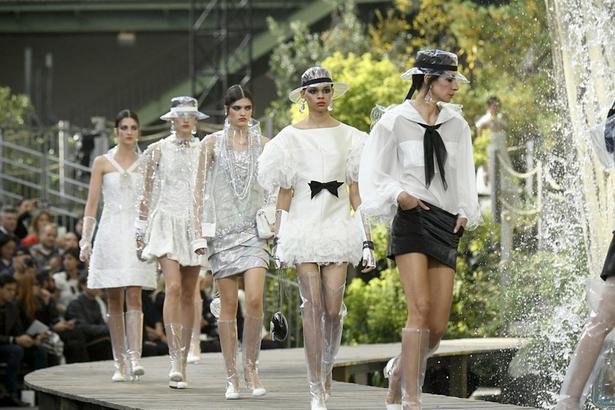 Thursday Oct. 5, 2017
This season it was a cliff. With waterfalls. And trees. In the middle of the Grand Palais.
For its spring 2018 fashion show, Chanel constructed a massive wonderland in the middle of the city, as usual. In the past, there have been convincing iterations of icebergs and bistros, art galleries and grocery stores. This time, the rock face was so convincing that as models emerged from a craggy tunnel, wind generated from the plunging water blew off their little plastic rain hats.
Designer Karl Lagerfeld delivered the brand's signature bouclé jackets in iridescent shades of aqua and sea green. White fringe on a jacket suggested foam churned up by fast-moving water. The reflective fringe on another ensemble called to mind moonlight on the surface of a still lake. And, of course, there was plenty of blue.
If there was any doubt about the collection's connection to this rustic landscape, the models also wore clear plastic rain scarves, ponchos and boots, some embellished for a little oomph.
READ: Strange Signs of the Time at Paris Fashion Week
That extra embellishing was probably unnecessary: Many Chanel customers, the ones with the dough at least, are a bit like Deadheads in their obsessive loyalty. It doesn't matter if the style doesn't really change from one season to the next, or if a season isn't particularly inspired. It's the back catalogue and the conviviality that they love and desire.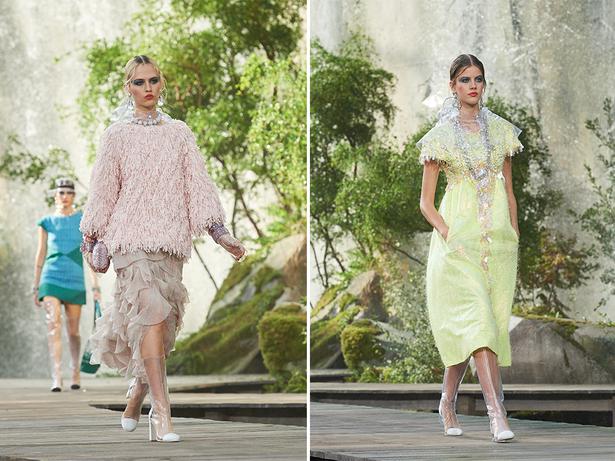 It's a wonder to look around at a Chanel audience and see guests draped in ensembles that cost the equivalent of car. At Tuesday morning's security check point, editors marvelled at the stream of Chanel bags rolling through the X-ray machines. Tens of thousands of dollars' worth of quilted and bedazzled product.
A Chanel show is filled with smiling, selfie-snapping guests. It doesn't matter that Chanel doesn't change enormously from one season to the next; the house's signature shapes, fabrics and flourishes are simply tweaked and manipulated. That's not easy. In fact, it's quite challenging to give people more of what they know, while making it all feel new and exciting and purchase-worthy.
READ: Dior Designer Causes a Stir at Paris Fashion Week
A dynamic set that clearly and loudly announces the stature of a brand is helpful to the cause. As one editor wryly noted, fashion customers are as susceptible to "irrational exuberance" as stock market speculators. So it's no wonder that the largest fashion companies here use their financial heft and cultural clout to finesse settings that leave guests open-mouthed with amazement and desire.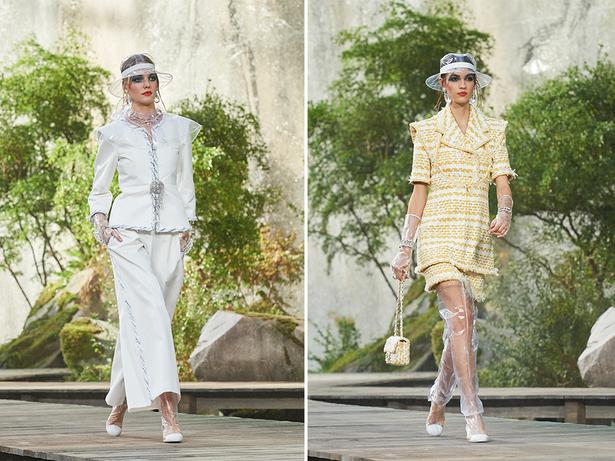 Last week, Saint Laurent had the Eiffel Tower sparkling on command. Over the weekend, Givenchy settled into the Palais de Justice. The season opened with Dior setting up shop in the courtyard of the Rodin museum and it will end with Louis Vuitton inviting guests into the Louvre.
READ: Underwhelming Debut From New Lanvin Creative Director
The clothes may or may not be wonderful. But the grand setting argues that the brand is important, therefore it's products must be, too. And important clothes are worn by important people.
This collection was not one of Chanel's bests. It had some winning looks and some clunkers, too - especially the distressed and lace embroidered denim. But it was wholly successful in communicating the enduring glory of its place in the culture. And surely the Chanel-heads were pleased.
— The Washington Post.
Share this: