SPONSORED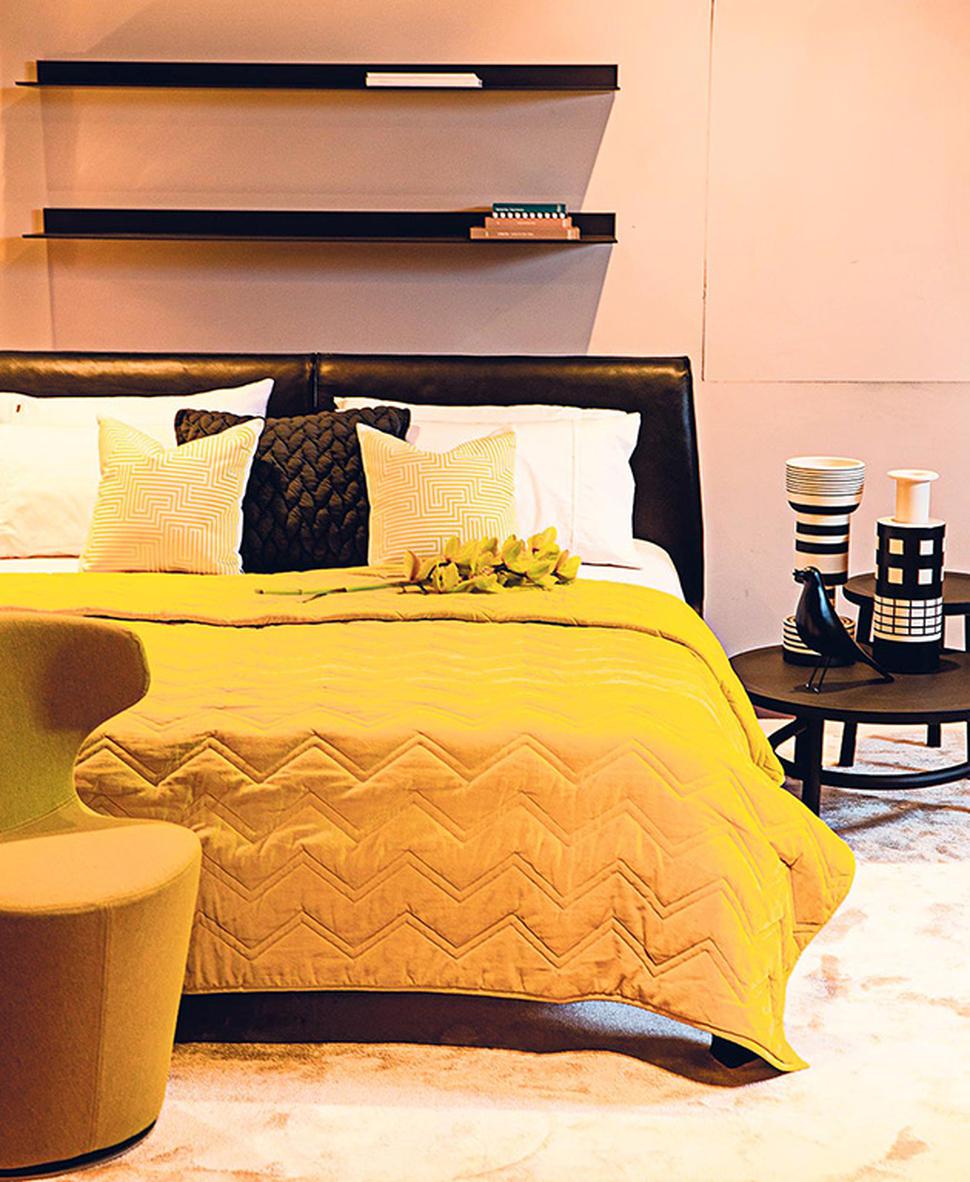 Chic sleep
Bring a modern design aesthetic to your bedroom with key pieces from the carefully curated selection at Matisse. Two talented interior designers show you how.
Wednesday June 28, 2017
Considering that, on average, we spend 25 years of our lives sleeping, it makes sense to pay a little attention to the comfort and aesthetics of your bedroom.
The designers from Two Creative Design, Nikki Willis and Clara Rollison, believe a bedroom should be simple, yet luxurious. A place that feels peaceful and serene.
"We love the idea of tone-on-tone colour," says Nikki.
This one-colour formula uses a hue in differing tones and delivers a pared back, layered look.
At Matisse's Auckland showroom, Nikki and Clara set about creating two bedrooms, drawing from a show-stopping collection of Italian beds, designer linen and objects d'art to come up with two distinct looks — one natural, textured and organic, the second, retro, graphic and bold.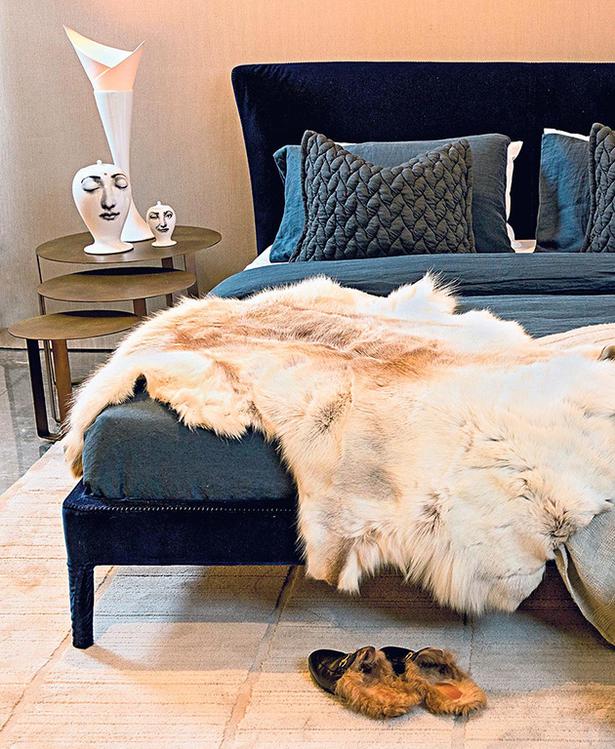 The Febo bed by Antonio Citterio for B&B Italia, upholstered in a plush ink-hued velvet, calls for a simple colour palette, according to Clara.
"Rather than take the eye away from the texture and form of the curved frame, we think repeating the blue colour palette in the bed coverings will highlight the beauty of the bed."
Crisp white cotton sheets from B&B Italia add a modicum of contrast, then texture is introduced with an alpaca throw, also from B&B Italia, plus two embossed throw cushions by Patricia Urquiola for Moroso.
Nikki chooses a cluster of three aged bronze side tables by Elite to Be, which work to provide a warm contrasting colour beside the blue velvet bed.
For decorative effect, a selection of limited edition Fornasetti vases are introduced to add interest and wit, while the Diablo lamp throws a warm complementary light and echoes the motif of the throw cushions.
When it comes to pillows and throw cushions, Nikki suggests adding variety through texture rather than colour, to ensure simplicity.
The final touches for this natural, yet sumptuous look is the silky, lustrous Cratis rug from B&B Italia in warm champagne.
The look of the next bedroom  is largely influenced by the bold black leather Cab bed by Mario Bellini for Cassina. This masculine bed with saddle leather headrest, frame and legs comes in seven colours — black, Bulgarian red, natural, porcelain, beige, taupe and blue.
"Black can be a challenging starting point," says Nikki, who opts for a timeless black and white colour scheme, and chooses one bold accent colour.
Often an ornamental object can serve as design inspiration for the entire room. According to Nikki, the classic Eames bird lends a retro bent they will build on for the rest of the bedroom theme.
For a dash of retro colour, nothing beats citrus yellow. The bold black and white ceramic vases — by Italian post-modernist designer Ettore Sottsass — add to the graphic theme, and the Usnam side tables by Verywood have mid-century appeal.
Graphic steel floating shelves by Rimadesio continue the lines of the bedhead and provide an elegant storage and display space for books, plants and objects.
Just as Nikki and Clara came up with two customised looks, the specialist staff at Matisse are able to provide an individual look for their clients, from curtain fabric through to bed coverings. Top European fabrics from Armani Casa, B&B Italia and Cassina are all on view at their Parnell showroom.
Jeanne Bertenshaw, co-owner of Matisse, says there are hundreds of fabric options and bed frame possibilities and all their bed frames have removable fabrics that can be cleaned and changed if required.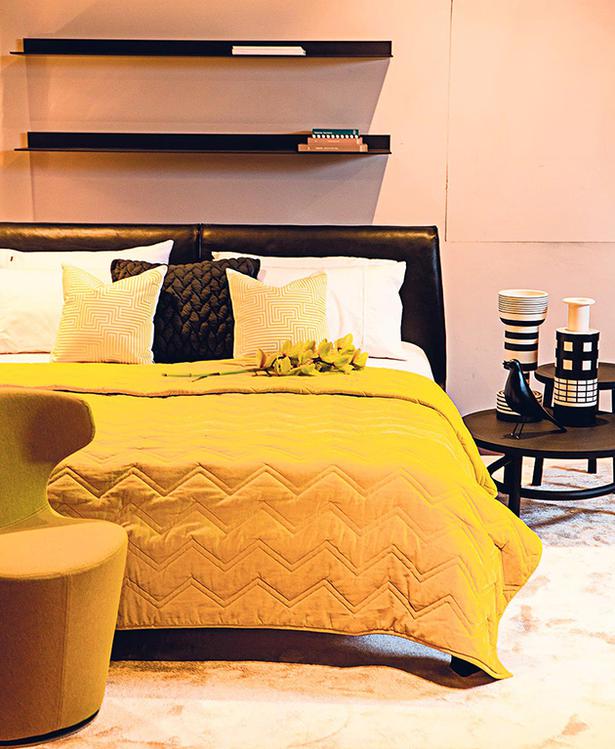 The Siena Bed by Naoto Fukasawa for B&B Italia is an example of understated simplicity. With the elegant curve of the headboard and fine framework, it sits on barely-visible legs to create the appearance of almost floating above the floor.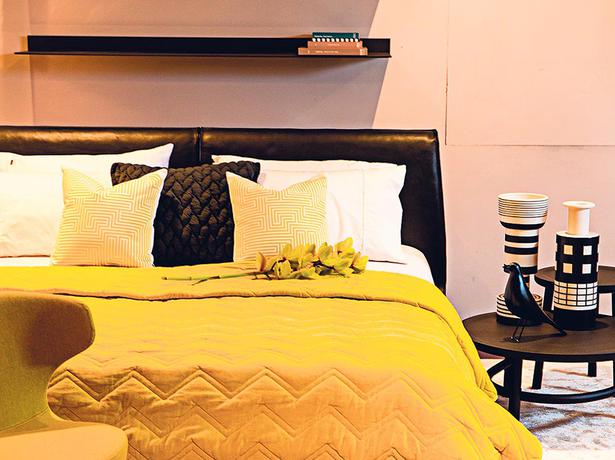 The soaring bedhead of the Mamy Blue Bed by Poltrona Frau cocoons you in soft leather encased by a saddle leather shell.
"The possibilities are endless," says Nikki.
But should you have trouble deciding, as author John Steinbeck famously wrote: "a problem difficult at night is resolved in the morning after the committee of sleep has worked on it".
Matisse International, 99 The Strand, Parnell.
Ph (09) 302 2284 or visit Matisse.co.nz
Share this: