SPONSORED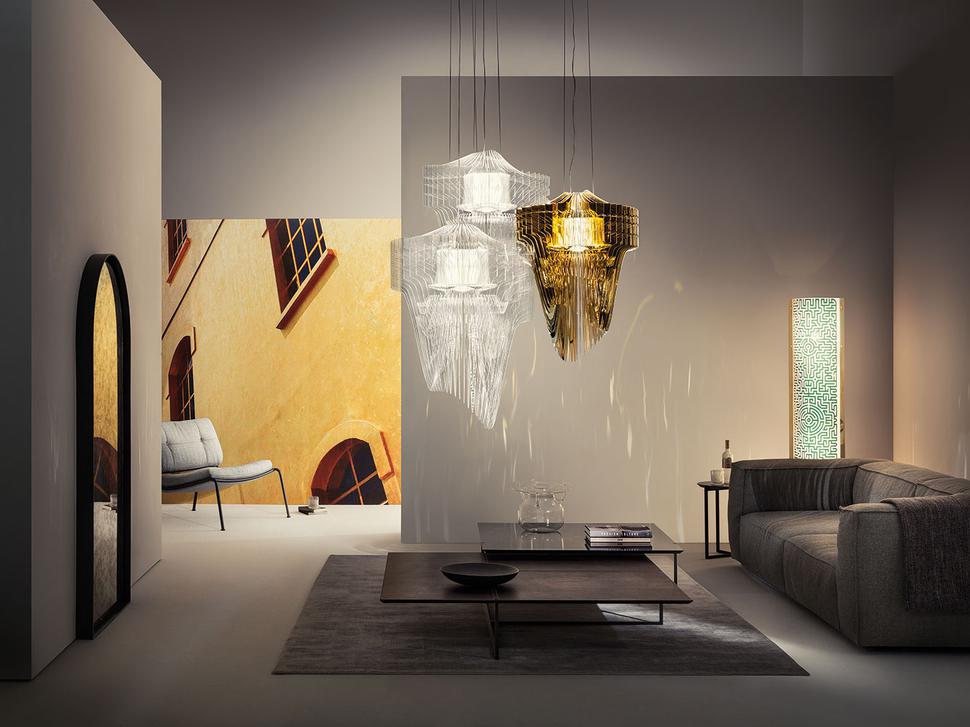 CHRISTMAS AT MATISSE
Wednesday Dec. 13, 2017
If you're searching for the perfect gift for a hard-to-please loved one, or hesitating over your table setting, Matisse International Furniture has everything you need to make Christmas a feast of great design.
SPOIL SOMEONE SPECIAL
If money's no object when it comes to the one you love, these ultra-luxe pieces will delight the hardest-to-please design-lover, now and for decades to come.
Febo Bed by Antonio Citterio for MaxAlto
What better gift could you give than a glorious night's sleep, every single night? Italian architect Antonio Citterio designed this luxuriously minimalist bed, with padded velvet headboard and elegant blanket stitching.
Brand Van Egmond
Arthur Chandelier
A tribute to the legendary hero, this shimmering chandelier is literally fit for a king. Fine chains of nickel-plated petals veil a cluster of bulbs, the light shining from within the armour.
Bitossi Bolo F-12 Bowl by Bethan Laura Wood
This beautiful serving bowl is inspired by the stained-glass window of the Our Lady of Guadalupe in Mexico City.

Airia Desk by Kaiju Studios for Herman Miller
Sitting down to work at this immaculately streamlined and organised desk is always more pleasure than chore — and who can put a price on that?
Slamp Aria Light
Designed by the late Pritzker Prize-winning architect Zaha Hadid, the Aria Light is as dramatic and soaring as an operatic solo. Fifty layers of Crystalflex, and a 3-D printed filament, are strung together in a work of perfect harmony.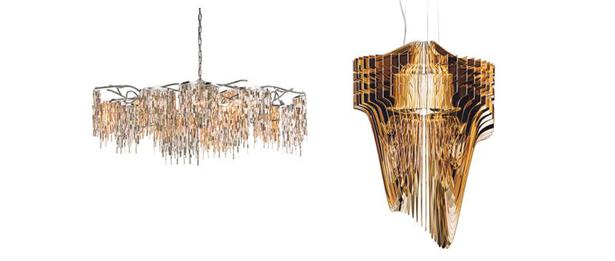 THE DREAM CHRISTMAS TABLE
In the same way eggnog and puddings don't fit a New Zealand summer Christmas, traditional European table settings feel too heavy for a hot and sunny midday celebration. Start with a big indoor/outdoor table with comfortable seats you can lounge in for hours, add sharing platters that let the food take centre stage, fresh flowers instead of pinecones, and you have all the elements for a simple yet sophisticated holiday spread.
B&B Italia Fat Fat Tray in Copper
The warm, burnished expanse of this oversized platter is generous enough to fit the most extravagant cheese, dip and charcuterie selection — plus handfuls of fresh cherries and berries to go with it.
Tense Table by Piergiorgio Cazzaniga for MDF Italia
Long and lean, with a beachy feel from the natural oak finish, this is a table to gather the entire family around. Its surprisingly lightweight structure means that if the weather's right, you can take the party outside to enjoy the sun.
Mia Leather Chairs by Riva 1920
With a gently rounded back and comfortable leather seats, these solid wood chairs — from a company renowned for their salvaged
swamp kauri products — are a perfect match for the Tense Table. Their natural oil finish that contains pine extracts gives them a faint scent of Christmas all year round.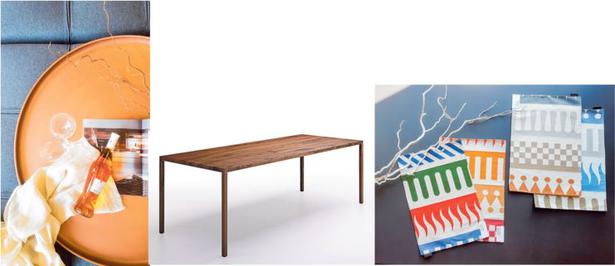 Herman Miller Maharam Placemats
Printed with muted geometric designs by Eames and Alexander Girard, these fabric placemats made by New York textile house Maharam add a touch of nonchalant cool to a summertime table.
Bitossi Green LineCollection Vase
For a fresh, minimal centrepiece, just add a couple of single white Christmas lilies in full bloom to Fabio Novembre's vessel tribute to the ending of one thing, and the beginning of another.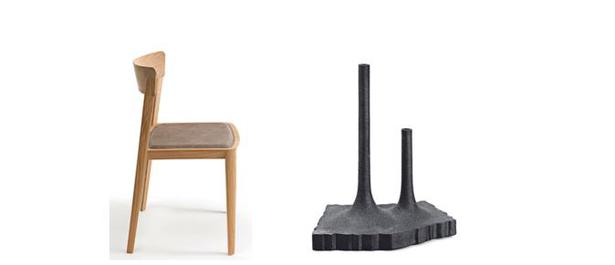 PERFECT YOUR 'SHELFIE'
Selfies are all very well, but a far more intimate portrait of your inner life is revealed with a shelfie.
Stack yours (or someone else's) with brag-worthy design pieces.
Vitra Akari 26N Light
Designed by the legendary Isamu Noguchi and handcrafted from Japanese shoji paper, this lightweight lamp casts a warm, diffuse glow.
Corniches by Ronan and Erwen Bouroullec for Vitra
If you don't have much floor space for book cases, these wall-mounted pockets are an ideal way to display just a couple of items. Cluster together for a larger installation.
Bitossi Colleti Bianchi Vases in Copper and White
Their name means "white collar", but there's nothing corporate about these clean, minimal vases. Copper adds a luxe touch, but they're also available in muted shades of green and grey.

Cat by Aldo Londi for Bitossi
We love this quiet companion, who is part of the classic ARKitectura collection of symbolic animal shapes. You can add the fish and bird companions over subsequent years.
Nuvola Rossa Shelf by Vico Magistretti for Cassina
Framing is everything, and this graphic shelf in black, white or natural beechwood offers endless angles from which to showcase favourite books and objets d'art.

BEST SEAT IN THE HOUSE
Forget the La-Z-Boy, these armchairs and recliners are worth fighting to secure for the evening. A mix of design classics and modern marvels, they sit as easily in a study as in the living room.
Herman Miller Eames RAR Rocker for Children
Don't forget the littlest bottoms in the house — this pint-sized version of the classic rocker comes in a range of cute colours.
Cassina LC4 Limited Edition Pampas Chaise
It's hard to go past the Bauhaus collaboration between three of the greatest Modernist design minds — Le Corbusier, Pierre Jeanneret and Charlotte Perriand — but this edition is next-level. One of just 200, the chaise seat is clad in the hide of cattle from the South American pampas in tribute to Corbu and Jeanneret's love of the region.
LC2 Armchair by Le Corbusier for Cassina
There's something about these compact-yet-plush 1920s club chairs that cries out for them to be purchased as a pair. Maybe it's the way they inspire thoughts of kicking back with a highball — and the need for a companion to clink it with. A gift for him or her (and you).

B&B Italia Almora Chair and Ottoman
If you adore the Eames Lounger and Ottoman but want something a little less well-known, this reader's refuge is for you. Imagined by quirky British-Indian design duo Nika Doshi and Jonathan Levien, it's named for a region of India with spectacular views of the Himalayas.
Vitra Compact Polder Sofa by Hella Jongerius
Just the right size for one to stretch out or two to snuggle
on, the colour-blocked Polder sofa is inspired by the tonal patchwork of the pastoral landscapes like those that have inspired many New Zealand artists.

Matisse International, 99 The Strand, Parnell.
Ph (09) 302 2284 or visit Matisse.co.nz
Share this: