Meet Tiffany & Co's design director Francesca Amfitheatrof
Francesca Amfitheatrof is at the creative heart of jewellery empire Tiffany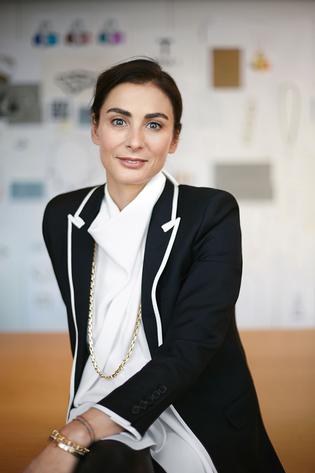 It's been an exciting time for New Zealand lovers of luxury over recent years with the arrival and expansion of global fashion brands Gucci, Dior, Prada, Chanel and Louis Vuitton (who this week unveils its new expanded luxury maison in Auckland). But it has been the recent arrival of Tiffany & Co, on a prime corner at Britomart, that has tugged at our heart strings.
Who hasn't dreamed of opening a duck-egg blue box with a perfectly tied white ribbon bow, its contents a sparkling symbol of love and romance? Or imagined having their own Audrey Hepburn moment just like that film? First opened by Charles Lewis Tiffany, aka the "King of Diamonds" in 1837 the Tiffany's empire has expanded to more than 300 stores globally and become one of the world's most famous jewellery brands.
I'm on the phone to Francesca Amfitheatrof in New York. From the 11th floor of Tiffany & Co. headquarters, she is looking out on "a gorgeous, beautiful winter's day". With her strong British accent, the emphasis is on gorgeous.
"I can see the Chrysler Building from my window and below me is Madison Square Park — beautiful and green with the trees turning yellow and orange."
This lofty view has been Francesca's outlook since September 2013, when she became the design director, bringing with her 20 years of working across the worlds of jewellery, art and design.
INSIDE: The Glamorous Tiffany & Co. Auckland Opening 
A trained jeweller and silversmith, who received a master's degree from London's Royal College of Art, she has designed jewellery collections for the likes of Chanel, Fendi and Marni, and silverware for Asprey & Garrard. Other names on her resume include Alessi Italy, Wedgewood Stoke and Claridge's Hotel. She co-launched the art agency RS&A, lectures in art, has curated exhibitions at Museo Gucci, took major modern artists such as Jeff Koons, Cindy Sherman and Damien Hirst to Seoul, and has developed fragrances for private clients.
Francesca — an exotic mix of Italian, Russian and American heritage — is the first to admit the art world embues the way she works and how much it influences her design process. "First of all, there is the idea that art is about generosity. Ideas are very fragile when they are first hatched and you have to do everything you can to support those ideas and bring them to fruition. Then it is all about messaging, telling a story, coming up with an amazing concept and being able to communicate an idea that is so incredible that it just inspires you and therefore makes you dream."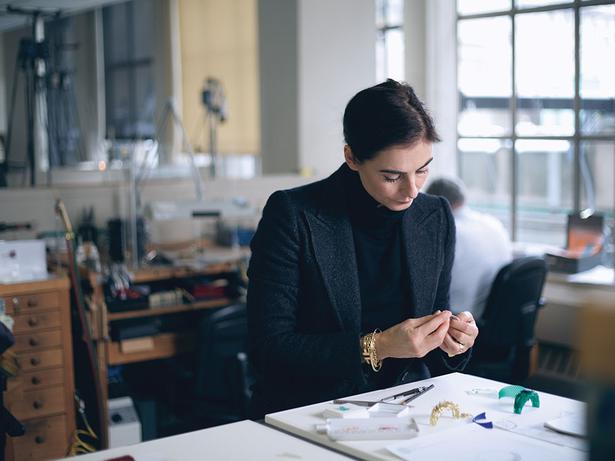 Charged with the responsibility of taking Tiffany's 177-year-old legacy and making it modern and relevant, Francesca arrived at her new role prepared — with the now instantly recognisable "T Collection" already drawn up.
"I loved the idea of taking the letter 'T' of Tiffany and looking at it architecturally, looking at it like New York City itself. The letter 'T' can be only tall. It is quite an ambitious letter with presence. As a collection the "T" can only be square, just like the grid-like structure of New York.
Plus, there is the notion of a building that scrapes the sky — the skyscraper is such a great American, crazy idea. It fascinated me to create a collection that is very designed, yet very minimalist, and reflects the exact symbiosis between Tiffany's and the city itself. The history of Tiffany's is so completely intertwined with it."
This insight into how Francesca works captures her desire to always start a collection with a story. "I don't just come up with a motif — like a star or a flower. I don't do that. I come up with a story and then I build on that and really elaborate and go off in myriad different directions. I design a lot and a lot and a lot. I push ideas quite far — sometimes too far — but that helps you know what you want to be."
Next door to where Francesca sits is a loft space where all the launches she and her design team have created for the next year are on display. At the other end of the space is the design studio itself where her team of 21 works. "There are people chatting, music playing, it's a nice atmosphere," she says. "We work, at a minimum, a year ahead but we like to do more than that. We are currently working on a lot of completely new collections, like the T Collection. They're not refreshers or additions to existing collections.
"Tiffany has an aesthetic that has always been very pure, clean, unassuming and a little bit minimalist . . . With our fashion jewellery, the silver and gold, we create very modern pieces which become classics due to their over-reaching DNA of excellence and elegance."
Drawing on her experience in the art world and curatorial point of view, Francesca has also spearheaded a new approach to high jewellery for Tiffany. The Blue Book collections is an exciting concept that sees the company create just 100 one-off pieces a year. Unique and original, they are as close as you get to art.
"The Blue Book pieces are phenomenal. We started this only two years ago and the pieces fly; these are pieces of jewellery that are held privately. It's not the most commercially solid idea to make just one of something," she says, laughing. "But it is sort of extraordinary because we can — so why not? Why not show the world that if we are going to play in the arena of high jewellery we are going to play at the highest level."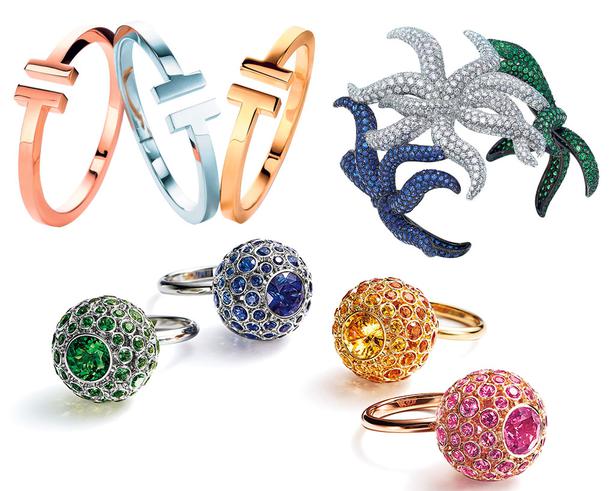 Regular new collections, haute jewellery collections, the recent hiring of ex US Vogue creative director Grace Coddington to style the ad campaign behind the "Out of Retirement" collection (an 18-piece range that revives and reinterprets classics from as far back as the 1940s) — are all reflections of Francesca's fashion influence and Tiffany's desire to evolve and stay relevant to a new, modern consumer.
Never short of inspiration, she is currently watching Netflix hit The Crown, reading Clara and Mr Tiffany by Susan Vreeland, and loves her new life in the Big Apple. "Last week I took my team on an architectural tour of the city, which was fascinating, then I had a meeting with the gallerist Jeffrey Deitch as the artist Ai Wei Wei has opened four shows here and he is a good friend of mine.
I'm going to a gig tomorrow, I go to art shows, I have two children, whom I run home to hang out with, and I have been planting trees at our country house in Connecticut."
Currently obsessed with the designer Haider Ackermann, she describes her personal style as relaxed. "I don't wear too much makeup, I wear more tailored clothes that are a little bit masculine, but then I will always wear high heels.
I love to mix patterns, and wear a lot of clashing patterns together. I really love and enjoy fashion. When it comes to jewellery, I like to mix thing up. Today I'm wearing a new T wrap bracelet together with a piece from the Out of Retirement collection."
The late Alexander McQueen, who was a close friend of Francesca and her husband, was a great inspiration. "We spent the last summer that he was alive together, he was our guest at Cape Cod. He would push you to never be satisfied, to push ideas further."
Another big influence is Karl Lagerfeld, with whom she worked closely during her time at Chanel.
"When Karl first started at Chanel it was not a brand that was on anyone's radar. He worked in a very difficult environment but, over a long period of time, he turned it into the success it is today. And he is very good at making you understand that that iconic respect people can't just give you, it all happens in the right time. There is a lot of his advice I have that I try to hold onto.
"When you are working for a fashion brand there is a creative director and things are very simple; you follow a creative vision and everybody is there to support that and that is what creates success. When you work for fashion brands you're in the business of ideas and everything is there to support that. And that is the change that we are trying to create here at Tiffany."
With a woman as inspired and inspiring as Francesca Amfitheatrof at its creative heart, it's safe to say those little duck-egg blue boxes will continue to be at the top of our wishlist.
Share this: