Luxury Furniture Store Matisse in Milan
This month, the owners of leading luxury furniture store Matisse, headed to Milan to discover what designs will become the new classics
SPONSORED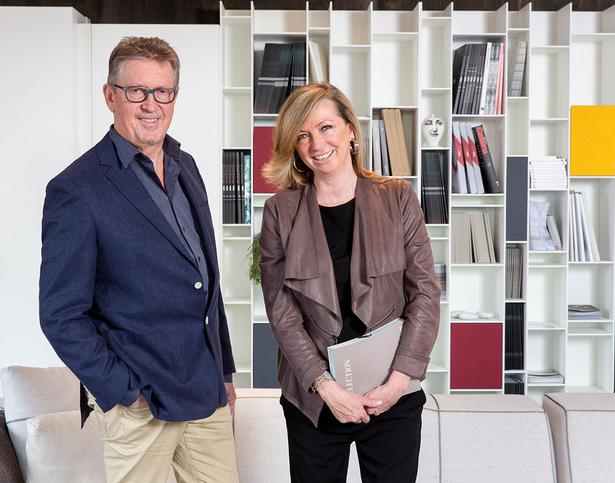 Tuesday April 25, 2017
"We have six days to determine what designs will become classics," — this is how Alan and Jeanne Bertenshaw, co-owners of Matisse, one of New Zealand's premier designer furniture showrooms, summarise their annual pilgrimage to the Milan Furniture Fair.
Their philosophy is simple — bring furniture to New Zealand that will last generations. For this, the design as well as the quality of raw materials and workmanship must pass the test of time.
Every year the Bertenshaws return to the furniture fair to see what the world's top design houses have produced over the previous 12 months. What started out 56 years ago as a small fairground event has now become a huge show in Rho, on the outskirts of Milan. It's a fair that is quite a challenge to navigate with 200,000sq m of pavilion space and 300,000 visitors.
"It would take you at least 30 minutes to walk?the entire length of the 24 pavilions, Jeanne and Alan say, but because time is limited they focus on the modern design pavilions, where they find the designers and manufacturers with whom they have had relationships since Matisse opened in 1987.
One of Matisse's longest relationships is with Italian design stalwart Moroso, esteemed for high quality craftsmanship and a stable of world renowned designers, including Tom Dixon, Ron Arad — famed for the sculptural Big Easy Chair — and Patricia Urquiola, who launched the now-classic Belt sofa system.
Matisse's leading supplier is B&B Italia, winner of four Compasso d'Oro Awards, the most prestigious Italian design award. The company is well known for it's work with Antonio Citterio, whom Alan describes as "our god of design".
They discoverered Citterio's Mart chair, which can be found in the Matisse showroom, in 2003. With its curved lines and lustrous saddle leather seat, the Mart looks more like a sculpture than a chair — it is generally regarded as already being a classic.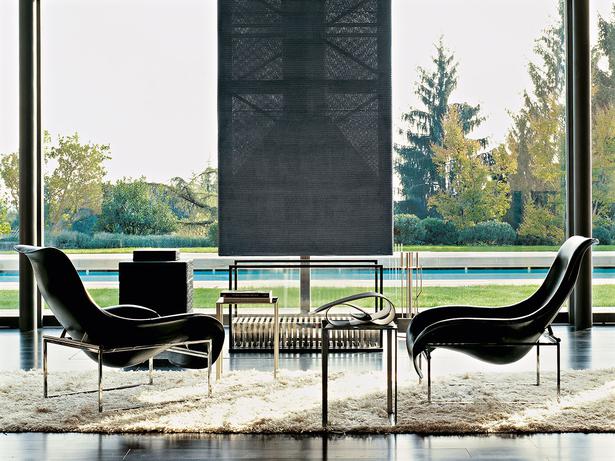 With so much choice, Alan and Jeanne admit it can be difficult to decide what their customers in New Zealand will appreciate most.
Luckily the business partners tend to be drawn to their favourite designers and usually end up buying enduring designs, rather than chasing the trends and fashions of the moment.
This is a formula that has clearly worked for the Auckland furniture institution, which celebrates its 30th birthday this November.
It all began with an encounter with an Eames chair in Paris in 1975. Alan and Jeanne were in Europe for the first time when they saw one of the already famous chairs.
"It was so sculptural and beautiful, I'd find out later it was designed by one of the greatest designers in the world." says Alan. He's talking about Charles and Ray Eames, who created the chair for the Herman Miller furniture company in the 1950s
Back in New Zealand, Alan set about working out a way to manufacture such design classics locally. At the time there was no import license freely available in New Zealand, so furniture had to be made here.
Alan approached David Nelson from Herman Miller, but discovered the company wouldn't allow the manufacturing of their products outside Michigan.
Instead, Alan turned to manufacturing modular office workstations from his garage, taking advantage of the shift at that time from individual offices to landscaped screens. These cubicles were a big hit. Later, after the
Government offered a tendering process for import licenses, Alan and Jeanne expanded into importing. Their first step was to approach the Italian company Moroso. At the time, the influence of high end European design was rather rare in New Zealand.
Their company, Matisse, was born after this expansion into living room furniture and the business has gone from strength to strength.
"We decided on the name Matisse because Henri Matisse was not only a great draughtsman, he was also a great sculptor and his interior scenes had an architectural element to them. We have always felt we are bringing in pieces of art to New Zealand, not just furniture."
The Diesis sofa, designed by Antonio Citterio in 1979 for B&B Italia, was a major influence in the design world and one of Matisse's first hits in the local market.
"It has this look of lightness. The fine legs make the sofa appear to be floating above the floor. It was quite a departure from the chunky sofas of the 1980s."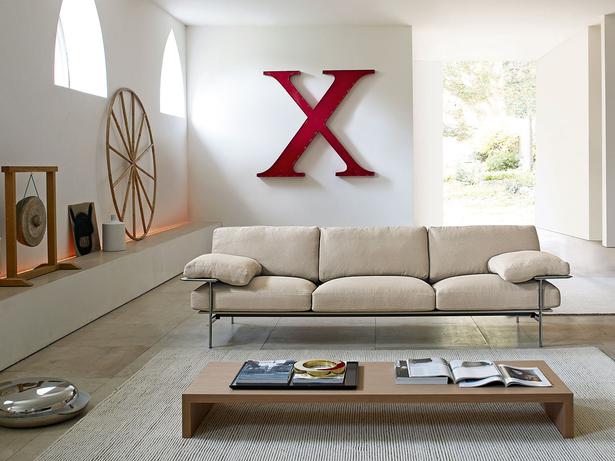 Another top-selling piece that remains popular today is the Big Mama chair by Massimo losa Ghini. This classic chair references the Victorian era with delicate arm and leg details, but also nods to the future with its voluminous form.
Great design is not inexpensive and Alan is the first to admit it can be a stretch for a young couple to invest in a quality piece of designer furniture. But if you're thinking about it, he advises buying one great sofa and building on that.
"A beautifully made, well-designed sofa can uplift the entire room and set the tone for the rest of the home.
"Of course, you have to have a good reason to jump from spending a moderate amount to what you'll pay for one of our designer pieces, but most inexpensive sofas will either fall apart or become unfashionable in a few years."
"Investing in a quality classic piece means after 10 years, it will still be worth what you paid for it, and possibly even more in the future."
With so much on offer at the Matisse showroom — they represent more than 200 designers — it can be a stretch to decide which room of your house you want to improve first.
Their quilted Gentry 90 Sofa by Patrica Urquiola for Moroso is so comfortable and inviting that relaxing in it for a while is essential.
And you can't help but notice their show-stopping kitchens.
The latest, by Antonio Citterio for Arclinea, is a masterpiece made from brushed oak and Steelia (compressed, super-tough titanium treated stainless steel) in an aged brass patina, but comes in many different colours and finishes.
The important thing to remember, according to Alan, is that if you invest in authentic design not only will you get to enjoy it for many years but you could be passing on something precious for your children and grandchildren to treasure.
"Whatever you buy should be thought of as an investment, not just a luxury."
That's a strategy Matisse has perfected over the past three decades.
• Matisse International, 99 The Strand, Parnell. Ph (09) 302 2284 or visit matisse.co.nz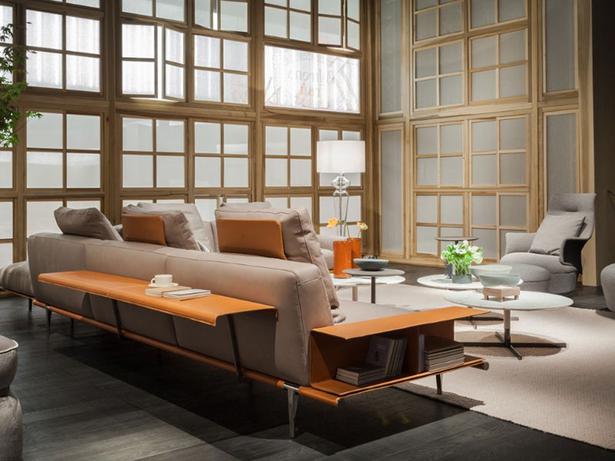 Picture / Supplied
WHAT MATISSE SPOTTED AT MILAN 2017
Colour
Green was everywhere, but in deep emerald hues, often offset with bright violets and pinks. Green also complimented the gold-toned metals on show.
Materials
Brass continues to be sought after, and is a popular metal because you don't have to treat it and it ages well. Slabs of cast resin in the form of table tops were also popular.
Lighting
Portable, rechargeable and?even collapsible table lamps, as?well as ceiling lights moved and?dimmed by smartphone, were prevalent. Also on display were floor lamps that cast colours on to the wall through a strip of iridescent glass.
Oversized sofas
One of our favourite finds at the fair was the Let It Be modular sofa (pictured) from the Ludovic + Roberto Palomba project. Inspired by the Roman triclinium — where people would laze about, lie down, eat and talk — it cleverly combines elegance with an invitation to kick back and relax. Upholstered in beautiful leather, it can be completed with shelves and storage which add to its functionality. This is definitely the future of well thought-through furniture that lasts.
Share this: