Art Insiders React to the New Louis Vuitton Collaboration
Louis Vuitton's latest artist collaboration with Jeff Koons is here to disrupt and ignite conversation around what constitutes good taste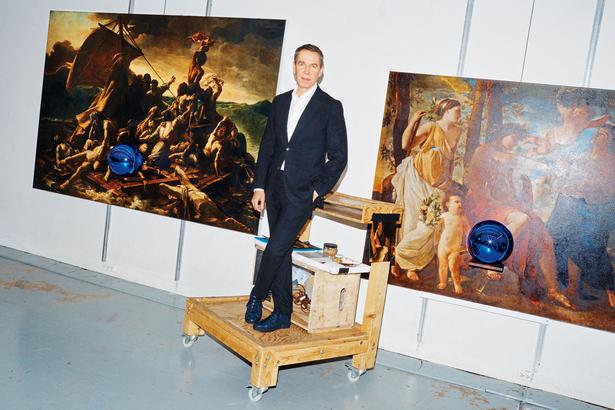 Wednesday April 26, 2017
Two weeks ago, Louis Vuitton unveiled a new collection of handbags and accessories in collaboration with contemporary American artist Jeff Koons. Customers, ardent followers of the brand and members of the fashion and art communities reacted with equal amounts of rapture and repulse, notably on the luxury brand's official Facebook page.
"I think it's a wonderful combo. Different and fresh. Makes me want to start saving $ now," wrote Lisa Golledge. "90% negative feedback aint even real customers and haven't seen one of these in real life," wrote Sebastian Wintour. "These things look like something you'd buy from a flea market!" decried Ellen Stewart.
The range, in store this week, is based on Koons' 2015 series Gazing Ball, which featured 35 reproductions of iconic old masters paintings including Monet's Water Lilies and Klimt's The Kiss, each installed with its own blue mirrored "gazing ball" attached on a discreet shelf. That series was met with similar division; How dare this charlatan of the art world have the audacity to create exact replicas of such masterpieces?
READ: Louis Vuitton Unveils New Collaboration With Jeff Koons
The collaboration has attracted polarising points of view, prompting that time-honoured debate about what is considered high art, high fashion and good taste in the first place. Who else but Koons would have the audacity to create giant coloured metallic sculptures of balloon dogs and rabbits, or take pictures of themselves engaging in explicit sexual activity and declare it art?
In a time where every new release from a fashion brand is up for even more scrutiny thanks to the relentlessness of social media comment sections, the debate over this latest union between the storied luxury house and the art world's enfant terrible was inevitable — however, like all good artists, both brands are aware the artist must face harsh criticism at all times.
"I think we're going to get some pushback," revealed Louis Vuitton's CEO Michael Burke in an interview with the New York Times on announcing the collaboration. "People are going to be upset about the sacred entering the realm of the profane. But we like to do things that can be perceived as politically incorrect. If we are getting flak, we think we are doing something right."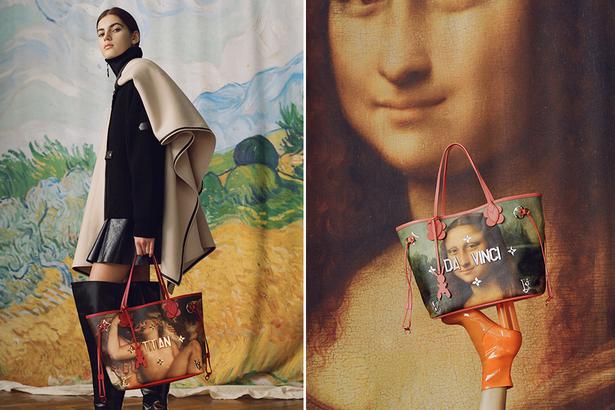 WHAT LOCAL ART INSIDERS THINK OF THE COLLABORATION:
Rhana Devenport, Director, Auckland Art Gallery, Toi o Tamaki
"Innovative collaborations in the 21st century are rupturing delineations between cultural and commercial realms, creating vivid cross-pollinations such as Koons for Louis Vuitton. Hate to drop names but I did have a drink with Koons once and we talked about Icelandic ponies, of which he is very fond! His collaboration for Vuitton is a ravenous run through art history and honours artists that have gone before. His use of names on the pieces also appears to reference the brand new art recognition smartphone apps such as Artbit and Magnus."
Gary Langsford, Director of Gow Langsford Gallery
"This is unfortunately the worst kind of commercialisation of art historical masterpieces I have seen in my 30 years in the art world. The Gazing Ball series Koons based these on was, in my opinion, one of his weakest, conceptually and aesthetically. At his best he is a master, but this collaboration feels lazy and uninspired. The resulting products look like cheap tourist material. Louis Vuitton have worked with other major artists before and the pieces created by Murakami and Kusama are highly successful. Not only are they consistent with the artists' practice but they have been harmoniously integrated into the luxurious products."
READ: Louis Vuitton's Kim Jones on Koalas and Kakapo
Hayley King aka Flox, Street artist and print maker
"This collaboration is of notable scale. By collaborating, they're both having to make allowances and compromises in the aim of pushing both brands into new and exciting territories. I personally love it, it's a real salute to idea that there really are no boundaries between the different artistic disciplines of today."
Richard Orjis, Artist
"When I first saw them I thought they were butt ugly. That's interesting because good taste should always be questioned, as it's about what a wealthy upper class and European establishment deems aesthetically worthy. This collection is brave because they're luxury items that already look like knock-offs. They're kitsch. They're tacky. They're what I would have wanted as a camp 8-year-old. They're pure pop."
Dionne Christian, Arts and books editor, The New Zealand Herald
"I think collaborations with artists can be a useful way of making the arts a part of our daily lives, as long as the artists are recognised, paid for their contributions and have a say in the process. I don't think this is a roaring success and cheapens some of those original works. If you're going to be replicating other works, then have something new and original to say. I'm sure Koons negotiated long and hard to make this happen and all power to him, but there are probably cleverer things he could be doing."
Tim Melville, Gallerist
"Koons is at a point in his career where he's become a brand and the Masters handbags represent the alignment of two powerful brands. On paper it's a match made in heaven; however I'm not sure I buy the PR spin about its concern to 'erase the hierarchy' by 'generating appreciation for classical artworks by bringing them to a contemporary audience'. Isn't it just about selling stuff?! I'm not saying that the 'high art' world of dealer galleries is free from commercialism. We're all implicated in the game and we all have to sell stuff to keep the doors open. But the great thing about art is that it makes your life better (it's true!) and the project of most dealer galleries and public galleries is to make that art accessible. The more snobbery that can be removed, without compromising quality, then the better it is for everyone, and if a $5000 handbag with Fragonard's name on it really does 'erase the hierarchy' then great. But I still don't think I want one."
Share this: