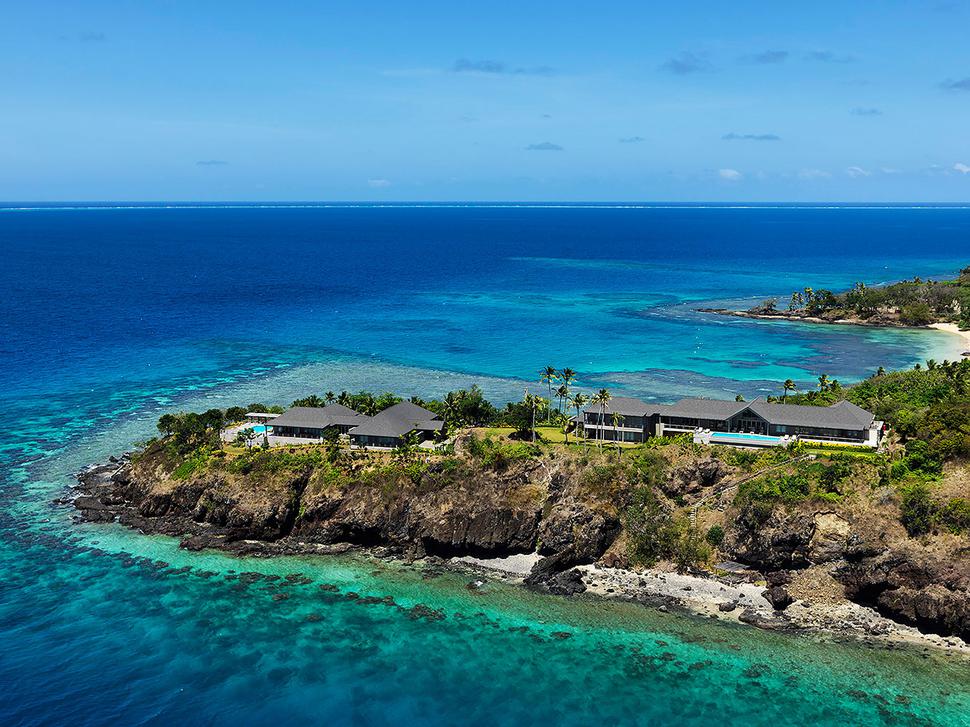 A Luxury Escape to Fiji's Kokomo Private Island
Far from the madding crowds, Janetta Mackay discovers the indulgent world of the Fijian paradise, Kokomo Private Island
Saturday March 24, 2018
Private island, arrived at by private seaplane (or helicopter) to stay in your own private residence, complete with a personalised menu of activities and dining. Sound like a fantasy escape for the super-rich? Well, yes, but you don't have to fly to a far-flung corner of the globe to experience the singular indulgence of Kokomo Private Island.
The resort is tucked away in the turquoise waters of Fiji's non-touristy southern Kadavu group, ringed by the Great Astrolabe Reef. It's also blessed with the South Pacific's lack of pretension, ensuring international-standard attention to detail blends seamlessly into a relaxed, barefoot escape.
Open for less than a year, Kokomo has already attracted its share of not-to-be-named "name" guests, one of whom whisked away a local nanny because his children took such a liking to her.
There's plenty else to want to take home, but the stunning sunsets, starry night skies and balmy seas can't be so easily uplifted. These are best enjoyed, cocktail in hand, gazing out from the resort's beach "shack" or looking out from your villa's infinity pool.
Just 21 of these spacious retreats, with up to three bedrooms, are nestled along the beaches on the east and west sides of the island. From their generous decks, it's a few steps down to your slice of white sand to snorkel or kayak among colourful coral and bountiful sea life.
Some guests seek out the sanctuary of one of five hilltop residences. The largest is a sumptuous north-facing, six-bedroom spread. Each residence comes with 24-hour butler service and a dream deck for dawn yoga or twilight barbecuing by the large pool.
READ: Taking a Step Back at Bali's Escape Haven Luxe Retreat
Guests who don't feel like descending to the resort's main dining bure can whip up their own food in a fully-fitted kitchen, order up meals, or book a chef's in-house service. Families who venture out may prefer to come together at the juice bar or wood-fired pizza parlour, nestled in a hillside nook near the kid's club and gym.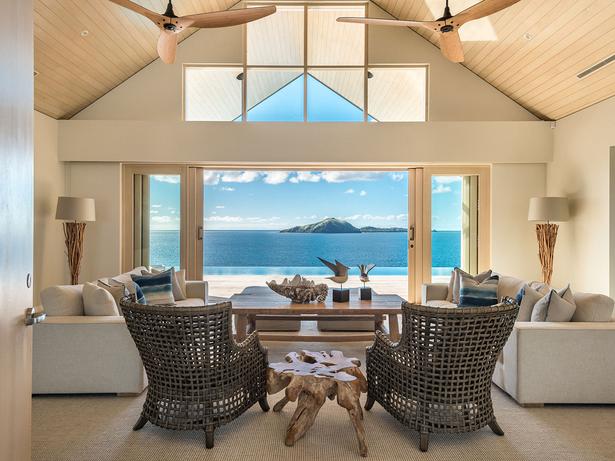 Food always garners its fair share of attention on a holiday, but at Kokomo the commitment to making it 80 per cent locally grown, adds eco-aware interest. Guests can check out progress by wandering through the kitchen gardens, past the plant nursery, chook house and beehives.
A desalination plant provides water for irrigation. Hydroponic houses and raised beds give way to terraced planting as the site rises steeply.
Overhead is Kokomo's helipad, under which an experimental kitchen adjoining the executive's chef's apartment provides an intimate arena for eating discovery sessions, complete with wine choices from the resident sommelier and a breathtaking view. Were it not for the occasional whirring from above, this would have been a prime guest penthouse.
The infrastructure of the island is impressive and owes much to the vision of owner Lang Walker, a commercial property billionaire from Australia. "He's not afraid of concrete," jokes Swedish general manager Martin Persson.
It's used in aesthetically pleasing and quick-smart construction, such as flooring to give a contemporary cool to the accommodation and in winding garden paths with lush tropical growth either side to make for easy access by golf cart.
Walker's vision for the 56ha island springs from his own use of it, as an inter-generational getaway. While Kokomo appeals to couples of all ages (with the residences big enough to host intimate wedding or anniversary parties), many of the guests are family groups, seeking to avoid the squash at even the best hotels.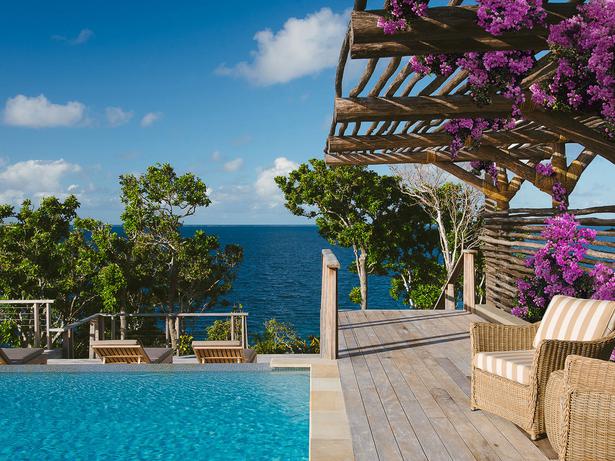 They like to make themselves right at home in the indoor-outdoor areas and well-separated bedrooms, each with a generous en suite and dressing area. One of the standout features of Kokomo is the contemporary tropical decor. Think linen upholstery, wooden shutters and modern art.
The Fijian feeling comes first and foremost from the friendly staff, clad in smart, super yacht-style uniforms of polo shirts and shorts.
READ: The Rise of the Polo Shirt
Indigenous touches in interiors are tasteful, rather than tiki bar pastiche, and, in the case of traditional soaring ceiling beams, practical for air flow also. Hanging murals of shells, made by staff, decorate the gated-off outdoor showers and lounging platforms.
When Walker came across the island it was uninhabited. It had been scouted by the luxury Aman resort group, which began building half a dozen villas but abandoned the project when the Global Financial Crisis hit.
He stepped in, in 2011, at first using the property just to host family and friends. The building bug took over in what he has described as a "passion project".
Persson, takes up the story, explaining he arrived just two weeks before opening, having been diverted from heading home to Sweden with his marketing manager wife, Lynn, after a spell opening upmarket hotels in the United Arab Emirates. He was soon caught up in the owner's vision to match the world's best, but done in Downunder style.
While Fiji has its share of $1000-a-night honeymoon hideaways, for those able to splash out even more, Kokomo's main competition is the upscale Laucala resort. It too is in a remote location, also with great diving.
READ: Six Unexpected Honeymoon Destinations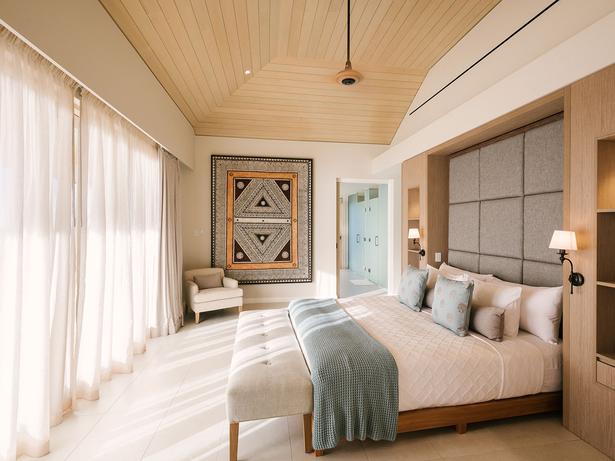 Laucala has gained buzz from hosting supermodels and super stars and being owned by the co-founder of Red Bull, Dietrich Mateschitz. But as Persson explains, Kokomo (already classed as one of the Small Luxury Hotels of the World), sees itself competing as much with high-end resorts in places such as the Maldives.
Most New Zealanders tend to think of Fiji as a convenient family package deal, yet for international travellers it is viewed as part of an exotic array. They are willing to spend big money and they expect top-notch service. At Kokomo they are seduced by the authentic hospitality.
This is typified by chef Caroline, a self-taught local find of Walker's, who first moved to the island to work as his personal chef. She loves seafood and likes to chat with guests to find out their tastes and then surprise them. "I cook from my heart," she told me before serving up a meal bursting with fresh local flavours.
A Thai-influenced curry of locally-caught crayfish and island-grown basil stood out. It was followed by a coconut milk sago pudding with parcels of banana and caramel sauce.
Caroline's domain is Kokomo's nautically-themed casual bar and restaurant, Walker d'Plank. (The name is the resort's only obvious sign of the billionaire's indulgence, or perhaps it's his in-joke, given Australian media have reported he has spent upwards of $100 million on it.)
The overall food offering is in the hands of Australian executive chef Anthony Healy, whose pedigree shows through in an inventive evening degustation in pleasing proportions. Wine-matched as you wish.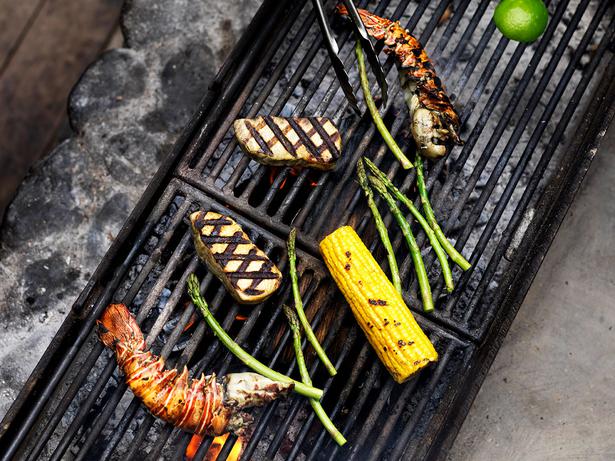 Should guests choose to go fishing, either within the large reef, or beyond to the deep sea, the chefs at both restaurants will happily serve up your catch; anything from fresh tuna sashimi to a seared game fish steak. I hooked a tuna, dismissed as only bait-worthy, and was helped to reel in a metre-long Spanish mackerel (walu) which guides Joe and Logan reckoned at 30kg.
Other activities available include a picnic on an islet, or a trip to the group's main island, Kaduvu, which, despite a population of 5000 has just 10 cars. Locals get about by motorised longboats or on foot.
By the time we reached the target waterfall of our bush walk, we were well ready for a cooling dip. On the way back, our guide, Mahle, shimmied up a coconut palm and used his machete to supply us with a welcome drink.
READ: Great Beach & Coastal Walks
The walk was easy enough for anyone moderately fit, but for a more cocooning experience there is a resort spa. Called Yaukuve, the local name for the island, it is suitably swish. An introductory spa session is the ideal unwind to start your stay.
Come departure day, the seaplane awaited, ready to connect me at Nadi with Fiji Airways direct daily flight home to Auckland. Kokomo staff were gathered to sing the traditional farewell song, Isa Lei. A semi-retired English couple reluctantly flying out with me were not the only ones ready to shed a few tears.
• Resort stays start at US$2500 ($3410) a night for a 2-person villa, with residences from US$7250 upwards. An island book-out for a maximum of 140 people costs US$130,000. Stays are inclusive of all meals and snacks (not alcohol), nanny service or kids' club and many activities. Transfers from Nadi additional. For details, go to Kokomoislandfiji.com
Share this: