New Zealand's Most Expensive Face Cream
Would you pay $1630 for La Prairie's luxurious face cream?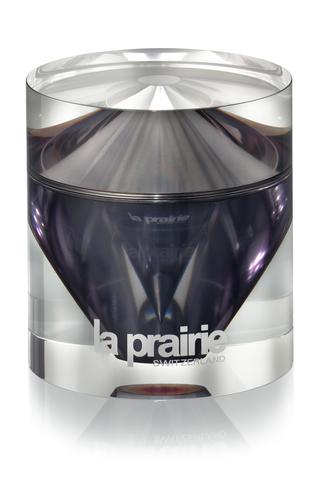 Every wondered what to pack in your toilet bag next time you're travelling by private jet? We're figuring something like La Prairie Cellular Cream Platinum Rare, which at $1630 a jar is the most expensive standard-sized skincare product on sale in New Zealand department stores.
Apparently, here in New Zealand people have been known to buy one 50ml jar for at home and another for the holiday house. Tourists visiting from Asia also stock up on the luxury Swiss brand.
Sales figures are kept confidential, but the market for luxury skincare like La Prairie's is growing in New Zealand. So too is interest in the top-of-the line ranges from other prestige companies like Dior, Guerlain, Chanel, Estee Lauder and Lancome. A day or night cream or serum from their top ranges might typically range from around $200 to $600. Head to the supermarket and you can find a similar sized product for $20 to $40.
So why spend a minimum 10 times what you have to? You may as well ask why drive a Mercedes instead of a Mazda.
For some people it is simply because they can, others because they insist the difference is worth it. Look, feel and performance are all cited.
But when it comes to skincare, you can't take it for a spin for all to see in the same way as you can show off a prestige car. Even if you do park your pricey pot of promise prominently on the bathroom shelf ahead of your next dinner party, the mileage you get from such exposure is strictly limited.
With any luck your glowing skin will advertise your investment and you'll definitely be considered a VIP customer at the lucky counter you shopped at.
But is it worth spending up large? Science wrapped in a lot of marketing is one way this is justified. Psychology may be a better measure.
La Prairie itself says growing wealth in upper income brackets globally is fuelling an unprecedented demand for products that represent luxury and quality. It says it designed Cellular Cream Platinum Rare "for those who seek out all that is precious and perfect: in their personal possessions, their composite lifestyles or their well-cared-for skin and bodies."
The cream, in a handcrafted jar, contains colloidal platinum, with the precious metal said to give skin "that same inimitable soft splendour from the moment of application." Peptides and antioxidants are also part of the concoction, as typically used in advanced anti-ageing creams.
Its promise is of "regaining and maintaining youthful and glowing skin."
With its origins running a skin clinic in Switzerland where the rich and famous would go for a discreet appearance overhaul, La Prairie, still talks the talk.
The company, which has for some decades been focused on skincare development and sales, says the cream is the "pinnacle of science and luxury, combining artistry and technology." Its premium positioning is explained by the cost of its biotechnology and ingredients. (Platinum being more expensive than gold).
"Cellular Cream Platinum Rare is designed for the woman who wants the best of everything: the woman who places high value on recharging her skin with youthful beauty," says the company.
Only you - and your bank manager - can decide if you're that woman.
Share this: