See Lady Gaga's Glamorous New Campaign for Tiffany & Co.
Pop icon Lady Gaga stars in the legendary jewellery brand's new Tiffany HardWare campaign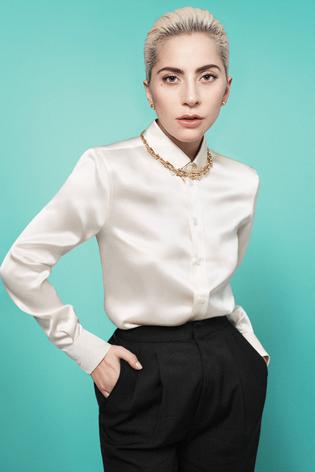 Following on from Lady Gaga's Tiffany& Co. campaign which premiered at the Super Bowl last year, new images and a behind-the-scenes film featuring the pop star have been released.
The style icon and singer is pictured in a range of striking black and white portraits, as well as colour images against a classic Tiffany blue backdrop, showcasing the luxury jewellery brand's new fashion focused collection Tiffany HardWear.
"I love Tiffany HardWear because it's different and elegant - but it's not what you would expect of elegance. That's like me I think - I'm a bit different," said Lady Gaga in a statement. "To me, Tiffany is definitive and iconic, yet continues to push and evolve with the times."
GALLERY: Lady Gaga's Most Fashionable Looks
The campaign, styled by the legendary Grace Coddington and photographed by David Sims, features Lady Gaga wearing a gold chunky graduated link necklace, triple drop earrings and dangle ball rings from the new range - which was inspired by unisex designs from 1971.
The Tiffany HardWear collection will be available on Tiffany.com from May 2, and in-store from April 28.
WATCH: Behind the Scenes with Tiffany & Co. and Lady Gaga:
Share this: