Taking the Land Rover All-New Discovery For a Spin
Land Rover's latest Discovery SUV mixes luxury and technicality with ease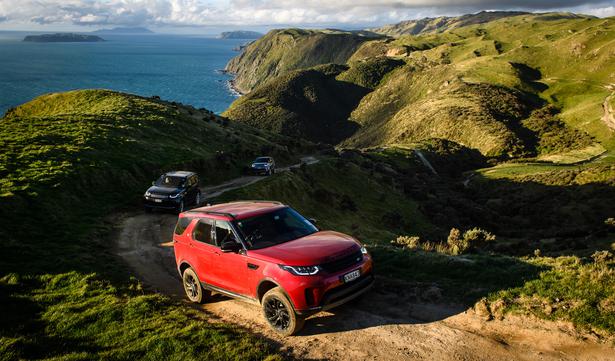 Monday May 15, 2017
Where:
It's Monday morning and instead of sitting at my desk fending off emails; I'm under blue skies amongst the rolling green hills of Boomrock in the Ohariu Valley, just outside of Wellington. We are greeted in the Boomrock dining room with a crackling open fire and a view across that Cook Strait that seems to stretch forever.
The sweeping vista acts as a picture-perfect backdrop for Land Rover's All-New Discovery, which is parked pride of place on the front lawn. But before taking it for a spin, chef Mark Hartstonge treats us to a three-course meal — including a feast of John Dory, freshly caught the night before.
What: 
The fifth-generation Land Rover Discovery combines luxury and technicality with ease. It's the type of SUV where massage seats meet 2500 litres of storage space. We start by taking the Discovery through a series of obstacles including a jaunt through a pond to show off its 900m wading depth. Driving the vehicle on an angle against a hill is made much easier thanks to the 10-inch touchscreen infotainment system displaying the exact angle the SUV is leaning on.
Next we head on an hour-long trek along the coast up to the southern boundary of the property, putting the Discovery's multi-mode Terrain Response 2 system to good use. Operated by a simple dial — an absolute blessing for a beginner such as myself — the system means you can pick the best mode to suit your conditions, such as 'Grass, Gravel and Snow'.
The added help of a "crawl speed", set using the All-Terrain Progress Control (ATPC), allows me to focus on navigating my way through the tricky steep and windy patches of the trail without having to worry about acceleration too.  
We're greeted by cattle and the sound of whirring as we reach our destination, an otherworldly view of hills drenched in yellow light and dominated by 120m-tall wind turbines.
As dusk starts to set in, we head back to the lodge to top off the day with a glass of champagne and a roaring crimson sunset.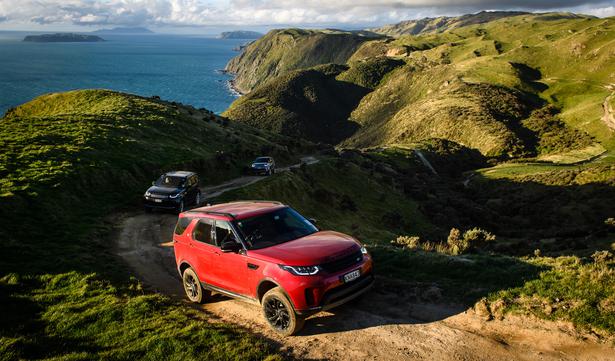 Need to know:
- Seats seven full-sized adults.
- 2500 litres of storage space when the back two rows of seats are folded down. 
- Maximum towing capacity of 3500kg
- Intelligent Seat Fold technology means that the back two rows of seats can be reconfigured using controls at the rear of the vehicle, the central touchscreen or remotely using a smartphone app.
- Ground clearance is rated at 283mm, up 43mm from the previous model.
- Maximum wading depth of 900mm, an increase of 200mm.
What's to love:
- More connectivity than ever; up to six charging points, up to eight devices can be connected to the wi-fi hotspot and up to nine USB ports. 
- Powered tailgate that folds down and can hold up to 300kg, creating a seat ideal for picnics.
- 14-speaker Meridian digital surround system, with additional subwoofer.
- The option to specify luxury interiors, including Windsor leather upholstery and natural oak veneers. 
- The option of heated seats in all three rows, including heated and cooled in rows one and two.
- Massage seats are available for the driver and front passenger seats.
Price: 
- SE model from $114,900.
- HSE model from $126,900.
- HSE Luxury model from $136,900.
Share this: