The Best Luxury Women's Watches
Stand out from the crowd with one of the five best women's watches at Baselworld 2017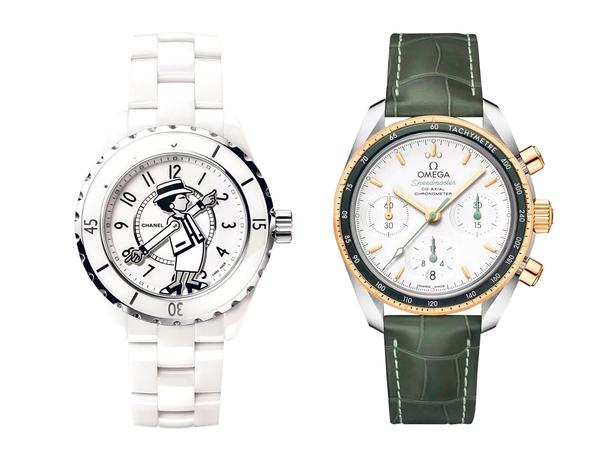 Tuesday April 25, 2017
How to condense Baselworld with its hundreds of watch exhibitors into a "best-of" column? It's virtually impossible, because this year (and for the first time in a while) there were plenty of brilliant things — complicated watches for women, watches with incredible gem-setting, watches with a playful humorous touch, watches that gave the boys a run for their money in terms of materials, and some seriously good design from the luxury fashion houses.
Here are my top five in no particular order.
Chanel
First up, Chanel and the Mademoiselle J12. The fashion house is quite rightly obsessed with its namesake. Devotion to Gabrielle runs through everything, from fine jewellery to couture, ready-to-wear to accessories. Now she appears on the dial of the iconic J12 — in a 38mm black or white ceramic and steel version each limited to 555 pieces.
Mademoiselle's arms move to tell the time, in the classic "Mickey Mouse" style (the hour hand, or rather "arm" is actually tucked behind her body so the construction is quite rightly sophisticated, as is the automatic movement) and in both versions she wears her signature monochrome tweed suit. This is as humorous as Chanel is ever going to go, and should be celebrated for just this reason. It's cute and likeable and just the right side of kitsch.
READ: Louis Vuitton Watches and Jewellery
Omega
Next, Omega and its revamped Speedmaster range now in 38mm. Strictly speaking it's unisex but with its variety of colours, case size, use of mother-of-pearl in some models and a smattering of diamonds, this is aimed mainly at women. Chronographs for women are unusual, the idea being (and it's largely true) that women are less interested in automotive sport, measuring speed, or such cluttered dials.
And this watch is busy, with three sub dials, a date window at 6 o'clock and a tachymeter scale on the bezel, ringed on some models with diamonds. But the styling and palette is spot-on, particularly in the olive green and yellow gold version; there is something very smart and clever in the balance between casual and luxury that makes this watch seem like the perfect weekend wrist companion.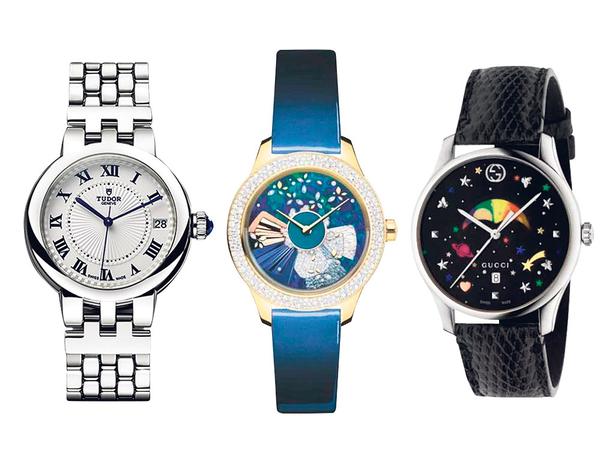 Tudor
Tudor has entered the female arena again with a total redesign of the Clair de Rose collection that first launched in 2011. As with the men's proposition, Tudor is very much about a dependable everyday watch — with durability, quality and reliability top of the agenda, all at an extremely competitive price point.
The 34mm version on a steel bracelet has a lovely fluted opaline dial and retails at £1580 ($2895), great for an automatic timepiece. For an extra £350 you get eight diamond dots on the dial — the diamonds aren't big but that kind of value (and willingness to not over-charge the consumer) is rarer than rare.
Dior
Two more watches to complete the roundup — one, the Dior Grand Bal Galaxie comprises 10 unique pieces. Dior really is setting the bar for mechanical watches with exceptional, different, interesting gem-setting.
Here the Grand Bal characteristic oscillating weight is positioned on the front of the dial as usual, but covers the entire space with a layer of transparent sapphire crystal set with diamonds that shimmer as the wearer moves. Underneath sit 10 unique opal marquetry dials set also with pleated gold, with the stones alone taking six months to source. In terms of know-how and a point of difference, these watches are hard to beat.
Gucci
And finally, Gucci. Who would have thought its watch proposition could be so interesting and vibrant? Alessandro Michele has waved his magic wand and produced a varied, slightly crazy mix of Gucci magic.
GALLERY Runway: Gucci Fall 2017
Everything that makes his fashion brand so covetable at the moment is condensed into the timepieces — the use of resin, floral double Gs and embroidered snakes and tigers all appear. But the highlight is a gold moonphase (also available in steel) — a beautiful dark blue dial set with a sprinkling of stars, comets and hearts, the perfect embodiment of Michele's aesthetic.
— Telegraph
Share this: