Orlebar Brown's Celebration of Travel
The travel obsessed swimwear brand has become the go-to for stylish men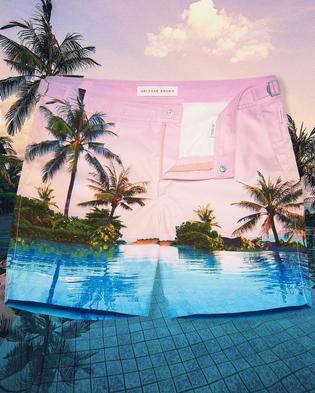 It's funny how the most innocuous of events can have such a momentous impact. Had Adam Brown not needed to change for lunch during a holiday in India 12 years ago, he wouldn't have spent some of this month in the Bahamas overseeing a photoshoot with two hugely influential titans of social media.
In 2005, Brown joined a friend's 40th-birthday celebrations at Rajasthan's RAAS Devigarh resort and noted a male fashion faux pas. Though the women in his party were impeccably attired throughout their stay, when it came to the pool his ordinarily style-conscious male peers "had put on either very tight briefs or baggy boxer-short-style shorts".
It was when Brown himself needed to change into another pair of shorts to be appropriately dressed for lunch that he pinpointed an irritation afflicting 50 per cent of those in the group: "I thought, 'I don't want swim shorts, I want shorts I can swim in.'"
That chance realisation proved to be the catalyst for the 2007 launch of Orlebar Brown, a London-based menswear brand that produces tailored beach and swim shorts (suitable both for a day by a pool or an evening of fine dining alfresco) alongside a growing range of holiday-ready apparel and accessories.
Its signature shorts - inspired by the cut and finish of suit trousers, featuring two front pockets and with zips rather than velcro - were enthusiastically received by a neglected market.
Today Orlebar Brown is heading towards £20m in revenue - its shorts cost from £95 to £395 - and its founder oversees 20 outlets and a staff of 100.
With so many of his products intended as holiday attire, it is no surprise that Brown's lifelong passion for travel has also served as an invaluable source of research and inspiration. Trips abroad provide a way of "seeing new things and having a parallel life…
There's something about temperature and smell and all these sensory things, whether you're going to India or Miami or wherever, that is so different and exciting."
He is especially keen on Italy, and in particular places on the Amalfi Coast such as Positano and Capri, which he loves for their romance and style. He is also a fan of Italy's "fabulous design, things like Gio Ponti's hotels, Riva boats, Alfa Romeo Spiders and Vespas, which always make you think of sunshine, happiness and good times."
Elsewhere, Bhutan's palette of lush greens, browns and charcoals, discovered by Brown on a 10-day trekking holiday, provided the inspiration for his brand's autumn-winter 2016 season, and a recent trip to the volcanoes of Chile will doubtless be referenced in future designs. His favourite holiday destination, however, is closer to home.
North Cornwall, the setting for childhood getaways, is the place to which he returns time and again. He still goes swimming and surfing near Trevose Head, "which is bleak and wild and incredibly romantic, with crashing waves and amazing scenery."
His former career as a photographer also proved influential, and was instrumental in establishing an Orlebar Brown signature. To celebrate the brand's fifth anniversary, he investigated whether it was possible to introduce "a narrative" to the shorts, with photography his desired medium.
It was crucial that the pictures he chose showed the world at its most beautiful and communicated the brand's values. The work of the late American photographer Slim Aarons, dedicated to "attractive people in attractive places doing attractive things", was a natural fit.
Whether showing bronzed holidaymakers cavorting by the rock pool at Hotel du Cap-Eden-Roc, or sunbathing on Florida's Palm Beach, Aarons had what sounds like a marvellous time following the global elite to glamorous holiday resorts around the world throughout the 50s, 60s and 70s. His repertoire always conveyed, says Brown, "a celebration of sunshine, travel and good times, which is what we're about… the pictures still feel very modern; you can't date them."
The resulting 2012 line of Slim Aarons vintage photograph-print shorts was another success and has served as a precedent for a 10th-anniversary collaboration that is firmly rooted in the 21st century.
It was again by chance that Brown noticed on social media that his products were being worn by Jeremy and Tom Jauncey, the British founders of Beautiful Destinations. The Jaunceys' creative agency claims to be "the largest travel community on social media" and its eponymous Instagram account boasts nine million followers.
WATCH: Orlebar Brown and Beautiful Destionations
Orlebar Brown and Beautiful Destinations, says Brown, are both "intrinsically British but ultimately very international brands", and have now joined forces to launch a range of shorts printed with three highly "liked" Beautiful Destinations Instagram images taken in Bali, Miami and French Polynesia.
This month's shoot in the Bahamas shows Brown and the Jaunceys modelling their new products in a place that represents the carefree holiday spirit with which both companies have become synonymous.
The tie-up is, in many ways, an obvious evolution for both brands. Though the Jaunceys have mastered social media, they had never delved into product development. Orlebar Brown, meanwhile, has benefited from the Jaunceys' social-media expertise. The collaboration, says Brown, "presents a great way for us to do storytelling", with Instagram providing a platform to engage with and observe the company's clientele.
Social media has helped Orlebar Brown in other significant ways, too. Its ubiquitousness means men are much more conscious of being "camera-ready" than they were 10 to 15 years ago. "Whether you're standing with your shirt off or dressed head to toe at a party, there's more desire to be ready to record that moment, to share who you're with, where you are, what you're doing and how you're doing it."
With clothing that, in Brown's words, is intended to "flatter men, full stop", the company is aiming to cater to those of all shapes and sizes who might need something that "gives a little help when you're taking your clothes off in public". On the evidence of their Bahamas shoot, however, that's something that the young, honed and well-disciplined Jaunceys don't yet need to worry about.
- The Daily Telegraph
Share this: