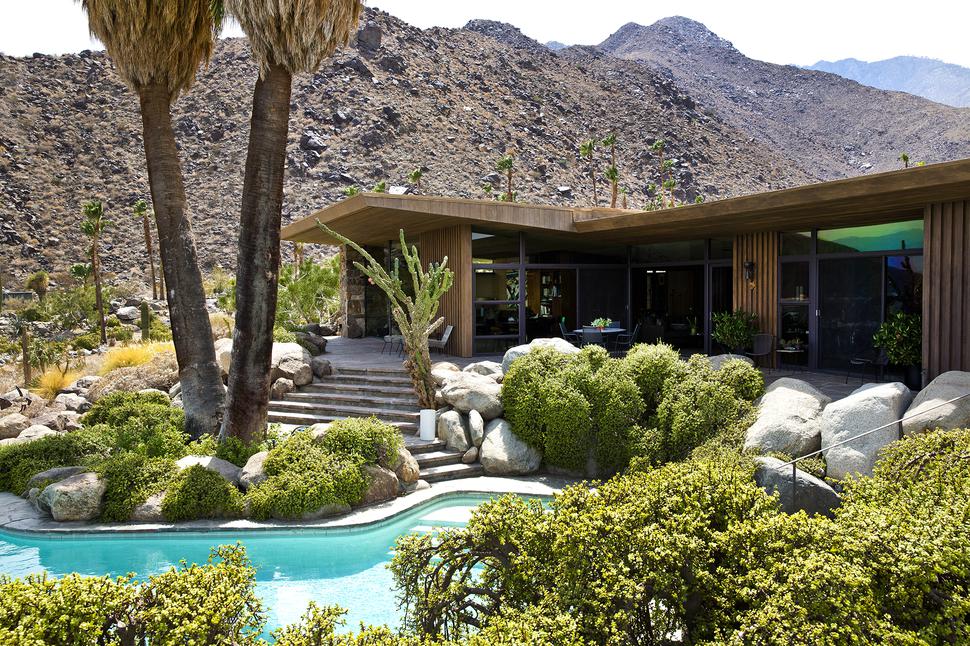 Behind Closed Doors at Palm Springs Modernism Week
In a city where even the most prosaic of buildings has architectural panache, it's hard to miss the mid-century references
Tuesday Jan. 23, 2018
"That one shows this neighbourhood, if you look closely." I was standing in the living room of a house high up in Palm Springs' Little Tuscany neighbourhood, talking to artist Lynda Keeler who was guiding me through a geometric painting on the wall.
My eyes momentarily drifted to the right, through the room's open doors and past the cyan-blue pool out to the palm tree-pricked desert floor, cupped by mountains which were rose-gold in colour owing to a recent spate of wildflowers.
An artist by trade, Keeler uses her phone to map walks through the cities of Los Angeles and Palm Springs, between which she splits her time, before using them to plot her abstract paintings. Picasso-esque in their use of colour, they pop with vibrancy in her open-plan, sun-lit house.
But Keeler is not only an artist – and I was not only interested in what was on her walls. She is also the owner of an original mid-century-modern house, dating back to 1957, which she opened during Modernism Week's Fall Preview this year.
For four hours on a balmy October afternoon, myself and a long line of modernist aficionados toured Linda's house, among others, in plastic shoe-covers the same colour as that cyan pool. The four-day taster event serves to whet the appetite for an extended extravaganza in February.
Other houses I visited included a new-build with a beautiful triple-height porte-cochère, through which a palm tree grew; and a glamorous pad with an indoor-outdoor pool that cut into a sunken lounge. Neither of them would have looked out of place in a Slim Aarons photo – in fact, you can drive past the Richard Neutra-built Kaufman House, also in Little Tuscany, which was used in Aarons's notable Poolside Gossip.
GALLERY: See Inside the Frey House in Palm Springs
In a city where even the most prosaic of buildings has architectural panache – the Jetsons-esque Bank of America, the Donald Wexler-designed airport, the sculpture-studded animal sanctuary and even the KFC – it's hard to miss the mid-century references if you tried.
But Modernism Week gives design lovers the chance to do more than collate imagery for their Instagram feeds – it allows them to take an exclusive look inside seminal houses, learn about the movement's history and, for homeowners and buyers, purchase original furniture and spark architectural inspiration.
It's funny to think that the mid-centuries fell out of fashion during the Eighties and Nineties – it's now a design oeuvre much mimicked the world over, from Puglia to Paris. Step into any new design hotel in 2017 and you can bet that terrazzo tiling and velvet mid-century sofas have been employed to some degree.Louis Vuitton even staged their 2016 Cruise show at Bob Hope's spaceship house in the city, while seven years of Mad Men cemented it into the modern-day design psyche.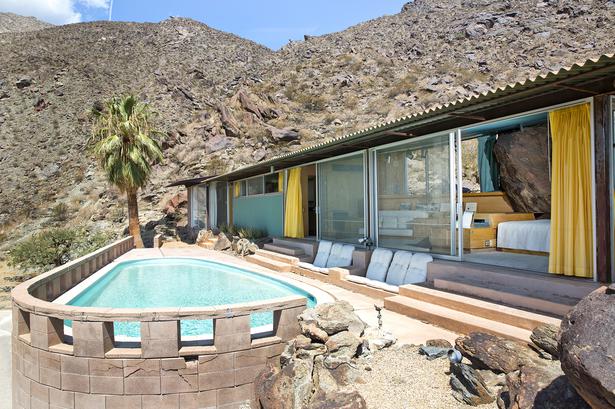 Modernism Week began in 2006 and now has twice-yearly iterations, with a Fall Preview running in advance of February's complete festival. The event has grown so significantly in stature that the 2018 event will last 11 days rather than seven, and will feature everything from furniture fairs to themed parties to in-depth talks.
Start with the architecture tours – you'll see the facets of the mid-century-modern style put into use everywhere, such as brise-soleils (decorative, often patterned, sun-blocking panels), clerestorey windows which allow privacy but don't impede the mountain views, and the zig-zag "butterfly" silhouettes of roofs.
My guide, Conran, encouraged us to take pictures of details that we could emulate at our own homes – if only a tangerine-coloured brise-soleil would look as good on a terraced house in London as it did in the desert sun.
Though double-decker buses are brought to the city especially for these tours – the top floors allow good vantage points to see beyond the hedges and admire details that are ordinarily obscured. A more comfortable and exclusive option has been announced for next year, whereby guests travel around in an Alfa Romeo Stelvio SUV with their chauffeur also serving as their guide. Otherwise, renting a car is necessary.
It's the series of open houses that set this festival apart – they span modern renovations to original properties designed by mid-century trailblazers. The pearls from 2018's line-up include the inimitable Frey House II, seemingly built into the rocks of the hillside; Loewy House, another by Albert Frey, built and named for the designer who created the Coca-Cola bottle; and the low-rise Edris House, a class-one historic site by E. Stewart Williams almost hidden from street view.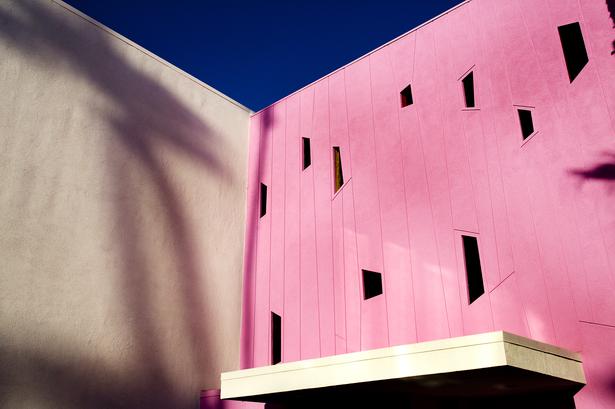 The Saguaro Hotel. Picture / Babiche Martens

Those interested in the Fifties Hollywood heyday will not be disappointed either, with a roster of specific tours. The parties are also of Tinseltown standard: book the "Martinis on a Mountain" event at the O'Donnell House not only for a break from the mid-century lines – the house is Mediterranean Revival in style ­– but also for the views.

Otherwise, head to the party at the Wexler-designed Dinah Shore estate, now owned by Leonardo DiCaprio, or the soiree at Frank Sinatra's Twin Palms house, where Ol' Blue Eyes was said to raise a flag when he was home to invite neighbours over for a tipple and a dip in the piano-shaped pool.

READ: An Unforgettable Trip To Palm Springs

The average price of a ticket for a standard event or tour is around $35/£27 (the parties go up to $150/£115, and the Alfa Romeo tour is $750/£570). The organisation is not-for-profit and the majority of the proceeds go towards preservation projects and sponsoring students of architecture.

The festival is an ingenious way of conserving a place so resolutely anchored in not only the past, but also its natural surroundings. The city adopts a system of "adaptive reuse", whereby buildings are repurposed, rather than destroyed, to make way for new ones – the latest hotel opening, La Serena, for example, has been transformed from former bungalows into spacious suites, each with their own outdoor tub. There's even an unoccupied house on the home tours schedule – The Miles C. Bates house – in order to conjure up prospective buyers.

And while Palm Springs honours its past, it also looks to the future: the opening of the new Rowan Kimpton hotel, the highest property in the city with its only rooftop pool, is imminent; an Andaz and a Virgin Hotel will join it in the next few years.

By the end of 2018, a new park will open opposite the Palm Springs Art Museum. The park perhaps best encapsulates the attitude of this forward-thinking desert city: on one side, it will house a statue of one-time resident Marilyn Monroe; on the other, the Aluminaire House, designed by Frey and an example of one of the first metal prefabricated houses in the United States. It was built and originally housed in New York but was no longer desired by the city.

Palm Springs embraced the platonic ideal of modern living 60 years ago, and that it still continues to flourish and influence the design world today is testament to its longevity. So maybe I'll rethink the orange brise-soleil.

- The Daily Telegraph
Share this: