Why Luxury Fashion is Desperately Trying to Woo Millennials
Robin Givhan reports from Paris on Balenciaga, Valentino and Dior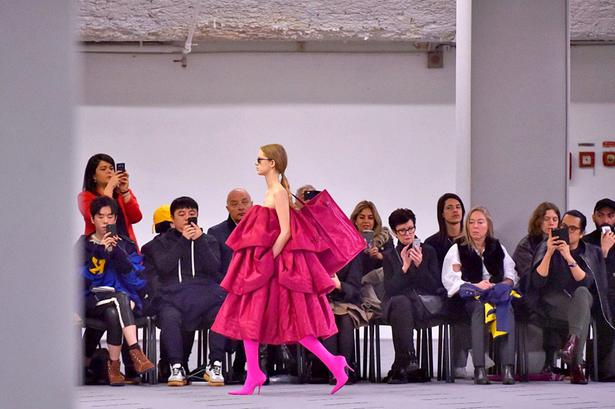 Tuesday March 7, 2017
Fashion, like most everything else, is now seeking to please the millennials - who want experiences not products, who value design but are suspicious of a sales pitch, who want quality but tend to be cheap. The last thing millennials are supposed to want is an ostentatious $4000 designer dress that might look great in a selfie but is too precious to sit down in let alone wear while pedaling to one's communal office space on a shared bicycle.
So thank God for millennials. Because fashion is changing - whether consciously or not - to lure them in. And those changes have, in many ways, been good for everyone.
Yes, there are far too many folks walking in yoga pants who have never set foot in a gym. And certainly fashion has spent too much time obsessing over street style and how designers might make a better hoodie.
But the generational shift has also meant greater diversity on the runway. It has pushed fashion to reconsider its means of distribution and presentation. It has taken some of the hot air out of many of the industry's old-guard brands - notably Balenciaga and Valentino. And that's good for Gen X and Baby Boomers, too.
These two things co-existed on the Balenciaga runway Sunday: full-skirted gowns reborn from the house's archive, and slim skirts assembled from car mats. Yes, the ones that catch the slush from your feet on a grimy day. Not only did both of these aesthetics live on the house's runway, they did so with vibrancy and élan.
READ: How Balenciaga Shaped Fashion
There were classic overcoats that buttoned high on the shoulder, mimicking the look of fabric draped around a model during a fitting in an haute couture salon. But there were also handbags crafted to mimic side-view windows cracked off a new car, and giant handbags that looked like something a street peddler would use to tote his wares. There was a magical evening gown covered in pale feathers, with a matching shopping bag. There were shirts with backs made from car mats.
Designer Demna Gvasalia gracefully balanced humor and refinement, the past and the present, the atelier and the street. Balenciaga is marking its 100th anniversary not only by celebrating its history but also by sussing out how it might survive and thrive in its next century. This requires taking risks. Risks like using non-traditional materials; showing the collection in a massive basement adorned by nothing more than yards of gray Balenciaga-branded carpet; or the daring hire of Gvasalia, himself.
Gvasalia debuted as the house's creative director at this time last year. At the time, the most prominent data point on his resume was his lead role in the design collective, Vetements, best known for turning DHL t-shirts into covetable talismen of status.
To be fair, even before Gvasalia's arrival, Balenciaga was already working to engage contemporary sensibilities. Nicolas Ghesquière had given Balenciaga a futuristic sci-fi haute couture aesthetic. Alexander Wang emphasized a sportier look. But Gvasalia has pushed it even further by embracing kitschier references and elevating the banal under its branding.
Gvasalia finds many of his models on the street, meaning that they are a rather eccentric-looking bunch. High cheekbones and the legs of a gazelle are not requirements to walk in one of his shows. On Sunday, the models looked practically bare-faced, with no visible makeup, not even lipstick.
But Gvasalia has also had a rocky time with his castings. He was criticized mightily for his failure to use models of color either in the Vetements show and in his fall 2016 debut for Balenciaga. While he was lauded for helping to upend the established definition of luxury fashion, he seemed mired in a 1950s view of diversity and its relevance in popular culture. That changed last season at Balenciaga. The runway was more inclusive.
This season, the house was subject to accusations that its casting directors mistreated over 150 models who arrived at Balenciaga headquarters to vie for a spot on the runway. James Scully, who has become something of an activist for models' rights, detailed the offending situation in an Instagram post. He accused the casting directors of leaving for lunch and abandoning the young women in a darkened stairwell for hours.
The directors acknowledged that a power outage occurred during the go-see and even applauded Scully for speaking up on behalf of models, but denied that their behavior had been "cruel and sadistic" as he claimed.
Ultimately, Balenciaga dismissed the casting directors and sent apologies to the models' agents. But the contretemps served as a reminder that the women who walk the runways are typically young and vulnerable, their working conditions are largely unregulated and selling glamour can be profoundly grim business.
Most assuredly, fashion is a grueling and impatient industry. To his credit, Gvasalia has quickly honed his vision for Balenciaga. The brand is his now.
At Christian Dior, the story is very different. Last year, designer Maria Grazia Chiuri left Valentino to become the first woman to hold the creative reins at Dior. She opened her spring 2017 show with a bold declaration of feminism and a collection inspired by fencing uniforms. She made you curious to see what she might do next.
GALLERY: Highlights from Dior Fall 2017 at Paris Fashion Week
For fall, she was inspired by blue. Unless you are Yves Klein, that is not enough.
The collection was not bad, it was simply dull. There were no moments of excitement, no visceral thrills, no wonderfully delightful trifle. No next-generation allure. Instead, Chiuri offered berets, coveralls, trim jackets, pleasant trousers and blue smoke. Eh.
But back at Valentino, Pierpaolo Piccioli, her former co-designer, turned out a collection that showed off the technical prowess of the house, reveled in the pure beauty of fashion and steered clear of an aesthetic fit only for a china doll.
Piccolo's models wore chunky-heeled boots with cut-outs and buckles that made them look like a hybrid of gladiator sandals and Dr. Martens. It didn't matter if models were wearing tent dresses with lavish embroidery or pleated ones in shades of gold or rose. The free-floating dresses were grounded with these take-no-prisoners boots.
He paired loose-fitting trousers with flats that resembled Teva hiking sandals and slides; and luxurious evening gowns looked that much more comfortable thanks to the easy footwear with which they were worn.
The dresses were ageless. One could imagine them on a woman in her 50s as well as one in her 20s - if she could afford them. But as rarefied as their construction might be, and as exquisite the fabrics look, the clothes never felt irrelevant. They could be a part of a real person's life. They could find a home off the runway, off the red carpet and in the streets of a city.
Valentino, like Balenciaga, could thrive in the wild.
- The Washington Post 
Share this: