Wind Down in Style at Phuket's Sri Panwa Resort, Thailand
Zoe Walker lets go and relaxes at one of Phuket's most fabulous luxury resorts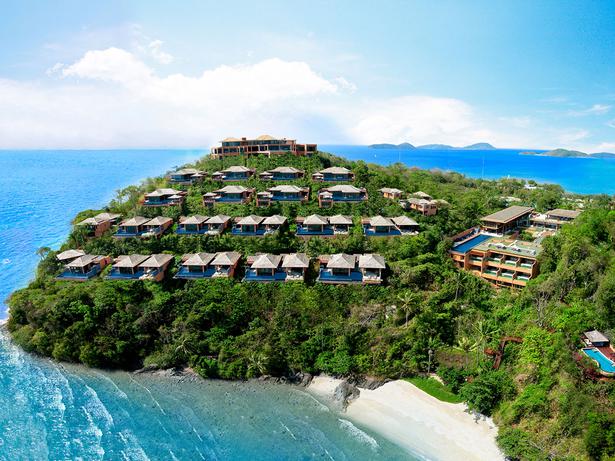 Tuesday April 18, 2017
I am meditating, completely still on a rooftop deck 60 metres above sea level. A flight of swallows flitter overhead, and a warm gentle breeze brushes against my face. Anxiety, stress, cynicism — my natural state for months — quickly fall away. How can I possibly be on-edge looking out at the deep blue Andaman Sea as the sun rises, greeting my first full day in Thailand?
The deck is the highest point of Sri Panwa, a luxury resort situated on the southeastern tip of Phuket and sprawled across 16ha of lush, tropical grounds on Cape Panwa. Named Baba Nest — those birds are regulars at dusk and dawn — the rooftop is the jewel in the resort's crown, with jaw-dropping 300-degree views of the sea and surrounding islands.
Used for yoga in the morning, later it transforms — via a few well-placed oversized striped pillows — into one of the world's most incredible (and Instagrammable) bars, with guests lounging and sipping cocktails as the sun sets, feeling #blessed to be in such a grand spot.
Managed by the magnetic Vorasit "Wan" Issara, his obsession with style and a good time, good food and even better service can be seen all over Sri Panwa: his staff wear branded polo shirts in various candy shades (available to purchase from the hotel boutique), iPods in villas are pre-loaded with music for any mood, a luxury speedboat called Free Willy whisks guests to visit outer islands, and villas have infinity pools that you can dive into straight from your room.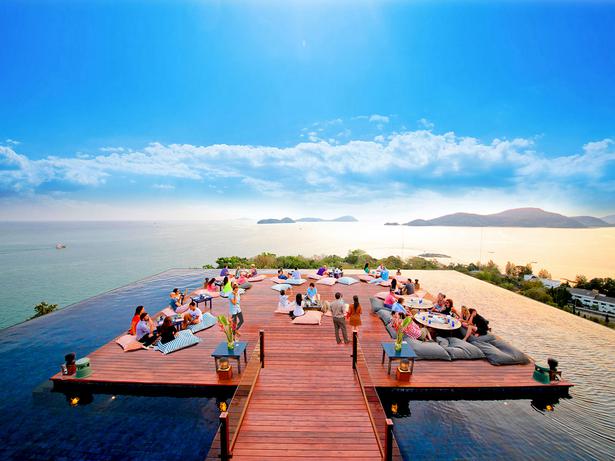 The resort — which describes itself as "private and very sexy" — epitomises the modern, millennial approach to luxury: fancy and fun, healthy and a little hedonistic. It's popular with hip young things who aren't necessarily into Party Phuket, but still like a good time.
Hidden high up and among the trees, we're a world away from Patong's party zone and the tourism madness. Post-yoga, boat ride and pool lounging, we spend a day doing the touristy thing: visiting the beautiful Wat Chalong Buddhist temple swarming with tourists, stray dogs and temple cats, and the Giant Buddha, hauntingly beautiful in the mist.
READ: 7 Health Retreats to Visit
My stress returns as we drive past a baby elephant chained up on the side of the road, ready for photos with clueless tourists.
It's easy to want to head back and never leave the sheltered, relaxing, luxury bubble of the resort, with its smiling staff, waterfall pools and candy coloured cocktails. There are several bar areas, pools and six restaurants, including the 5000sq m-plus Baba Poolclub — where you can sit in a rocking chair sipping on a smoothie in the morning and have a shot of tequila at the pool bar later in the afternoon.
On our final night, a family of fire dancers perform poolside in the light tropical rain, before we join the hotel's well-dressed guests on the dancefloor, cocktails in hand; another way of letting go.
• Zoe Walker was a guest of Sri Panwa. Visit Sripanwa.com
Be inspired by the good things in life. Sign up now to receive emails from Viva, and twice a week you will be sent the latest news, profiles, videos, fashion shoots, competitions and more.
Share this: