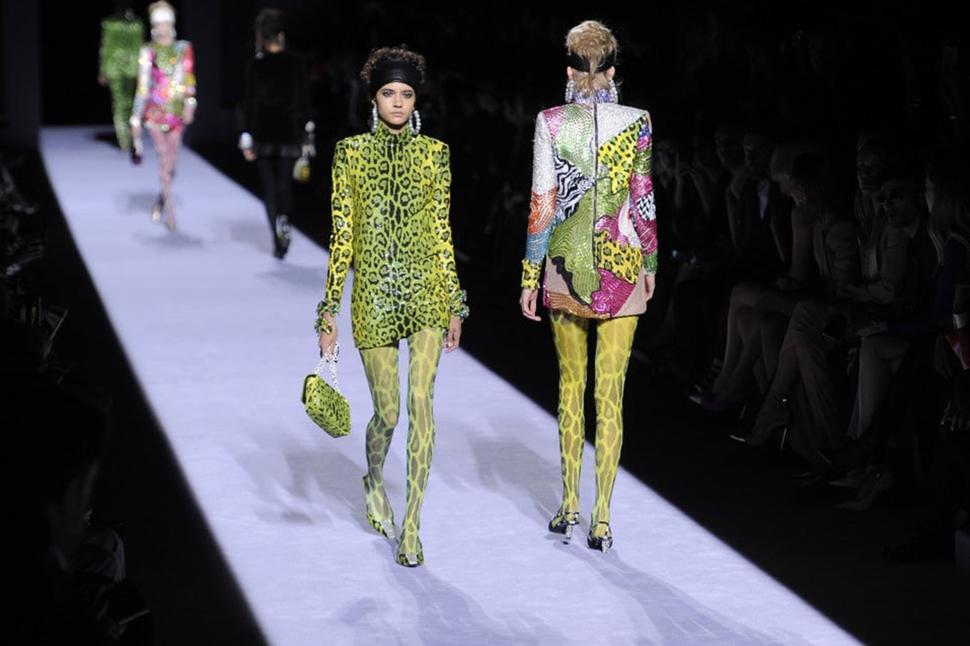 Runway Report: Tom Ford at New York Fashion Week 2018
Tom Ford's new collection is tawdry and vulgar and probably what our culture deserves
Monday Feb. 19, 2018
Where has Tom Ford been living?
What cultural landscape, what tasteless void, what kaleidoscopic head space spawned a collection full of searing, raucous colours, patchwork coats, cutout dresses, leopard print suits, sequin leggings and sparkling door-knocker earrings?
Why does Ford give his male customers a perfect balance of sexy, glamorous sophistication but tarts the ladies up like a bunch of honeys, babies, sweethearts, dolls? Sorry, but no, despite a handbag that read "Pussy Power," these women did not appear to be particularly confident or powerful or self-possessed. (Well, except for model Joan Smalls, whose first baby steps were a proud swagger.) They were simply draped in ostentatious excess and a particularly unflattering shade of green. Who could see the woman behind the glitz?
READ: A Normal Person's Guide to Understanding Fashion Week Runway Shows
To say that Ford has missed the mark is to say something significant. So perhaps floating somewhere in the blech of the runway is also a sad prescience.
Ford is the designer who outfits men for the red carpet in suits tailored to the millimetre. Jay-Z rapped an ode to him. Ford has directed the critically acclaimed "A Single Man" and the noir thriller "Nocturnal Animals." In the 1990s, he resurrected Gucci from near-financial ruin with his design and marketing acumen. He is provocative. He is one of the few designers who is as recognizable as many of the celebrities he dresses.
All of which is to say that Ford knows how to hone in on an aesthetic that speaks to the moment and beyond. People whose image is their livelihood have entrusted him with their future. Ford knows cultural zeitgeist.
So maybe he knows that garish is exactly what we need, or what we've sowed. Tawdriness is what we will ultimately succumb to. We will sink into a swamp of sleaze. The muck is already pretty high.
READ: Tom Ford's Lasting Influence
Ford unveiled his women's collection Thursday evening under dramatic and seductive lighting in the Park Avenue Armory where the air was scented with his Vanilla Fatale fragrance. The exquisitely talented Julianne Moore sat in the front row wearing an expression of nonjudgmental contentment. The level of craftsmanship of the clothes was, as it has always been: high.
But oof. Those patchwork bomber jackets were strange and unwieldy concoctions. Black dresses with side cutouts looked uncomfortably like the ensemble worn by Julia Roberts in "Pretty Woman" in the scenes before her Rodeo Drive makeover. And the metallic leopard prints had a sheen that cheapened them instead of enlivening them.
READ: Fashion Designers Who Become Film Directors
Ford, who calls Los Angeles home, went for the aesthetic jugular, taking the audience time travelling to the big-shouldered 1980s, through the era of ghetto fabulous excess and down into a trippy psychedelic hole. This was intentional vulgarity of the highest order: Like swilling Cristal from a red Solo cup or low-riding in a Bentley.
Ford's collection is hard to completely dismiss as an aesthetic misfire, as an example of his tendency to go too far - to go full frontal when a suggestion of nudity would suffice - because he has been right before about what consumers will want. During his time at Gucci from the late 1990s into the mid-2000s, he anticipated a mood - mod, louche, sexually explicit - before we knew that we wanted it, before we had the vocabulary to define it. When he launched his own brand he sensed that men would pay for fashionable tailoring rooted in Savile Row precision.
So perhaps this tawdriness is what we desire somewhere in the back of our mind? At minimum, the collection feels like a reflection of the times: uncivil, loud, chaotic, overwhelming, exhausting - and wholly, utterly, grotesquely vulgar.
— The Washington Post
Share this: