The Luxury Lodges Redefining The South African Safari
Singita's modernised lodges offer a radically sophisticated experience and unpredictable encounters with nature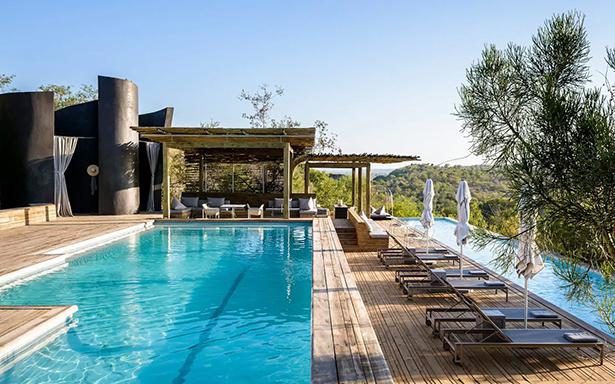 Monday Nov. 6, 2017
If I didn't know better, I would have said the team from Sweni Lodge had placed the dead giraffe there on purpose. I was the first journalist to stay in the new luxury safari lodge, which in September reopened in South Africa's Kruger National Park after a complete renovation by the conservation company Singita.
Coupled with nearby sister property Lebombo – itself renovated last year – it offers what Singita promises is Africa's most contemporary safari experience. But there was no time to confirm that just yet: moments after my arrival, news had broken of a 'kill' near my suite. I was hurried out to a waiting Land Rover.
Two rogue lions had, we were told, brought down a giraffe by the Sweni River. We were there within two minutes.
Over the next 48 hours, all the ingredients for an Attenborough documentary unfurled just beyond the lodge's perimeter as hyenas, rival lions and vultures squabbled over the carcass, filling the night air with basso-profondo roars and canine chattering.
READ: Taking a Step Back at Bali's New Escape Haven Luxe Retreat
Such close encounters with wildlife are not what people associate with the Kruger. Typically, game viewing in the national park is conducted safely through binoculars from cars parked bumper-to-bumper on its roads.
Going off-track is strictly forbidden, as is driving at night. Occupants are not allowed to leave their cars except at designated picnic spots, basic rest camps or fenced bushveld camps. It's a laudably democratic approach to safaris, making them accessible to the less well-off – but it has its limitations.
The difference for Singita guests is that its Kruger lodges, Sweni and Lebombo, are on a 33,000-acre private concession where the public cannot go and the rules are very different. (This is something that, it should be said, hasn't met with universal approval.) Here, vehicles can trundle off-road, bumping their way across the savannah to get closer to wildlife.
Night game drives are allowed, and instead of jostling against traffic, you'll never encounter more than two other Land Rovers at a sighting – a self-imposed regulation in keeping with Singita's policy of "touching the earth lightly". Unlike the bushveld camps, Singita lodges have no fences, so the animals roam freely around the property.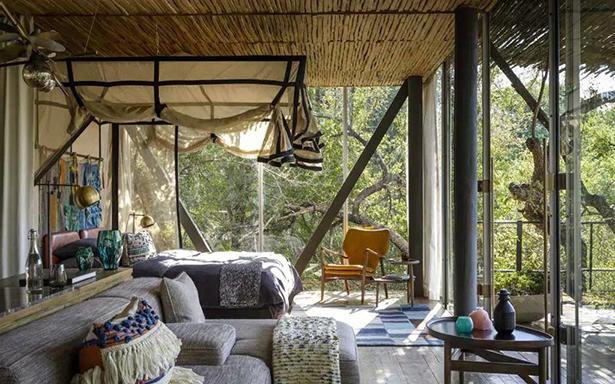 Accommodation at Singita Sweni. Picture / Supplied

Settling down for my first lunch, on a terrace overlooking the Sweni River, I could see in the green water below two submerged hippos. A crocodile and a monitor lizard basked on the far bank, oblivious to a herd of impala grazing nearby. Again, it was as if the whole thing had been orchestrated.

Add to these the animals that I'd seen on the drive from the airstrip – a tusker, zebras, wildebeest, ostriches and a 'committee' of vultures (the proper collective term) – and my first day in the bush was shaping up nicely.

SEE: 23 Beautiful Luxury Spas Around the World

One's proximity to the animals was again made clear on my first night in Sweni's Pool Suite – an entirely new addition to the lodge and the best of its seven suites. As I made my way there from the restaurant, escorted by a night porter, the shadowy bulk of an elephant was visible through the trees a stone's throw from my (unfenced) saltwater pool.

With local design team Cécile & Boyd at the helm, the new-look Sweni takes its inspiration from the natural wonders surrounding it to create what Singita calls "a bold, new African context for contemporary design and architecture".

This translates into interiors finished in gold and bronze ore, gleaming recycled timbers and polished mud, all set off by art inspired by local foliage and flowers. The iridescence of African birds' feathers, sheen of butterfly wings and glint of beetle shells are referenced in a colour palette that includes pops of cobalt, emerald green and yellow.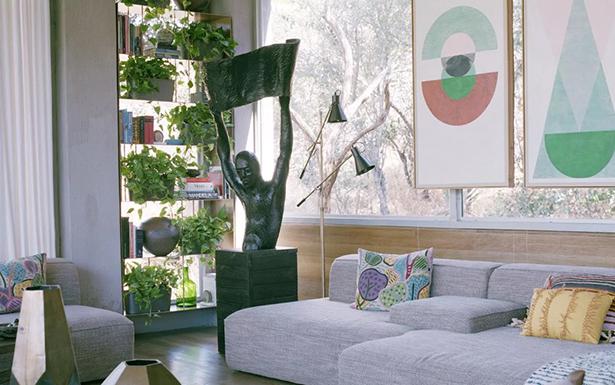 Sweni's Lounge. Picture / Kent Andreasen

My own suite had the pool area with hammock and sun loungers, and glass doors led to a wood-floored hallway. Inside was a long, open-plan space with a net-draped bed, floor-to-ceiling windows, a living area, an indoor/outdoor shower and a riverfront deck.

At Lebombo Lodge, just two minutes down the road, I stayed one night in its equivalent of the Pool Suite – a lighter, airier private villa in monochrome tones.

READ: We're Dreaming Of Luxury Maldives Resort Hurawalhi

It too can be connected to the adjacent villa, this time creating a massive four-bedroomed property with swimming pool. Guests at this exclusive-use property can take advantage of the Singita Private option, which provides them with their own chef, host and guide, and a dedicated vehicle on standby should they want to go on game drives according to their own schedule.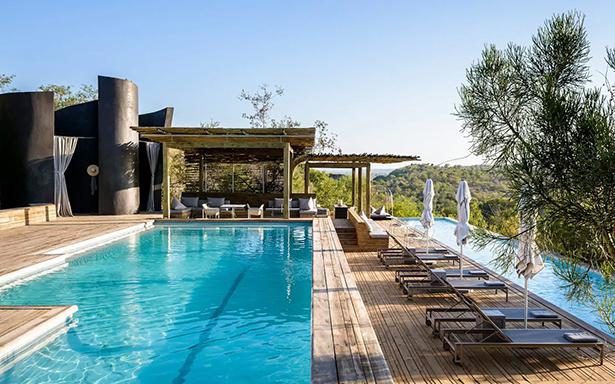 Singita Lebombo is South Africa's Kruger National Park promises Africa's most contemporary safari experience. Picture / Supplied

Singita has recently partnered with Liam Tomlin, founder of Cape Town's highly regarded Chefs Warehouse, in an attempt to redefine the safari dining experience. As part of the Sweni refurbishment, the kitchens are now open-plan, allowing guests to watch the chefs at work. They include 10 local youngsters trained at the Singita School of Cooking and given jobs as part of the company's community development programme.

My first dish - an unpalatably dry fish burger - didn't bode well and there's still some refining to be done to the culinary concept, but during my stay here I enjoyed some wonderful dishes, including an ostrich fillet cooked to delicate perfection, and a refreshing Indonesian gado-gado salad.

It was later at Lebombo Lodge, however, that I saw Tomlin's vision fully realised. Sitting in the elevated restaurant and enjoying stupendous views, I dined on a vivid beetroot risotto with caramelised apple crisps, followed by pork terrine with pickled vegetables and mustard seeds; wine came from a cellar that houses what's reputed to be the nation's largest private collection of South African wines. Beside me was a cobalt-blue lap pool surrounded by timber decking and charcoal-grey sun umbrellas.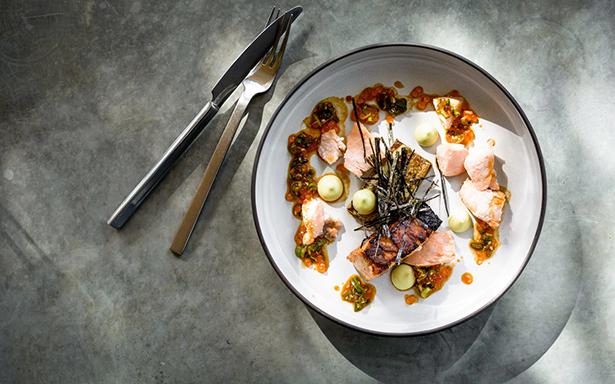 READ: French Polynesia's Most Exclusive Resort Launches Bora Bora Overwater Villas
I could almost have believed I was in St Tropez or Tuscany – but for the vultures circling overhead.And that, head chef Andrew Nicholson told me, is exactly the idea: "Lebombo could be a beach resort in the Mediterranean or the Caribbean – whereas Sweni is more African and the dishes are raw, natural, all about the elements, with a bit of woodsmoke."
Innovative as these elements may be, the main reason people come to the Kruger is the same as it has always been: the wildlife. Following a 5.30am wake-up call, guests clamber into Land Rovers for a daybreak while the native fauna are at their most active.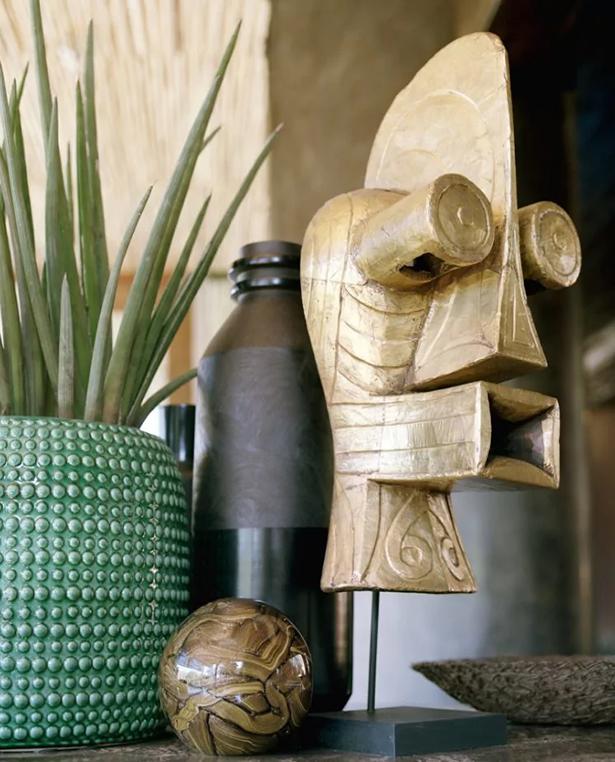 We drove through landscapes resembling variously Scottish moorlandand tropical glades. On most mornings we saw impala, giraffes, zebras and a fair number of the Kruger's 13,000 elephants, and on one occasion we were lucky enough to spot two rare white rhinos munching serenely in a thicket. Concession fees paid to Kruger National Park support anti-poaching measures, and Singita's staff mount regular patrols.
READ: Zoe & Morgan Designer Morgan Sibbald's Bali Inspirations
My abiding memory, though, is of stopping for sundowners one evening and, as the gin was poured, watching a flock of up to three million tiny red-billed queleas sweeping across the sky like smoke as they returned to their roosts – a noisy but utterly magical phenomenon. Even seasoned safari hands were ecstatic at the sight.
And this is the key: because while Singita's modernised lodges offer a radically sophisticated alternative to the typical Kruger safari, it's those unpredictable and ungovernable encounters with nature that will leave the most incredible impression.
— The Telegraph
Share this: