French Polynesia's Most Exclusive Resort Launches Bora Bora Overwater Villas
The Brando will open satellite villas in Tahiti's Bora Bora at the end of the year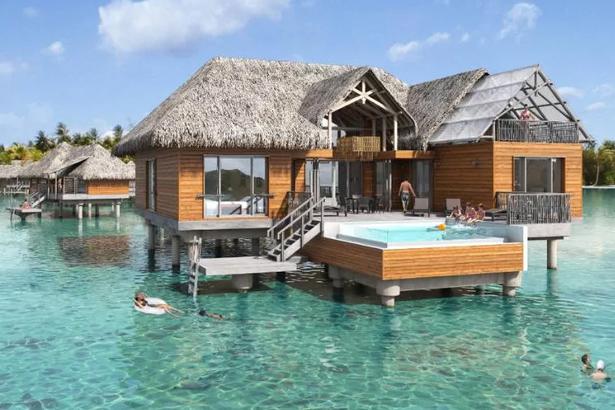 Tuesday July 11, 2017
Comprising only 35 villas and open now for just three years, The Brando resort in remote French Polynesia has already welcomed a succession of exceptionally high-profile guests: among them, Barack Obama rested here after his presidency; Pippa Middleton and James Matthews spent the first days of their extended honeymoon here. Though accommodation on the island will remain limited to the original 35 residences, it will soon be possible to get a taste for the experience at satellite Brando villas due to open in Bora Bora this December.
The four overwater villas are expected to serve as a first-choice pit stop for Brando guests who want to ensure their Bora Bora abodes match the standards they expect to enjoy on the private island. Many of The Brando's guests travel via commercial flights to Bora Bora, which typically land after that day's final connecting flight to The Brando has already departed. Scheduled plane transfers leave for the property at 8.30am and 2.30pm daily, but in line with its sustainability objectives it doesn't permit helicopter or private seaplane charters to land at other times.
READ: Living in the Moment in Tahiti
Those who book one of the Brando-branded villas at the InterContinental will reside in capacious (300sq m) dual-level properties with floor-to-ceiling windows and expansive outdoor terraces. Guests will enjoy 180-degree views of the surrounding lagoon and nearby Mt Otemanu and will have use of plunge pools that - at 15.8sq m - are the largest private pools found at any resort in French Polynesia. The homes include a kitchenette, office and indoor-outdoor lounge; they are finished in what the Brando's team calls a "whimsical" style, decorated with local miki-miko wood and topped with pandan-leaf roofing.
The opening of the new villas coincides with a number of improvements and upgrades being made at the InterContinental more generally, and guests at the four new villas will have full use of the resort's broader facilities. They include the first seawater therapy spa in French Polynesia, various restaurants and a glass-bottomed chapel.
Rates for the villas have yet to be confirmed, while rates at The Brando itself cost from $5315 per night full board. Prospective guests can make booking enquiries either via The Brando or the InterContinental Bora Bora.
— The Daily Telegraph
Share this: