London Icon The Ivy Turns 100
The iconic London restaurant is hosting a year of celebrations to toast its centenary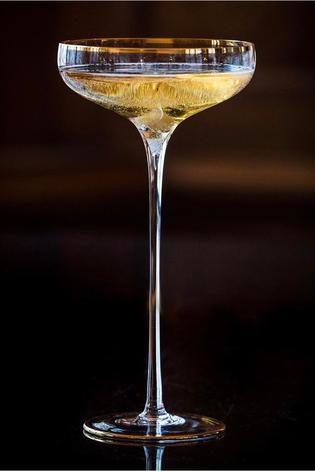 Most 100-year-olds celebrate their telegrams from the Queen with a sliver of lemon drizzle cake, a nip of sherry perhaps. Not so The Ivy.
The grande dame of theatreland is toasting her centenary with a whole year of celebrations - starting with a commemorative chocolate mousse to mark the new green plaque outside, and continuing with a revamped cocktail menu which pays tribute to a century of glamour since the restaurant's humble beginnings as an unlicensed Italian cafe.
Dubbed 'The Centennial Twist (or: Did the Bartender Really do it?)', the beautifully illustrated menu riffs on a traditional theatre programme, with five acts - each one devoted to a period in The Ivy's past, present or future.
Taking a seat at one of the 20 pink bar stools around the central cocktail bar, which was unveiled as part of the 2015 refurb, bar manager Darren Ball insisted we try the 1917 Champagne Cocktail.
An elegant coupette of Ruinart with a dash of Hermitage Cognac from 1917 set fizzing by a sugar cube soaked in 1917 Madeira, only 100 of these cocktails will be made, so get in quick to enjoy what is the highlight of a superb list.
As Act I, Scene I of the menu, it sets the stage for what The Ivy specialises in: nothing faddy or outrageous, but classic concoctions made with the highest-quality ingredients and given an astute Ivy twist.
A Spiced Plum Spritz, also from Act I - a page devoted to the Mediterranean-style aperitifs of the restaurant's early years - is a delicate blend of aperol, plum-infused sake and ginger ale with a dash of cardamon bitters to pique the palate.

Act II pays homage to the Prohibition era which saw London welcome bartenders and their creations from the States: a classic Singapore Sling appears alongside the Clover Club, the Manhattan-like Five Points and a 'Fish House' punch.
There's a fruitier theme to Act III, Swinging London, which features a flute of Pina Colada as a nod to the tropical fruits and cane sugar that made their way across the Atlantic in the Swinging Sixties. The Letty Lind - named after a burlesque dancer at The Gaiety Theatre - is strong, spicy and exotic, served in a voluptuous tiki mug.
The Ivy's esteemed reputation doesn't mean it takes itself seriously; the new menu also features an Apple-tini, sharp and clean and tasting uncannily like a Granny Smith.
It's especially delicious enjoyed in alternate sips with the Burnt Butter Sidecar from Act IV (Age of the Bar Chef, in recognition of the experimental new bartending generation) - a smooth and sweet after-dinner drink of Beurre Noisette Martell cognac, Grand Marnier and lemon.
"Like a toffee apple," remarked Darren, with the relaxed charm that'll have celebs and civilians alike pitching up at The Ivy's bar for the next 100 years at least.
- The Daily Telegraph
Share this: