Inside The Discreet & Elite World Of Luxury Watch Making
Amanda Linnell discovers the art of high watch making with Louis Vuitton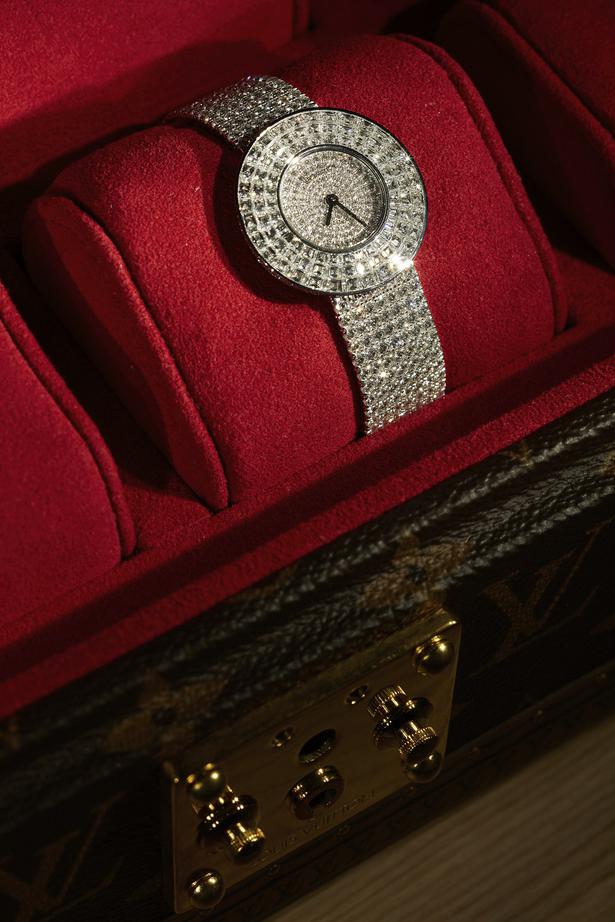 Sunday April 7, 2019
Queenstown, the playground of the rich and famous where movie stars and international business tycoons fly in and out in private jets, more often than not under the radar of the public eye.
It's a world where discretion is key. A world, very few are privy to. Indeed, it's another world completely. And for those select few who move in this parallel universe, the ultimate luxury is to have a truly unique experience. Which is why Louis Vuitton, one of the world's most luxurious brands, chose the private home of Sir Michael Hill to present its newest collection of high watches and a sprinkling of jewellery to a very select group of customers flown in from around New Zealand, Australia and Asia-Pacific.
READ: Louis Vuitton Has Released Its First Fragrances For Men
For over a week guests arrive for their appointments in sleek black cars, swinging through the gates of Hills Lodge, up the curving drive past the grass tennis court and the par three practice hole which is part of the private golf course, past the heated swimming pool, into the main courtyard where they are greeted by the chic Louis Vuitton team who have also flown in from around the globe.
The lodge, with its accents of corrugated iron and black log walls, reflects the working farm sheds of the region, while soaring glass windows bring an understated grandeur that captures the dramatic vernacular of the mountain landscape. Designed by Crosson Clarke Carnachan Chin Architects, it is nestled in gardens of native grasses, silvery tussock and pretty alpine plants that draw your eye out into the vast distance.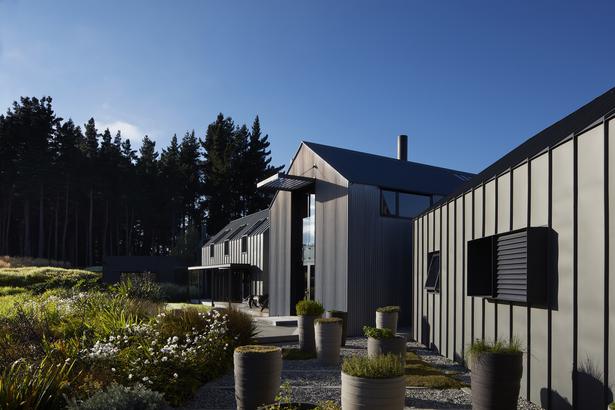 Louis Vuitton's beautifully curated collection of watches, jewellery and objects for the home are on display throughout the lodge and sit comfortably among Sir Michael Hill's impressive permanent collection of artworks which includes pieces by Michael Parekowhai, Max Gimblett and Don Binney. Louis Vuitton Objets Nomades are elegantly placed, looking at home among the chic interior and, of course, are available to buy if something takes your eye.
At the door a Campana Brothers Cocoon swinging chair is covered in super-soft calfskin and quilted leather. A Marcel Wenders Diamond Screen throws patterns of light on the floor from its web of woven leather that references the classic Monogram pattern and is held with brass clasps similar to those found on Louis Vuitton bags. Down in the cellar, the Gaudi-esque ceiling arches and stretches up and over to create a serene cave, perfect for embibing the best of the region's wine without any distractions.
READ: Luxurious Masterpieces Curated To Elevate Your Wardrobe
In the master bedroom there is no need for art, a floor-to-ceiling window frames the immense landscape, drawing the eye down across the gardens and beyond to the Remarkables Mountain range and an endless sky. This Louis Vuitton event is the first of its kind in Oceania and for most of these clients the first time they will see these watches. This part of the Louis Vuitton business is so small, so discreet that you won't see them advertised; most of them you won't find on display in the stores. No, the way these watches are presented is in a different league.
With more than 50 watches on view, some with a value upwards of $200,000, there is a lot to take in. Highlights include the Tambour Spin Time watch, which is celebrating its 10th anniversary. When it was first released it introduced a completely new way of reading the time to the industry, thanks to rotating individual cubes. It now offers seven new designs, each housed in a white gold case. Details include water-resistance to 50 metres, and it is available in a range of central patterns and gemstone settings.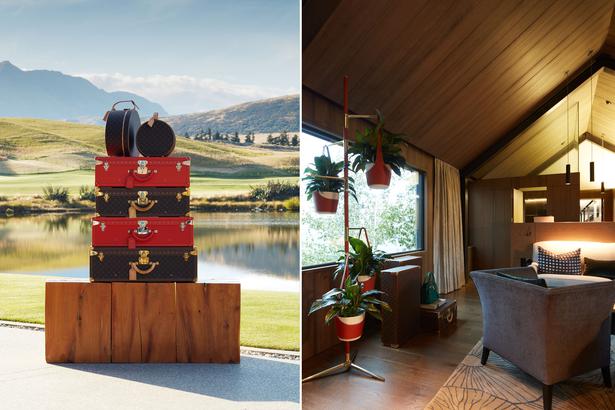 The complete showcase of the Voyager Collection is also on display with five new references including a flying tourbillon frame which appears to float above the dial. Different styles come in white gold, white gold with diamonds, platinum and more. Individuality is a key part of the Louis Vuitton watch offering.
A separate room is set aside for the true watch connoisseur, and here we find the new model, the Voyager Minute Repeater Flying Tourbillon which — despite its innovative and complex machinations, combining two icons of high watchmaking — is one of the thinnest watches on the market.
READ: Why The World Loves Diamonds, According To An Expert
Especially for the Queenstown event, Louis Vuitton also has on offer two South Asia limited edition watches. One is set in white gold and captures the colours of the Australian and New Zealand flags, while the second brings together pink gold and diamonds with a sapphire blue alligator strap.
As we weave our way around the collection the emphasis — as you would expect at this level — is all about personalisation, having a point of difference, being extremely limited.
And the man responsible for all of this? Michel Navas, the co-founder of La Fabrique du Temps, the Geneva-based high watchmaking workshop which specialise in the conception and fabrication of high standard movements, such as the Tourbillons and the Minute Repeater.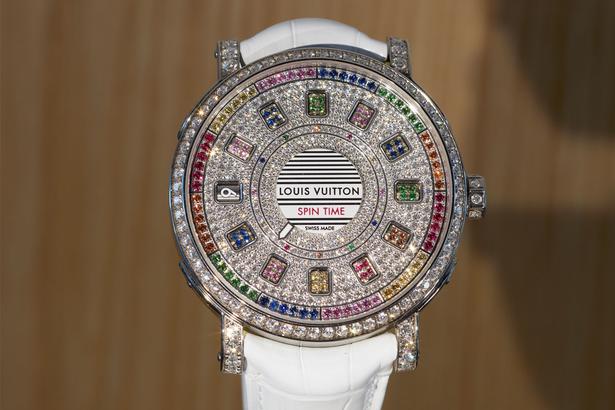 It was only as recently as 2011 that Louis Vuitton stepped into world of high watches and acquired the manufacturer. Ever since, Navas and his small team of just 80 have walked the tightrope balancing the traditions of watchmaking with Louis Vuitton's demand for cutting edge design and a point of difference in a competitive market.
"Louis Vuitton is very new in the watchmaking world, only 17 years, so we have to be different," Navas explains.
"But even in the past 17 years the industry has changed a lot; so we need to dare to display time differently, we need to be bold. Our clients are looking for something different. Originally they are used to wearing classical watches from the famous brands. They are collectors and will buy two or three famous watches, but after that, if you want something else you have to come to Louis Vuitton because they know we can offer them something else."
READ: The Woman Behind Louis Vuitton's Windows
Dressed in an elegant grey suit, Navas illustrates perfectly the fine line between the traditional and the modern: he is wearing two watches. On one wrist his beloved Spin Time, and on the other a smart watch or as he calls it a "smart device". "I think everybody will need a smart watch because it is so much more than reading the time, it is phone etc. But people will not forget the real watch."
The process of creating a Louis Vuitton watch is extremely slow. "First we have to have an idea, we then discuss this with our engineers, the designers, the watchmakers and then if we agree altogether it's a good idea, we start the project. But it takes time, a lot of time. You need to be patient. It's not like fashion when you have at least two shows a year," Navas laughs.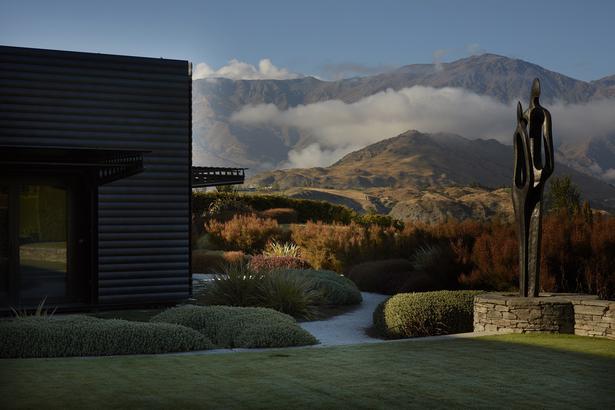 "With watchmaking it can take up to three to four years for an idea to come into fruition. And then when we do give rise to a watch, we are very excited, because we have waited so long."
Navas spends his time between his workshop and meeting with clients to listen to what they want.
With watches inspired by everything from travel to the night sky, the narrative behind each is as important as the machinery. "It is difficult to bring poetry to the mechanics of the watch, with engineers the designers, we explorer the shape, movement, bridges and hammers... We try to make it beautiful — and useful. Clients love the story behind the watch.
READ: Celebrate Life's Luxuries With Precious Pieces To Treasure Forever
"A lot of clients don't really know a lot about Louis Vuitton watches — they know about our trunks and the fashion — but with watches we are very discreet, so it's events like this where they really discover the collection and even then they are interested in all the information.
"They might want a watch but it can be sold out, because the collections are so small. Even today I told a client, 'I'm sorry this watch is sold'."
And next on Navas' design wish list?
"Previously I built a lot of very complicated watches but I am now interested in simple watches that are different. It is difficult to make something simple but original."
Share this: