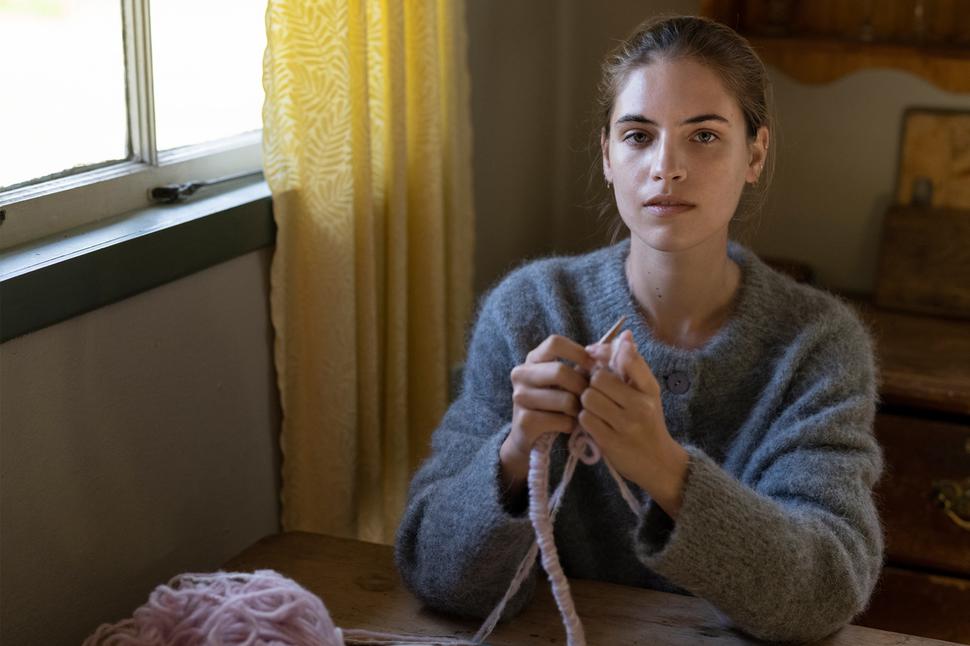 Model Bernadette Van Den Anker Is An 'It' Knit Girl
The budding knitter includes pearls and other surprises in her yarn and mohair creations
Saturday June 4, 2022
For model and student Bernadette Van Den Anker (Bernie to friends), knitting is a source of escape from an unpredictable few years.
With home-spun knits having a moment, it was perfect timing for Bernie to launch her label, aptly named Dette, after meticulously watching the market grow.
Initially taking to the craft during lockdown periods, Bernie has gone from strength to strength with a humble Instagram following and showcasing her one-of-a-kind pieces in stores such as That Looks, run by friend Becca Haeger.
Her unexpected and unique designs are ever-evolving and progressing. With new items in the works, Bernie is always keeping an eye on international and traditional techniques. 
How long have you been knitting?
I started knitting at the beginning of 2020 during the first lockdown.
What sparked your interest in knitting?
I found my mum's old knitting needles and projects in the back of my old childhood wardrobe during a boredom-induced cleanout. My mum used to knit when I was younger, and we both decided to start knitting during lockdown to pass time. It was something different to do with my mum together while we watched Kath and Kim.
Tell us about the specific item you were working on during your photoshoot for volume eight of Viva Magazine.
I went on a yarn splurge the day before shooting in Queenstown. On the shoot, I was having a play with some new yarn I had purchased, for an oversized cropped vest with pink alpaca and undyed merino wool. I've still not finished it, I ran out of yarn while knitting on the flight home.
You've started off with some really great knit vests. What do you love about the vests in general?
I think what I love about the vests is that they're wearable for pretty much any occasion. You can chuck a vest on with any outfit and still be wearing something colourful or strange. I love that the vests I'm currently making have colours and textures in them that I wouldn't usually buy or wear in other pieces of clothing.
What makes your knitwear special is your ability to incorporate other textures such as pearls, for example. What do you love about incorporating these elements into your work?
I love odd jewellery and accessories, so I was always going to find a way to incorporate this into my knits. I think adding more contrasting textures like pearls and wooden beads gives another element to something that is usually seen as soft and cosy. I like that the pearls and other bits are not easy to spot at first and it is unexpected when you do.
READ: 6 Local Designers Fashioning Some Of Our Most Beloved Autumn Woollens
Have you had much support from other knitters in the community?
Since I first started I've been able to talk and share interests with other knitters and people at local yarn stores about our love for knitting.
It is special when you can learn new techniques and ideas that someone has passed on to you that they may have learned from their own family and other knitters. Everyone is so friendly. People I hardly know will be so willing to extend help or share their own ways of doing things. When I knit my own projects, I feel as if I'm a part of this wider community and all this history is now incorporated into my own work.
What knitting project are you currently working on at the moment?
I'm currently working on mohair and merino arm warmers that can be worn like sleeves underneath shirts or with existing vests. I am also testing a pattern I wrote to make unisex oversized vests with undyed chunky merino wool. I am trying to branch out into a more experimental use of materials along with making more accessory garments that can be worn and styled together. In the future, I also plan to give natural wool dying a shot.
What do you love about knitwear in general?
I think wearing something that you can see someone has put the effort and time into making wearable as a craft is really cool. Knitwear is a slow and thoughtful art, and being able to appreciate and wear clothes made by others with these techniques and love is really special.
What are some of your favourite yarns to work with?
I love working with mohair and alpaca yarn because of how fluffy it is. I add multiple strands of yarn at a time to get different stitch sizes and textures to make it as soft feeling or firm as I'd like it to. When I work with the chunkier yarn I like to add strands of lace weight mohair and silk yarns to bring different dimensions of colour and a fuzzier texture to the knit.
Can you recommend a few of your favourite knitting 'influencers' or people that inspire you?
One of my go-to inspirations currently for mixing yarn colours is @itchyknits here in Auckland, I have one of Allie's more colourful vests and obsess over it every time I wear it.
Other artists that are more experimental like @verconiik @katya.ekimian, and @va1sseau inspire me to mix strange textures together over traditionally knitting with the same yarn throughout a piece. And @westknits inspires me to work with different patterns and knitting techniques in projects moving forward.
Finally, Arne and Carlos on YouTube are the most wholesome guys with traditional Norwegian knitting techniques. I'm still trying to get the Norwegian purl down.
Share this: