Trend Expert Nick Wooster on Grooming and Fashion
New York trend and design expert Nick Wooster talks personal style and the importance of grooming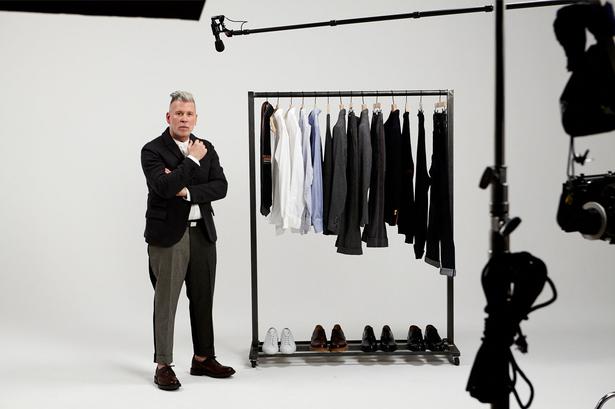 Thursday Sept. 8, 2016
"Grooming is really the foundation of any look, and without it, the effort put into my personal style would be compromised," says style master Nick Wooster.
His pragramatic approach — backed by a 30-year career at the top of the retail tree driving men's fashion trends — explains why Nick is one of the most influential players in the industry. Known for his tailored blazers and handlebar moustache, his trademark personal style and social media presence also explain why he has been increasingly called on to collaborate with brands. The latest is with Kiehl's, for whom he developed videos on his style hacks as part of its Age Defender launch of three men's skincare products. Nick first shopped at Kiehl's in his early days in New York's East Village, home of its original store. Having moved from Kansas, he soon worked as department manager at Saks Fifth Avenue before moving to Barney's as a buyer in the late 1980s. He later became fashion director at Bergdorf Goodman, before heading to Calvin Klein as merchandising director. After a time as design director for Polo Ralph Lauren, he set up his own consultancy.
What is your morning skincare routine?
It is all about efficiency. I typically wash my face in the shower to save time. Afterward, I apply a serum, eye cream and moisturiser. I'll then layer on SPF and make sure I have lip balm on me before heading out the door. I've been using the Kiehl's Age Defender line because it's a system of three simple steps, but it tackles a number of aging concerns at once.
What are your thoughts on aging?
I don't obsess, but I'm certainly more aware of what will slow down or accelerate the hands of time now than when I was in my 20s. Regardless of your age, my number one piece of anti-aging advice is to start using SPF. Men — especially younger men — are often unaware of its impact, but it's important to know that no matter how long you spend outdoors in a day, if you don't use SPF, then all of the other energy we put towards our appearance is virtually a waste of time.
Any special routine for your beard? 
Having a beard is a lot more work than a clean shave. When I started growing a beard I noticed the skin underneath would get dry and irritated. Beard oils are great for this, as they keep hair healthy and skin underneath soothed.
Is there a grooming step that you are faithful to at home but skip while on the road?
It's actually the opposite. Because flying is exhausting and the climate on planes is so dry, I tend to use more products for travel than I do day to day. I never travel without an eye product because it keeps me from looking as tired as I feel. I always keep a lip balm on me. It not only hydrates lips, but I also apply it to my cuticles to keep them from drying out on the plane.
Favourite Kiehl's products?
The Facial Fuel Energising Scrub is great in the morning or after a flight when you want to shake off a long journey. Ultra-light Daily UV Defense is my favourite sunscreen because it's very lightweight and has a matte finish. I never travel without Facial Fuel Eye De-Puffer For flights. And I use the new Age Defender line because it offers a simple system of a serum, moisturiser and eye cream that addresses multiple concerns all at once.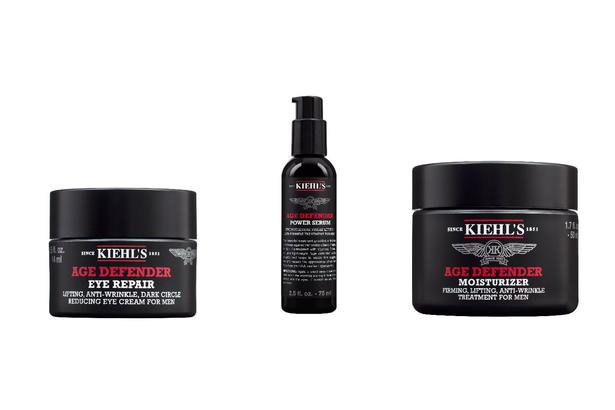 The Kiehl's Age Defender range is available now at Kiehl's Britomart and Smith & Caughey's, from $65. Pictures/ Supplied.

How has the fashion industry changed in your 30 years working in it?
When I started as a buyer there were no computers. Then came the internet. And finally social media. Each of these has had a cataclysmic impact on the fashion business. That's what makes life so exciting. Each decade seemed to be so great, so new at the time — in hindsight, the 80s really were — but each season, we are always seeking the same thing: to be seduced.

What about the evolution of menswear?
For me the best menswear moment is "the next one". Whenever I find something new, or learn about something I knew nothing about, I consider that a small victory. I would probably say the square-toe shoe moment of the mid-to-late 90s is something I am not anxious to repeat. The fashion show periods are always my favourite time of the year.

How do you pack?
Like items together. Pants on the bottom, jackets on the top, shirts and sweaters on the side. Shoes on the top and bottom. Packing is like a game of Tetris. All packing is based on two things a) the weather and b) who you are seeing/meeting with on the trip. If I'm going to the beach, the colours are definitely brighter and there is lots of white. If I'm going to Paris or Tokyo, the palette is much darker.
Share this:
More Men / Features & Profiles