Theatre Director Benjamin Henson's Grooming Routine
This colourful creative isn't scared to make a statement with his look and sees it as an extension of enjoying life and expressing individuality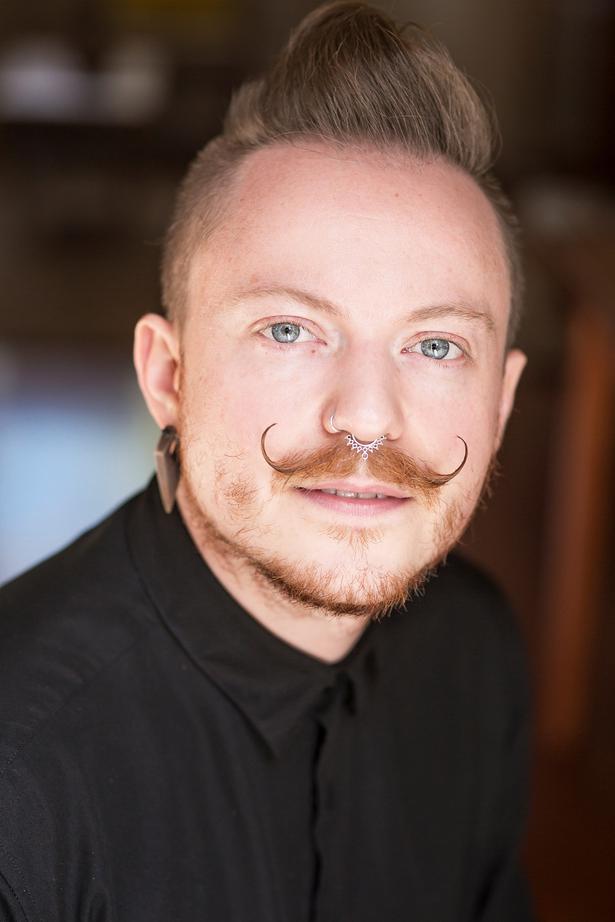 Wednesday Sept. 11, 2019
"I'm not sure it's ever occurred to me not to wear just exactly whatever I've felt like wearing," says theatre director Benjamin Henson. He puts this down partly to having always worked in a creative industry and never having worn a school uniform while growing up in the UK.
"True theatre directors are rare creatures, and so there's no template for what we should look like. Few people really understand what it is we do, and so there's no reason why they should also understand what I look like. And as such my look is for me."
READ: It's Official, The Moustache Is Back In Fashion
Right now that includes maintaining his trademark moustache, while also experimenting with pink hair. Grooming is important to Ben, but he's in no rush to judge others by their wardrobe. "I understand that clothes have power and influence, but I believe in a person's passions and skills, not their suit."
Ben moved to New Zealand from the UK when in his mid-20s around eight years ago. He had trained in theatre direction in London, while also honing his skills on the fringe and cabaret circuits. Having directed in Germany, France and at the Edinburgh Fringe Festival he found early work here with the Fractious Tash theatre collective before doing summer Shakespeare and a number of shows for the Auckland Theatre Company.
The latest is the ATC season of Rosencrantz & Guildenstern Are Dead. Playwright Tom Stoppard's slapstick take on Shakespeare's Hamlet is a modern classic, with a top-notch local cast whom Ben has been enjoying working with. The season runs from September 11 to 26 at the ASB Waterfront Theatre. Find out more at Atc.co.nz
Approach to personal style
Getting dressed in the morning for me is all about what adventure the day holds and being ready to grab whatever it might be when it happens. I'm far from a morning person so that part of the day has to be filled with treats and joy; I keep my wardrobe like the rails of a shop to give myself the feeling of picking out something new every day. Only having items I love also takes the effort out of dressing — and nothing takes the edge off style like effort.
Stylish memories
My grandfather was my original style inspiration, including many early years of trying to dress just like him. He always cared about what he wore and had an elaborate collection of ties, bow ties and pocket squares in rich colours and patterns. When my dear friend Laurel had her child recently, she asked us all for fabric to contribute to a quilt. I gave her one of grandad's silk pocket squares in a gorgeous wine colour with a turquoise splash pattern.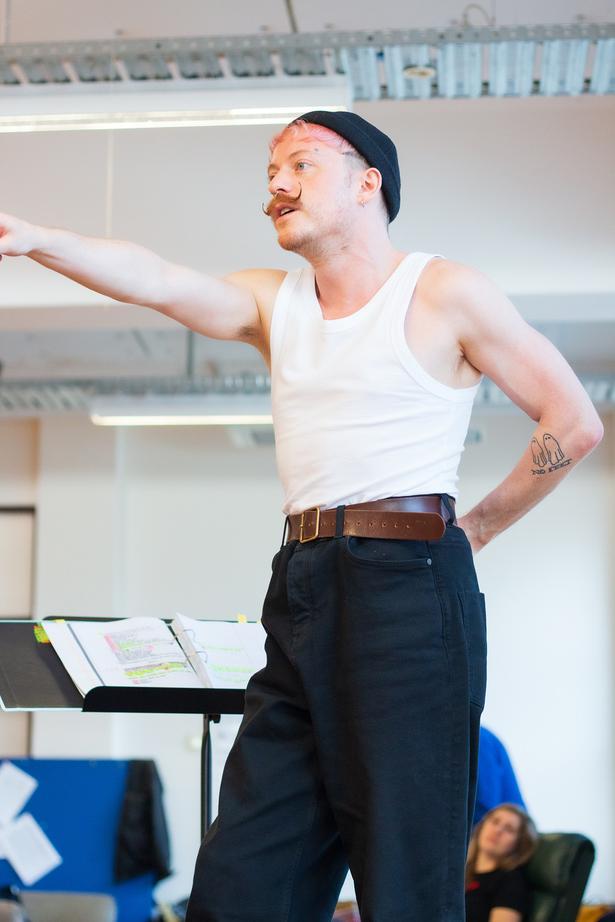 Early individuality
I never had a school uniform, ever, but when I look back at old photos there our class all were in sports-brand sweatshirts and Kickers. Then around age 13-14 I remember clothes and styling became a language for me to express sides of myself that I perhaps at the time didn't have words for. H&M was particularly fruity back then; one of my favourite outfits was a pair of tan leather Chelsea boots with olive-green skinny chinos and a lilac, Lycra, transparent singlet with a single red rose printed on it! I used to think I was the absolute shit.
Best and worse looks
Tough because so often the bad looks come swinging back around as classics, but one in particular that should never come back was... A time when it was SO sexy to snip the seams of your skinny jeans to make them into boot-leg; with a pair of Sancho cowboy boots and a black creased-look shirt undone to the navel. Maybe a trilby hat — unconfirmed. Actually now I think about it I'd love that look again. Not the hat though. And never, ever, ever, ever — I repeat, ever — at a jaunty angle.
Style icons
Ageing Vietnamese villagers. Fishermen. Most monks, including medieval. Vincent Price. Lydia Deetz. Most gentlemen drinking espresso in Siena. And of course, the delectable and influential Nic Smillie who has styled the whole show of Rosencrantz & Guildenstern.
Tricks of the trade
I learnt a number of tricks from various wardrobe departments over the years. Want to keep your black jeans black? Don't wash them, just put them in the freezer overnight to kill all the bugs and hang them up in the morning. Want your indigo jeans to stay indigo? Wash them inside-out with a cap of white household vinegar in with the detergent. Quite often the costume department will use vodka spray to freshen up items without having to wash them too often. Probably accounts for their chipper smiles too.
Everyday grooming routine
Three things are a priority to me: skin, teeth and moustache. Exfoliating has to be speedy; as does the morning ballet of applying eye cream, then facial moisturiser — which must include an SPF for my pasty English skin in the NZ sun — then body moisturiser and Bio-Oil for elbows, knees and eczema-prone palms. I have a water-pick to floss with or I don't feel like I've given my gums the care they deserve — I don't know how anyone gets any work done without a killer smile — and then it's all about waxing the mo. The moustache wax is key because who knows if I'll be out of the house for three hours or three days. Again it's all about being ready to take the adventure as it comes! If the moustache wilts I feel very self-conscious and scruffy and that just won't do.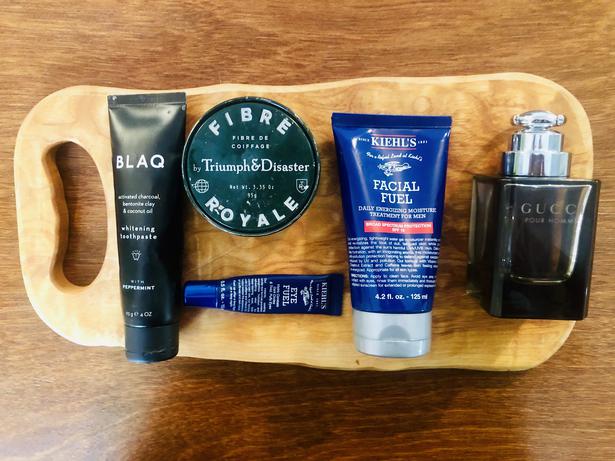 Five favourite products
1. Eyecream — Kiehl's Eye Fuel: Theatre has such inconsistent hours, and lots of late nights in production, so dark circles and eye bags are a constant battle. This eye cream makes me feel fresh in the morning.
2. Moisturiser — Kiehl's Facial Fuel: The SPF in this is great, and never makes me greasy or shiny.
3. Moustache Wax — Triumph & Disaster Fibre: I don't subscribe to gimmicky moustache waxes; this is a hair wax that I can use both in my mo and in my hair, so saving time!
4. Toothpaste — Blaq Activated Charcoal Teeth Whitening Toothpaste: This feels crazy at first when you see the jet-black paste, but this has fully natural ingredients and charcoal to make those teeth pearly.
5. Cologne — Gucci Pour Homme: I've used this for more than 10 years. It's important to find a cologne that works with your skin.
Quick pull together
I never leave the house in anything I wouldn't be happy to go to dinner in, so often my appearance doesn't have a need for a day-to-night fix. I am, however, an absolute believer in shoes being the key to any look. Some items in a look can be creatively penny-pinched (one of my favourite white box-T-shirts is from Look Sharp no less). But never skimp on shoes. I could rock a sack if my shoes are sweet.
Hair and its care
I recently had my hair dyed a rose gold in a severe bowl-cut and I absolutely love it. This means a purple shampoo and conditioner is essential to keeping the colour vibrant and the hair soft. I have very fine hair and am always jealous of the shapes that can be cut into thick hair. So not to miss out I often use styling powder by Fudge, you just throw it on and tousle your hair and it sticks and stays. Easy.
Treatment to try
It's all about massage and floatation tanks for me please. Theatre is a high pressure and quick fire environment so anything that gives indulgence and relaxation is the way to go. Back home in the UK I grew up 30 minutes away from Ragdale Hall, one of the UK's top health spas, so there's been many a time I've been seen there in a white robe walking the gardens for a massage!
Grooming is...
The chance to give oneself the time, care and self-love that is too often missing from our lives.
Share this: