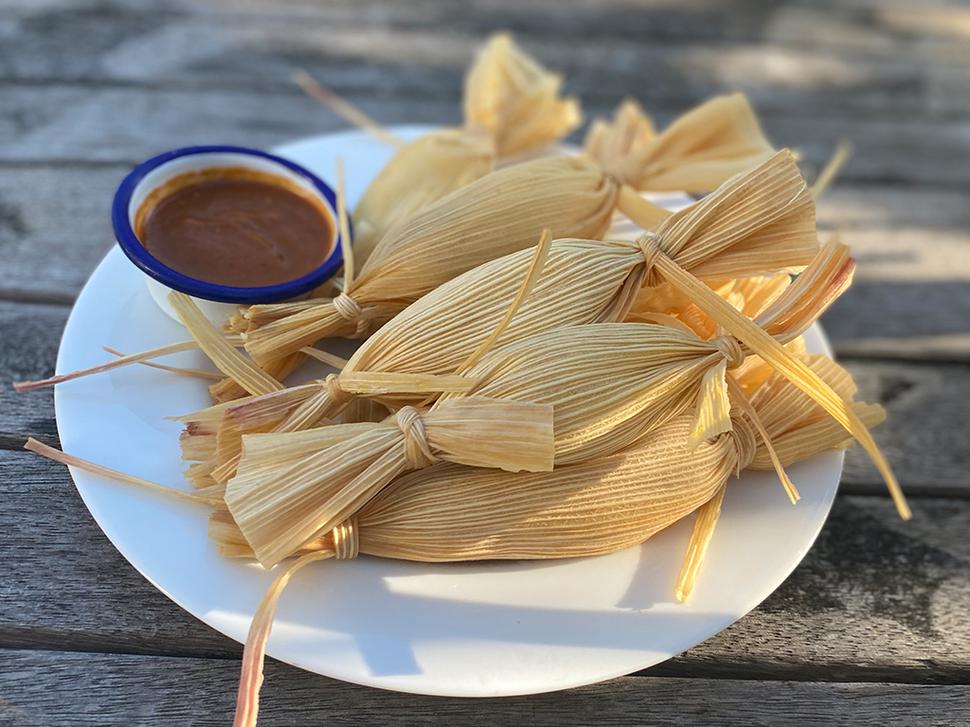 Chef Comforts: How To Make Lilian Chef Otis Schapiro's Corn Tamales
Serve a taste of Mexico with this flavour-packed recipe
Wednesday April 29, 2020
I grew up in San Francisco in a predominantly Mexican neighbourhood. My mum was a chef and spent a good portion of my birthdays, Christmases and even Thanksgivings incorporating tamales into the meal. Always my first request back then, they are still synonymous with comfort food and a great home-cooked meal for me now.
You can now find all these products fairly easily in New Zealand. Tio Pablo make a version of all the specialty products in this recipe and their products are stocked in New World and Farro. You can also order direct from their website for delivery. — Lilian chef Otis Schapiro
• For a taste of Lilian throughout lockdown Alert level 3, find details on the restaurant's takeaway offerings listed here. 
CORN TAMALES WITH CHIPOTLE SALSA ROJA RECIPE
Makes 9 tamales (serves 2-3 people)
Tamales
2 corn cobs
½ cup of milk
1 cup masa harina (flour made from corn, not to be confused with the thickening agent corn flour)
200g softened butter
1 tsp baking powder
2 tsp salt
100g Edam cheese, diced into small cubes
1 green chilli, deseeded and finely diced 
10 dried corn husks (available from Tio Pablo)
Salsa
2 red capsicums
1 tbsp canola/vegetable oil
½ onion, diced
4 garlic cloves
2 tomatoes, halved
½ of a single canned chipotle chilli (they pack a punch, I used the 100g La Morena tin available at most supermarkets)
5 coriander stems, leaves attached
2 Tbsp apple cider vinegar
Salt
1. Grill the corn and the capsicum. A barbecue or anything with an open flame is best as you want as much colour as possible (capsicums can be done directly on a gas stove element). The capsicums should be soft to the touch and blackened all over. Corn should be well coloured all over. You need something to seal the capsicums in. This will allow them to steam and make them easier to peel later on. A Sistema lunch box works well. Set corn aside to cool.

2. For the salsa, in a large hot pan add the canola oil followed by the diced onion, whole garlic cloves and halved tomatoes (sliced face down). Once again you want them blackened with as much colour as possible. Once you have good colour turn the heat down to low and cook through for a few more minutes before removing the pot from the heat.

3. Using your hands peel the blackened skin off the capsicums. Remove seeds and stem. In a blender/Nutribullet blend capsicum flesh, onion/garlic/tomato, coriander, chipotle and apple cider vinegar. Blend until smooth and vegetables/coriander stems are completely broken down. Season pretty heavily with salt and adjust acidity level to your liking with more apple cider vinegar. Set salsa aside. This should be more than you'll need for the tamales. It will keep in the fridge for at least a week and goes well on pretty much anything.

4. Grab the corn you set aside earlier. Slice the kernels off the cob and into a small pot add the kernels and milk. Season with salt. Simmer the mix over low heat for 7 minutes. With a slotted spoon remove 1/3 of the corn kernels and set aside. Puree the remaining mix in your mixer.

5. In a mixing bowl whisk together your corn/milk puree and masa harina until well incorporated and no dry bits remain.

6. In a separate bowl whisk together the butter, baking powder and salt until light and airy.

7. Slowly incorporate the masa mix into your butter mix. Add roughly a tablespoon at a time and then mix well after each addition until well incorporated.

8. Once your butter and masa mixes are combined, fold through cheese and diced green chilli.

9. Submerge the dried corn husks in water for 2-3 minutes. This will make them pliable and easier to work with.

10. Take 1 corn husk. Grab a corner and tear along the grain to create a piece of "string". You'll need 18 pieces to seal 9 tamales.

11. Lay your 9 remaining corn husks out flat and spread the mix evenly across the husks by shaping it into a rectangular log and placing it in the centre of the husk. Roll the husks up around the mix. Twist the sides that overhang the dough (like a fruit burst rapper). Hold the sides in place by tying a knot with the husk strings that you created earlier.

12. Steam over boiling water for 12 minutes. Serve with your chipotle salsa roja and enjoy! (Don't eat the husks).
Share this: