SPONSORED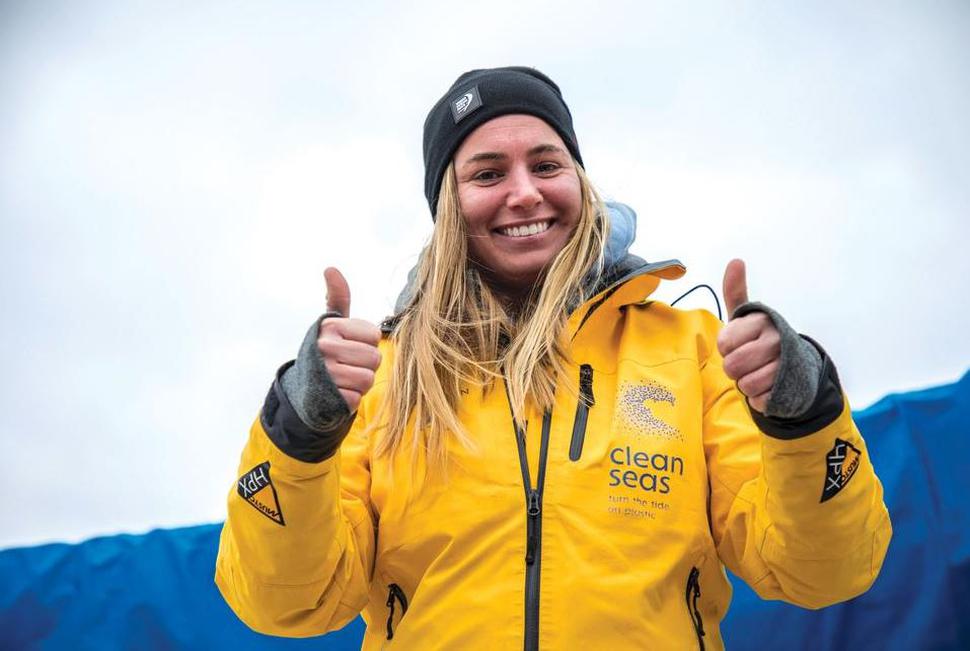 Q&A With Bianca Cook
We pose a few questions to Bianca Cook from Turn the Tide on Plastic
Sunday March 4, 2018
Favourite music listened to onboard? 
During the Southern Ocean leg of the race a friend of mine made me a great playlist on Spotify of about 14 songs. The only problem was it was the only playlist that I had downloaded to my iPod. Needless to say, I've made sure I have plenty of playlists downloaded from now on! My favourite band to listen to is Fat Freddy's Drop.
Best book you've read on the trip?
To be honest reading on-board for me is quite difficult because when I come off watch all I want to do is get some sleep. Music is the only thing that really helps me unwind and get to sleep. It's also good at blocking out the noises of the boat moving about when you're trying to rest.
Favourite on-board meal?
Expedition Thai Green Curry. I always look forward to it and it seems to be the only meal I am yet to get sick of eating repeatedly.
Thing you miss most about home?
The people. The food. My camera.
What will you never want to see/eat/wear again once back?
I never want to see plastic in our oceans again. I never want to eat chana masala freeze-dry ever, ever, ever again and I never want to wear thermal underwear again!
First thing you did upon arrival in Auckland?
Showered! It's the thing I miss the most while I'm on the water and I felt everyone would appreciate it if I showered before venturing out in public. While I'm here I'm also planning on eating lots of fresh fruit and veggies; I have to stock up on my 5 + A Day while I can as we don't get fresh food out at sea.
Hardest thing about being on the race?
Lack of sleep and being away from your family for such a long time.
Best thing about being on the race?
Being at sea and pushing yourself as hard as you can push, as well as being able to sail alongside some of the best sailors in the world.
Most harrowing experience/race low point?
To be honest I haven't had too many. You definitely have moments where you are tired and you feel like you've had no sleep for days, and as if the end of the leg is getting further and further away. You do ask yourself 'What am I doing here?' But I think we all have that thought in our head at least once during the race. It's as much a mental challenge as it is a physical one, and you have to remind yourself that this is what you've worked so hard for and you are here doing it and you have the support of all your family and friends cheering you on.
Most uplifting experience/race highlight?
The Southern Ocean was a highlight of the race so far for me. It's a stretch of ocean I had never sailed before and something I had always wanted to experience. But, to be honest, I think the biggest highlight for me was sailing into Auckland and seeing Rangitoto and the city skyline and realising I have accomplished something I've only ever dreamed of.
On a serious note, have you noticed changes to the ocean environment and, if so, what? This is my first Volvo Ocean Race but I've been working on boats at sea for six years now and I've been to some incredible places. But the thing that has shocked me the most is the pollution in our oceans. The amount of plastic I have seen in the waters where I've sailed is heartbreaking. It's getting worse and reaching waters that are not common routes.
In 2016 I went to Greenland on a sailing boat and did the North West Passage, and I was shocked that during our voyage through the passage there was hardly any ice and you could see the lines in the cliff s where the ice had once been. I don't mean to preach but pollution in our oceans and climate change are very real and extremely relevant.
• The Volvo Ocean Race Auckland Stopover is proud to be supported by Stoneleigh, Viaduct Harbour and Viva.
Share this:
WHERE TO EAT & DRINK AT THE VIADUCT
SUMMER FASHION FOR THE WATERFRONT
More Culture / Volvo Ocean Race