SPONSORED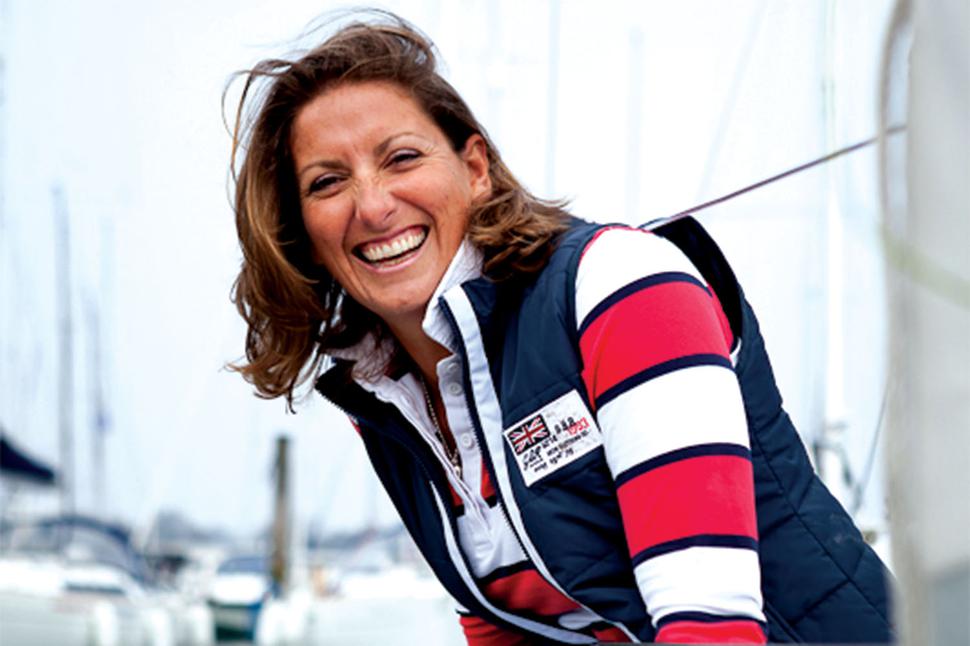 Q&A With Dee Caffari From Team Turn The Tide On Plastic (UK)
From her favourite on-board meal to beauty tips at sea, we find out more about Dee Caffari
Sunday Feb. 25, 2018
Favourite music/song/podcast you listen to on board?
I don't listen to any distractions on board so that I can be aware of any problems and issues that arise.
Best way to unwind for sleep?
I don't read, life's too busy on a V065 for reading. But it's always nice to get an email because you can choose when to read that and it can be a pleasant distraction. Normally you're so tired that when an opportunity comes to lie in your bunk, sleep just comes easily.
Beauty tip for days spent at sea?
Sunscreen. I'm scared of being a leathery old handbag so protection against harsh UV rays when out at sea is very important. There is nowhere to hide so this is a must. I use Neutrogena Ultra Sheer Sunscreen.
Favourite on-board meal?
Freeze-dried meal pasta with cheese and mushrooms is currently my favourite.
Thing you miss most about home?
My dog.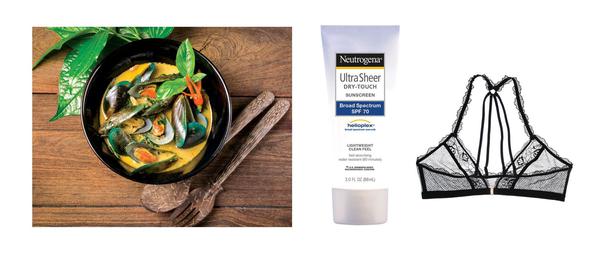 From left: Coromandel Green Lipped Mussels, Neutrogena Ultra Sheer Sunscreen, Elle Macpherson Body Dash triangle soft-sup bra.  

What will you never want to see again once back?
I wear a sports bra when sailing so when you come ashore it's very nice to wear a regular bra — it's nice to have two boobs rather than one! You miss the crunch and texture of food, so the crunch of an apple or juice of an orange. Fresh fruit is what you normally miss most and I always miss Diet Coke. It's quite intense living with nine other people in close quarters so it's nice not to have to wake up with them face-to-face, although we all get on very well and we're always keen to be reunited again.

First thing you looked forward to in Auckland?
Fresh fruit. Diet Coke. Lucas' Papaw Ointment. And I can't wait for New Zealand's green-lipped mussels.

Hardest thing about being on the race?
Spending so much time away from home and my friends, family and loved ones.

Best thing about being on the race?
You get to sail around the world in the coolest event ever with some very cool people.

Race low point?
We've had a few reminders this edition of the race of how easily incidents occur and it makes us more vigilant to avoid those dangers going forwards.

Race highlight?
It's yet to come because it's going to be when Turn the Tide on Plastic finishes first!

On a serious note, if you've been doing this race a while, have you noticed changes to the ocean environment, and if so, what?
Sadly, the reality is that our planet is changing. The ice cap is moving further north, showing a clear sign of global warming. Now, with Turn the Tide on Plastic's campaign to change people's behaviours and relationship with single-use plastics we're noticing more and more pollution. We've also been conducting scientific tests on the water throughout the race and it's showing that microplastic levels are high. We need to act now to make a change to our ocean's health.

• The Volvo Ocean Race Auckland Stopover is proud to be supported by Stoneleigh, Viaduct Harbour and Viva. 
Share this:
WHERE TO EAT & DRINK AT THE VIADUCT
SUMMER FASHION FOR THE WATERFRONT
More Culture / Volvo Ocean Race