Q&A With Liz Wardley
From her best experiences on a race to top beauty tips at sea, we learn more about the boat captain of Team Turn The Tide on Plastic
SPONSORED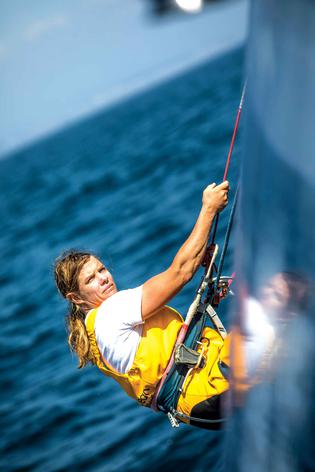 Favourite music/podcast you listen to onboard?
Whatever anyone is singing. I don't take any music on-board.
Best way to unwind for sleep?
The best book I read was the onboard service manual for one of the winches when we broke apart. You generally don't sleep in times of high adrenaline because there are things to be done and then it's a matter of trusting people on deck and closing your eyes and hoping for the best.
Top beauty tip for days spent at sea?
I always have my own zinc cream and my best beauty tip is to clean your face with fresh water as much as you can to avoid salt irritation.
Preferred sunblock?
BronZinc cream
Thing you miss most about home?
Probably going surfing and kiting.
What will you never want to eat or see again post-race?
Never want to eat a protein bar. Never want to see the whole fleet in front of us again.
First thing you stocked up on in Auckland?
Pineapple Lumps. I'm also keen to kitesurf and try my new foil board. And I'll be stocking up on sunscreen because they make the best stuff in the Southern Hemisphere. Hardest thing about being on the race? Missing out on the rest of your life which is going on without you.
Best thing about being on the race?
I love being amongst the race and the competition.
Best experience on the race?
Sharing the experiences of the Southern Ocean with such an inexperienced crew is amazing, especially a mixed crew.Have you noticed changes to the ocean environment and, if so, what? We're seeing a big difference in weather patterns from when I started doing it 18 years ago. A lot more debris floating in the ocean.
We're also carrying the plastic analyser and seeing more and more data come back showing how many micro-plastics are in the ocean that the eye can't see. Quite frankly, I believe we're seeing way less marine life. I remember in the past seeing dolphins, whales, turtles and all kinds of animals, but now you just get the odd pod of dolphins.
• The Volvo Ocean Race Auckland Stopover is proud to be supported by Stoneleigh, Viaduct Harbour and Viva.
Share this:
WHERE TO EAT & DRINK AT THE VIADUCT
SUMMER FASHION FOR THE WATERFRONT
More Culture / Volvo Ocean Race