Runway Report: Helmut Lang Spring 2018 at New York Fashion Week
Shayne Oliver's bras for Helmut Lang aren't what you'd call practical, but they might be brilliant
Thursday Sept. 14, 2017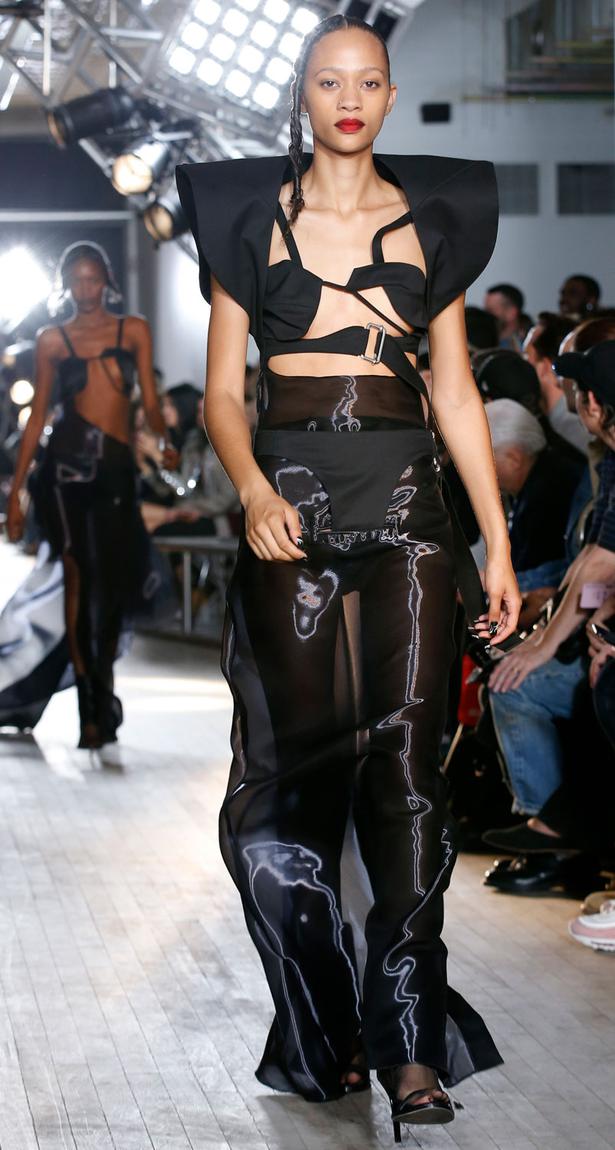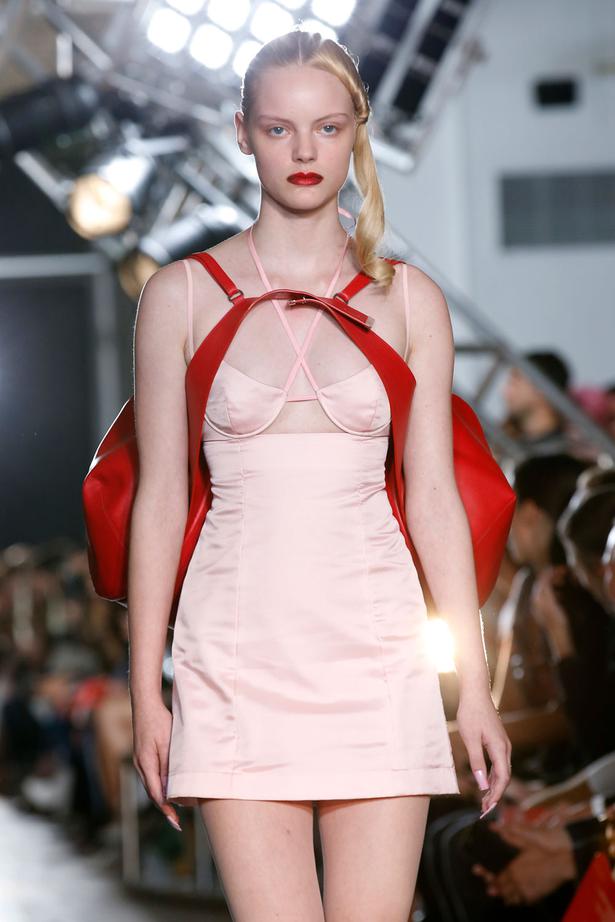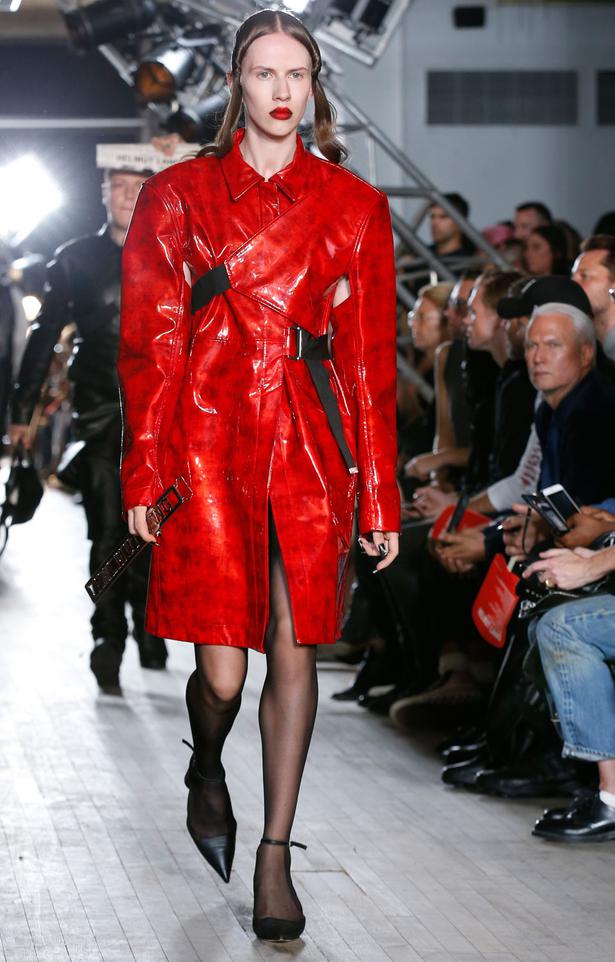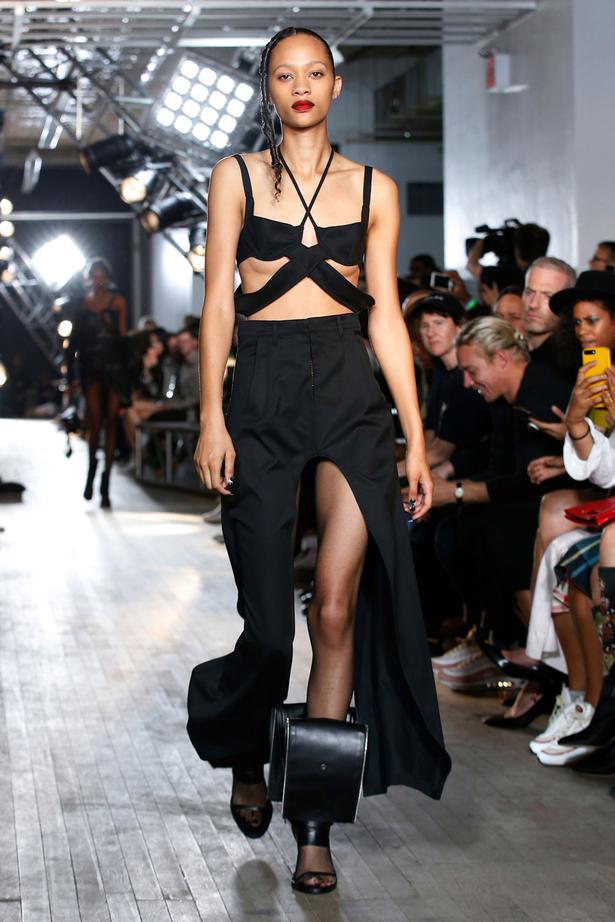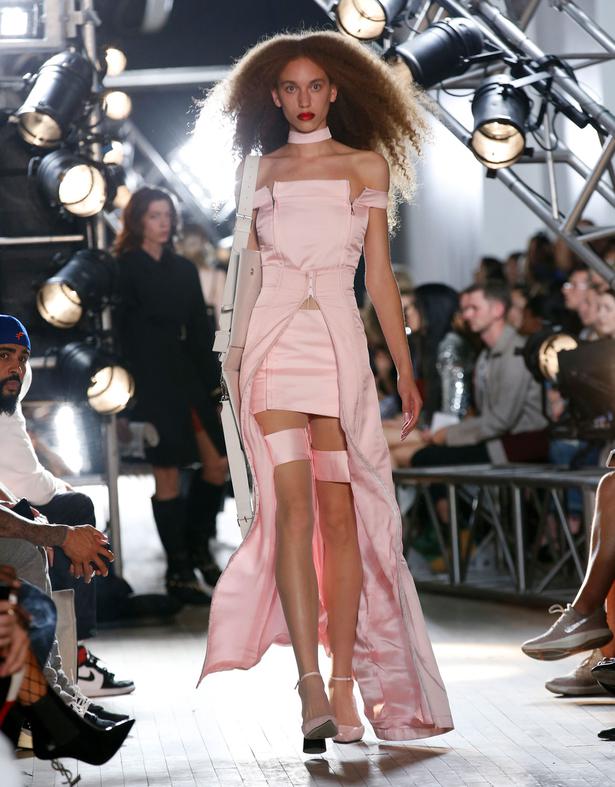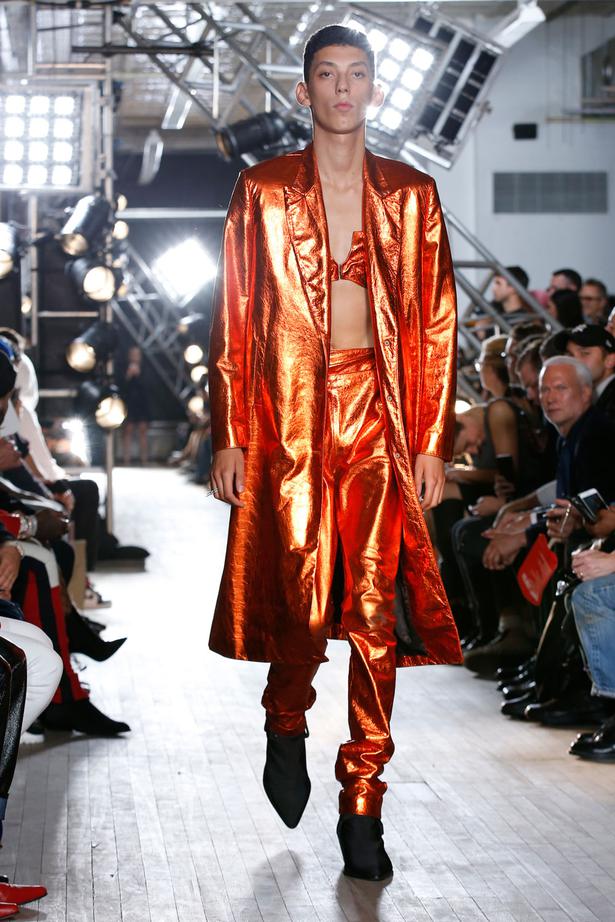 With light boards blazing and an enormous hunk of industrial something-or-other planted in the middle of the runway, designer Shayne Oliver presented his capsule collection for Helmut Lang. And finally, deep into the final days of this week of runway shows, came something that left you with your mouth ajar, your senses overloaded and your mind racing.
What just happened? Lord knows. But it was great.
Oliver, who launched the audacious — but now shuttered — street brand Hood by Air, is a young man with little formal training as a designer but a Mack truckload of ideas. Here, he just took on one of the most cultishly revered brands in fashion and left you thinking: He might be on to something.
Officially dubbed Helmut Lang Seen by Shayne Oliver, the collection recalls the brand's signature shapes and puts to good use its particular style of presentation. Lang, the man, was among the first designers to bring models down off the catwalk and have them walk at eye level. They would move briskly, men and women together. They were not always evenly spaced. Sometimes it seemed as though one model would practically walk over another one who was just ahead. The choreography made the presentations seem more vibrant, more reflective of how the clothes might be glimpsed on the streets — in a rush, a bit chaotically.
Oliver captured some of that energy. He also celebrated the long tailored jackets, the little aprons layered over trousers, and the flapping harnesses that gave the brand its puzzling, vaguely provocative stance.
And then, Oliver obsessed over bras. There were bra tops and bra bags and itty-bitty bits of fabric that barely covered the nipples and so might be called bralettes. Sometimes they were sexy. Sometimes they were taunting. Sometimes they were silly. Sometimes they were more of an aesthetic puzzle than anything remotely practical.
Oliver operates in a gender-malleable zone. It suits the Helmut Lang brand, which always tended toward the androgynous —  clothes for an army of stoic urbanites rushing through life. Yet despite the street credentials of both Oliver and Helmut Lang, it is not a cynical or bleak vision. There's optimism in these stalking models —  a belief that the individual self will find a way to shine.
The show ended with Whitney Houston on the soundtrack belting out the power ballad I Have Nothing:
"Share my life
"Take me for what I am
"'Cause I'll never change
"All my colours for you"
It's a song of pure diva-esque determination and emotion. Cue the sweeping gestures and the over-emoting. Alert the drag queens! I have nothing, nothing, nothing. If I don't have you.
Oliver has noted that he reveres the man whose name is on the label. And he pays homage to him in this collection. But he also brings the Shayne Oliver point of view, in which men wear heels, girls exude toughness. And everyone can release their inner diva. They don't have to change.
People are simply left to be themselves. In all of their vivid and distinct strokes.
— The Washington Post
Share this article: