Runway Report: Marc Jacobs Spring 2018 at New York Fashion Week
Sparkles, big shapes, bold colors, silky wraps: Marc Jacobs' Spring 2018 collection is full of joy
Friday Sept. 15, 2017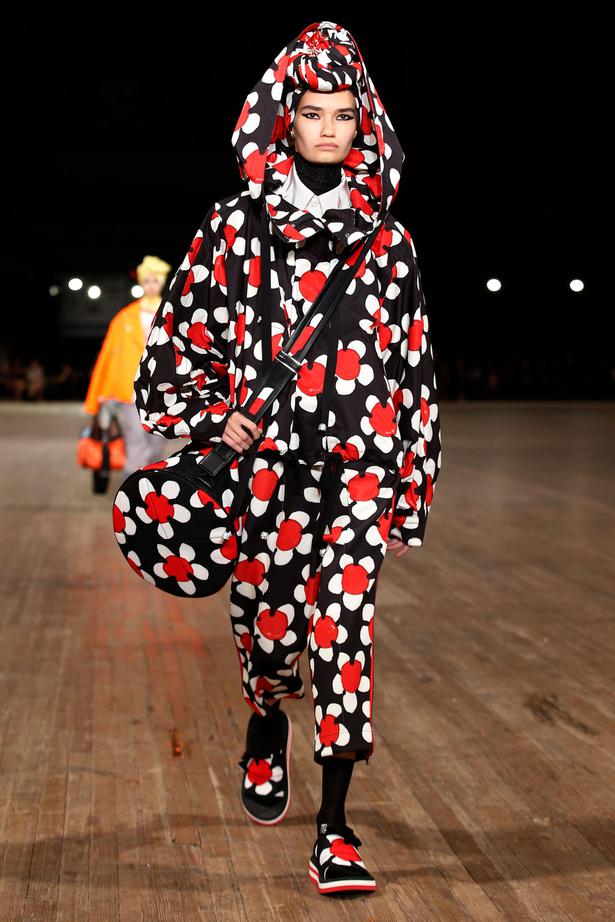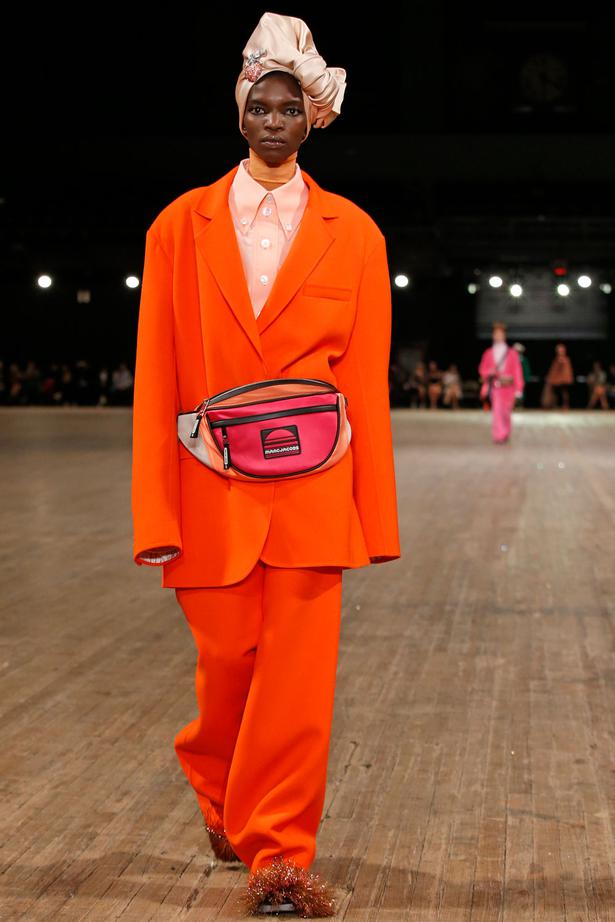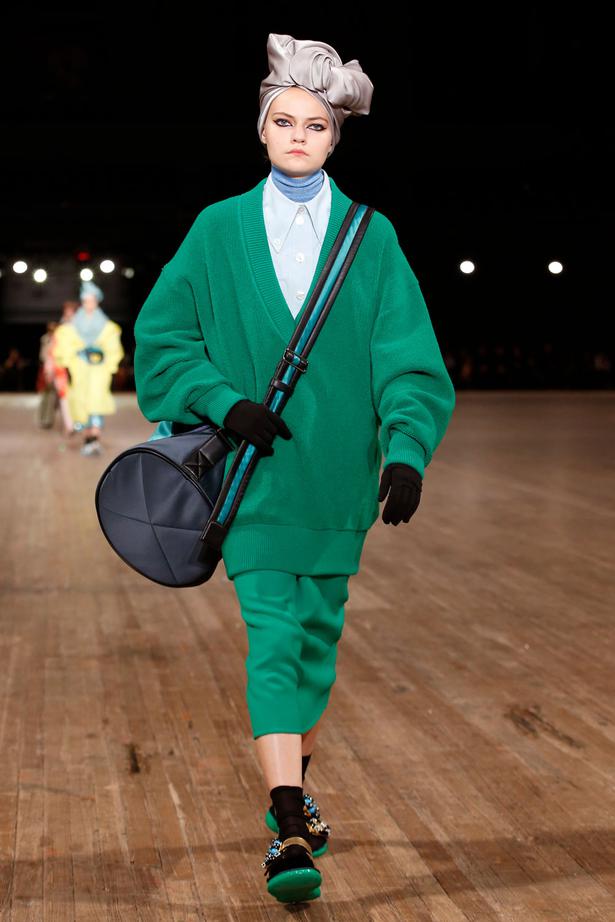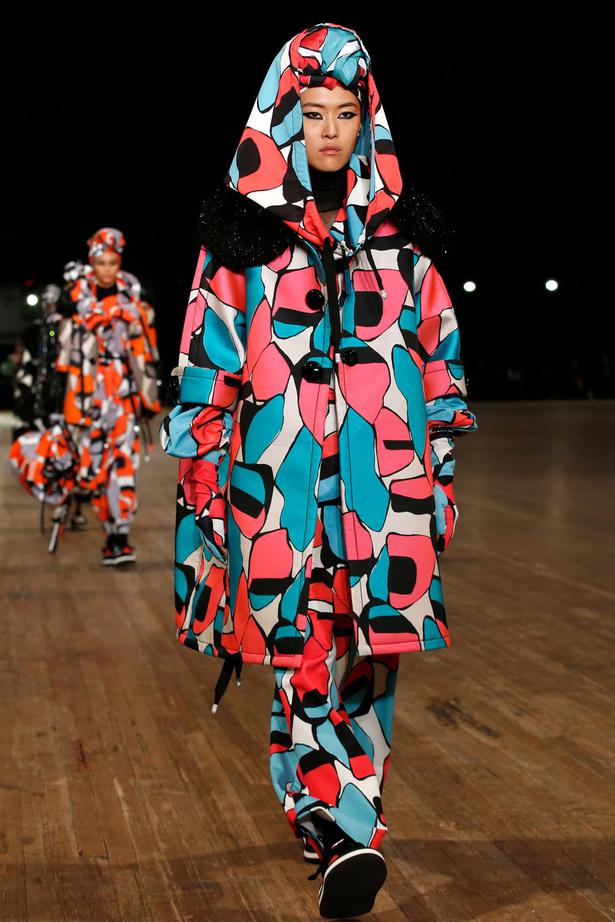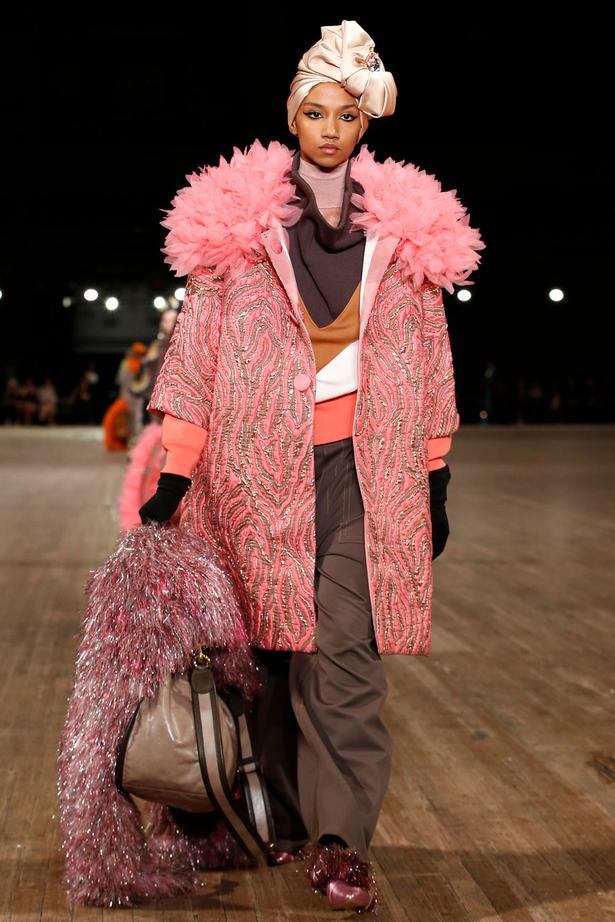 The Park Avenue Armory, where Marc Jacobs presented his Spring 2018 collection, stretches the full width of a city block. Jacobs did not fill that space with an elaborate set, though. Instead he used its vast emptiness for dramatic effect. A single row of metal chairs was set against the wall to form an enormous square.
His models walked out one by one, like an orderly trail of colorful nomads in extravagantly patterned dresses, satiny trousers and beaded tops. Plumes of glitter-sprinkled ostrich feathers billowed from their coat collars. Sequins formed elaborate patterns on dresses that were held together in the back by little more than a silk ribbon.
Each model, a diverse array of them, walked tall and unhurried. Each head was wrapped regally in an artful turban. Jacobs described his inspiration as his own daydreams, that wondrous ability to let the mind roam freely — recalling the past, imagining a future and meditating on the in-between.
It was a beautiful collection because it was not exactly any one thing. It hinted at the majesty of traditional African kaftans and headwraps. But it wasn't quite that. It had echoes of athleticism, with racer stripes down pant legs and nylon anoraks. But the pants were cut like Indian dhotis, and the anoraks were paired with elaborately embellished slippers. There were oversize blazers and gargantuan cardigans. But it was definitely not business suiting.
The collection was tailored and informal. It pulled from particular ethnic identities but did not accurately mirror any of them. It was as though Jacobs was dabbling with exotic silhouettes he'd seen up close as well as notions of them that he'd pulled from a Google search. There was a sense of virtual reality having met real reality.
It was a fine balance. Not too gritty. Not too slick. It was poised perfectly on a precipice. What lies below? Uninspired commercialism. Whacked out silliness. Banality. Outrageousness. Boring familiarity.
In many ways, the Jacobs show captured the elements that have been most admirable — or most intriguing — about the Spring 2018 collections presented this past week. Few things are pure. The best shows have not relied on a single, clarion vision. They have been filled with static. These collections are like old-fashioned radios with the tuners caught between stations. Hip-hop fades into jazz. Or a country beat keeps trying to break through the rhythms of a rock tune. It's jarring and distracting, sure, but it also serves as a constant reminder that nothing exists in isolation. It all bleeds into one.
READ: How Marc Jacobs Runs His Empire
Loosely, the work is postmodern. Remember that term? It launched a thousand college seminars in the late 80s, and gave us licence to wrap both Roland Barthes and Madonna into a thesis on MTV. Jacobs is the ringleader in absorbing whatever might be floating through the culture — a mood, a telling documentary, a lively music scene — and reassembling it in ways that give us something fresh, something to think about.
There's egalitarianism in his work. There is no uptown-downtown aesthetic divide. It all meets in the middle, which is where most of us truly live — or at least think we do.
The Spring 2018 collections are a delightful postmodern pastiche filled with sparkles, oversized shapes, dramatic prints and colours, tailored denim and sensual wraps.
Consider Stuart Vevers' collection for Coach. It was an ode to pop artist Keith Haring, with a nod to A Tribe Called Quest, the New York Dolls, Lou Reed, bikers, prairie dressing, and Coach's own late handbag and sportswear pioneer Bonnie Cashin. It was also in sync with the everything-but-the-kitchen-sink vibe at Gucci and the glitter rock that took over Jacobs' runway a year ago.
In short, it was a little bit of everything. Covered in glitter.
This has been a runway season of porous borders, at least aesthetically. The once inviolable barrier separating plus-size women from all others has been breached. The idea that a diverse range of models will distract from the clothes has been revealed as a lie. And even the notion that after a certain age women cease to care about fashion is slowly crumbling. Inclusiveness flowed organically on several runways, but especially at Zero Maria Cornejo, where the designer was celebrating 20 years in business.
After several seasons in which designers used their runways as venues for overt political protest, the catwalks have become more of a respite. A place where the best designers, from Prabal Gurung to Christian Siriano, now attempt to create a vision of the world in which they would like to live — or at least a tiny sliver of it.
Tracy Reese, who is marking her company's 20th anniversary, has used her shows as a form of resistance: supporting Planned Parenthood, inviting readings of protest poetry. For spring, she simply asked her models to speak. Dressed in her lushly colored dresses with their easy drape and tailored trousers with bold stripes they quietly delivered monologues about themselves, their dreams and their beliefs. Again: The models spoke! Typically, they are treated as living hangers, meant to be seen, not heard. One model talked about freedom. Another argued for body positivity.
It was a good season for women and for women designers, who seem to have a more challenging time capturing the imagination of the industry. But still, they persist. Rosie Assoulin offered a joyous collection filled with cameo prints, subtle textures and sweeping hemlines that give her daywear a level of distinction often reserved for precious evening gowns.
READ: Marc Jacobs' Most Memorable Quotes
Gabriela Hearst is coming into her own as a designer, with a strong eye for tailoring as well as the soft sportswear with which she introduced herself. And Victoria Beckham is the veteran now. Each season, she offers a lovely collection of grown-up clothes that speak to the needs of women who are working, mothering or simply running through life as fast as they can.
Not every designer put their collection on the runway. Zac Posen showed his extravagant ballgowns and crisp shirting separates in his studio. The dresses are more ornately embroidered than they have been in the past. His daywear has a simplicity and informality that is welcome and refreshing, perhaps sparked by his continued work at Brooks Brothers on their women's collection.
Narciso Rodriguez didn't put his spring collection on the runway either. In this mixtape of a season, he offered a perfectly edited group of trousers, asymmetrical tops, fine knits and sexy, slinky dresses.
In some ways, it had the purest point-of-view of fashion week. Pure Rodriguez. A vision that not only works, but also reassures and inspires.
It's like that little classical station at the far end of the dial. You sometimes forget how lovely it is until you tune in.
— The Washington Post
Share this article: