Entrepreneur & Creative Jessie Gurunathan's Beauty Routine
The founder of Two Birds Beauty shares her own approach to beauty and skincare
Jessie Gurunathan started out at 21 working in the entertainment industry and her career has seen her do everything from winning a reality TV show, working as a presenter for TVNZ, producing music videos for well known local artists and bands to even having a brief career as a successful recording artist herself before she decided she wasn't cut out for show biz.
Since then Jessie has focussed on writing and creating content via her social media platform where she shares everything from her extensive travels living abroad, health struggles with endometriosis and depression, to her love of cooking, plant based living and her passion for all things beauty and wellness.
READ: Broadcaster Stacey Morrison's Beauty Routine
She is proud to call both Malaysia and New Zealand home having lived in both countries growing up. Her father is South Indian and mother Pakeha which Jessie credits as playing a huge role in shaping her as a person.
Jessie has spent the past year developing her own cruelty free, clean & sustainable beauty brand called Two Birds Beauty which will be officially launching early next month.
Approach to beauty
It has evolved a lot over the past few years, in particular now I'm in my 30s. Now it's all about being cruelty free, effective, minimal and as sustainable as possible.
I have always been a bit of a beauty junkie and a sucker for trying out the latest releases, but I no longer buy into the idea that you need every new product promising miracle results. The "less is more" ethos is now my mantra and that applies not only to a simplified skincare regimen but to my whole approach to beauty.
I feel like there is nothing more timeless and attractive than healthy glowing skin and most of the time you'll find me completely make-up free. You can't fake truly good skin so it's about working from the inside out and making sure your gut health is just as much of an investment as good skincare.
Early makeup memories
My first memory of make-up is a tie between the kajal (kohl eyeliner) which my South Indian grandmother kept a beautiful ornate bronze container that looked like a mini genie bottle. When you opened it there was a wand-like bronze applicator. She would put it around my eyes before we would go to temple or special occasions like Deepavali. To this day it's still something I love using to enhance my Indian features.
The other memory is of watching my Pakeha mum apply her signature 80s pink lipstick. Anytime I see that bright fuchsia shade of pink lipstick I instantly think of Mum and my happy tropical childhood, growing up on Penang Island, Malaysia.
READ: Singer & Presenter Anika Moa's Beauty Routine
Style evolution
When it comes to my style I'm an urban tomboy during winter then a carefree boho gypsy in the summer. In the beginning of the previous decade I had long bleached hair and it would go from pink to blue, then stayed lavender for a long time. I had moved to Tokyo and fully embraced quirky fashion and makeup trends and had a blast. I will always love bright colours and be heavily influenced by my Indian heritage but my whole approach is more considered these days.
Ever since my partner and I shifted to a predominantly plant-based lifestyle over three years ago it's had a flow-on affect to so many other areas of my life. I am a lot more conscious about the decisions I make as a consumer. For example I am a huge advocate for only supporting cosmetic brands that are cruelty free and try to use my platform as much as possible to educate and encourage others to do the same.
I am now less influenced by the latest trends in fashion and more into saving up for investment pieces I know are ethically made and I'll be able wear for a long time. I also developed a passion for vintage and op-shopping while living in Tokyo for nearly six years and have found some of the most incredible pieces that I know I will treasure for many years to come.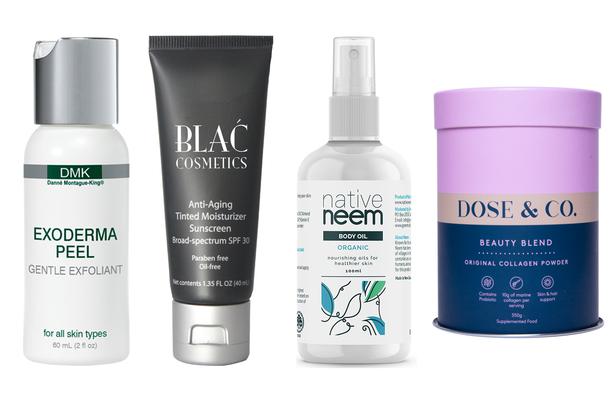 Five faves
DMK Exoderma Peel: This is the ultimate at-home facial kit which I try to do once a week (usually on a Sunday) and it's unreal.
Blac Cosmetics Anti-Aging Tinted Moisturiser SPF30: This Kiwi brand makes the most amazing cruelty free, vegan, clean cosmetics. This tinted moisturiser is my favourite: I use it all year round, and just switch between two colours depending on the season as I tend to go darker in the summer.
Two Birds Beauty Replenish & Repair Bio-Retinol Serum: 

 

This is my own brand and it's basically everything I was looking for in a product but had struggled to find — something that was cruelty free, safe to use and sustainably produced, yet still remaining highly effective. It is uncomplicated, honest and is amazing on my sensitive skin.
Dose & Co Beauty Blend: I've been taking marine collagen supplements since late 2015 and this brand is by far the best value for money. I also love that it contains probiotics for gut health and biotin which enhances energy and mood. This is my number one "beauty from within" product.
Native Neem Organic Neem Body Oil

 

I am a huge believer in Ayurvedic medicine and, since I was a little girl, have known of the powerful benefits of the neem tree. This is all I use on my body all year round.
Advice to younger self
If I had a time machine I would go back and slather my younger self in sunscreen! I used to think that because I had brown skin and didn't burn, that sunscreen wasn't neccessery. Oh how wrong I was! The harsh NZ sun and my zero f's approach to sun protection through my teens and 20s is something I am definitely regretting.
Beauty trick
A game-changer for minimising my dark under-eye circles was a hack I picked up from one of my absolute fav beauty vlogger idols, Deepica Mutyala of Live Tinted who went viral after sharing a Youtube video where she uses red lipstick as a base primer on dark circles — as a colour corrector — and then applies normal skin tone concealer over the top. It works particularly well on WOC and our darker skin tones. I now use Deepica's makeup brand, Tinted, and her colour corrector in the shade "Rise" under my eyes.
As a WOC I always struggled with feeling excluded from the narrative due to the unconscious racial bias within the local fashion and beauty scene here in Aotearoa, so I turned to social media and looked to overseas BIPOC influencers, actresses and designers for inspiration. This year I am finally starting to see the local scene truly make an effort to embrace more diversity, which is exciting!
Surviving changing seasons
I have developed rosacea over the past couple of years and I have been able to manage it without the use of strong steroid creams or antibiotics by focusing on my gut health/diet and using fewer but more effective products on my skin.
It's very basic in the summer (cleanse, tone, serum/oil and sunscreen) I double cleanse at night, a habit I picked up years ago living in Japan.
In the winter I use a few more products because of the harsher elements. I start with an oil cleanser from Tailor Skincare which is also a brilliant makeup remover then I use the Purified jelly cleanser from Rawkanvas. I use Harmony toner from Rawkanvas followed by two products prescribed by my facialist from a brand called DMK which are the Direct Delivery Vit C serum and the Beta Gel which I mix together before applying to my face.
Finally I use my own product (an oil-based serum) which I pat into my skin and under/around my eyes. I spent 10 months working with a cosmetic chemist to develop this product which I am about to launch soon.My brand is called Two Birds Beauty, it's cruelty free, clean, vegan and sustainable and I am very proud of what we've created. That's my night routine and during the day I just make sure I put on sunscreen which is the UV Clear Broad-Spectrum SPF 46 from Elta MD.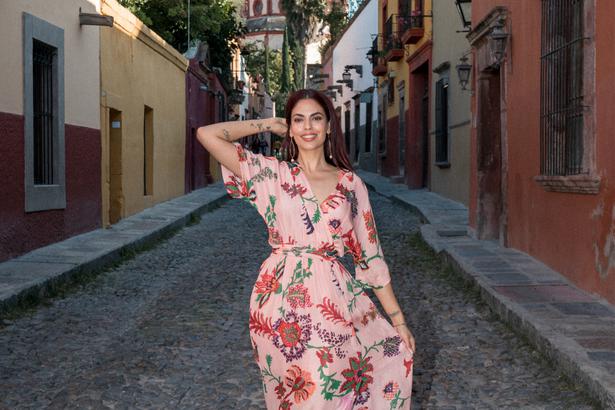 Jessie credits her mixed heritage upbringing on shaping the woman she is today. Photo / Supplied.

Transformation tip
I like beautiful glowing skin where my freckles are still visible during the day with some matte bronzer which I also use on my eyelids as a shadow, a little bit of mascara and lip balm. At night it's as simple as either adding a cat eye using liquid liner or a bold lip (usually an orangey red) and that's it.

Day to night 
I wish I could tell you I am always perfectly put together and look glam no matter what I'm doing but those close to me know that's a blatant lie! If I am not having to get dressed up for an event or special occasion you will find me bare faced in either a vintage Harley T or oversized crewneck sweater paired with either black tights or sweatpants and my hair will be either in a high ponytail or bun.

On the other hand, if I am getting dressed up it's the complete opposite. I go all out and love to get my hair blow-waved, I will almost always have a black cat eye or a strong statement lip and I will be in something super-feminine and flowing.

Hair and its care
I am very lazy when it comes to my hair. I oil trained it a while ago so I literally only wash it once every 7-9 days. I avoid heat styling products as much as possible and don't even own a hair straightener. I have been using the Davines haircare range for a while now and absolutely love the products, but recently found out that they now sell their products in China so I'm gutted as I will not be able to continue purchasing their products.

Last year I also learnt about Sustainable Salons NZ and how you can go online and locate a salon near you that is committed to minimising its footprint and being as sustainable as possible. I used the website when I first moved back to NZ last year, and it's helped me find two amazing salons I have since visited, Badaro salon in Wellington and Little Hair Co here in Hamilton.

READ: Actor Grace Palmer's Beauty Routine

Treatment to try
I recently got botox in my forehead from The Face Place but I'm actually dying to try the "Bright Eyes Package" they offer. I have inherited my father's Indian genetics where we all seem to get really dark hollow under-eye circles as we age and I have seen some amazing results on their Instagram page from past customers who have had it done. I actually went for a consultation and then Covid happened so that all got put on hold.

Beauty muse
I look at my mum and how beautiful and naturally graceful she is as she ages (she looks UNREAL for her age) but then I also have started getting small amounts of botox the past couple of years and I love the way it makes me feel more confident. I have never had it around my eyes as I do love the idea of laughter lines.

I think ageing is a privilege in the sense that as a woman, life just gets better as we age. I absolutely love the fact that as a woman in my 30s, heading towards my 40s, I feel more at peace with who I am and continue to become. That kind of contentment seems to give older women a magic inner glow that money simply can't buy. That is the most beautiful part about ageing.

Beauty is...
Beauty to me is about being unapologetically myself all the time. Not making myself smaller or quieter to make others around me feel more comfortable. I spent a great deal of time in my 20s accommodating everyone else's egos and worrying about how others see me.

Now I feel my most beautiful when I own my truth and walk through life in a way that makes me feel fulfilled and proud of myself. There is nothing more powerful or attractive than seeing a woman step into her fullest potential.

Beaty wishes
I want to encourage more people within the media, fashion and beauty industries to actively embrace the idea of becoming more reflective of the diversity we have here in Aotearoa. Be the change, lead the way and continue to connect with and celebrate the rich cultural diversity we have in this country.

This is an incredibly powerful way to start creating positive change. As a long time reader and fan, I would also like to acknowledge and personally thank Viva for always leading in this space.
Share this: