SPONSORED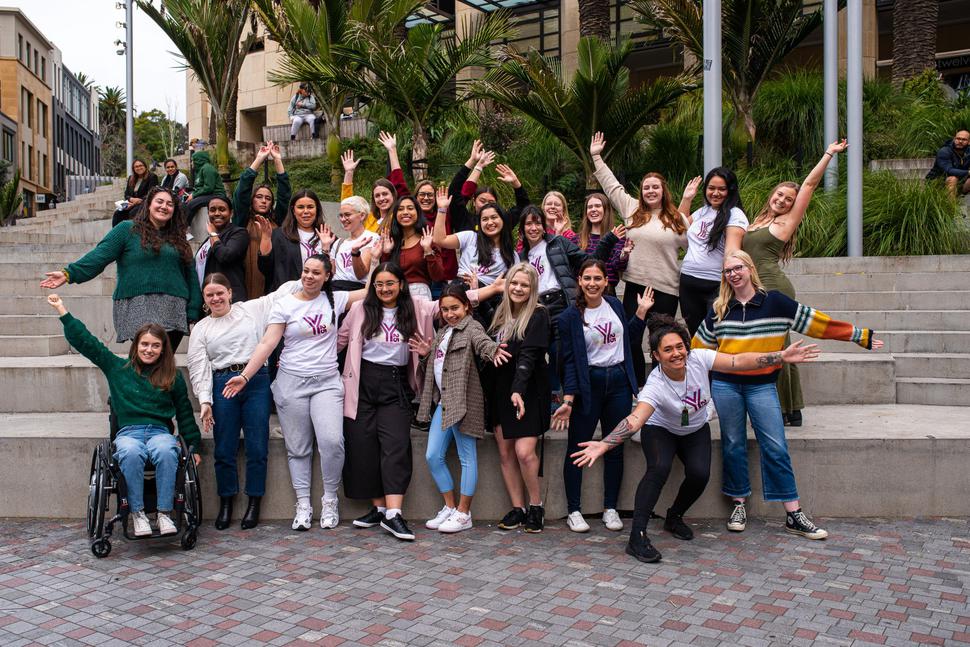 The Young Women Brewing Leadership And Change
Supported by Dilmah, YWCA's Y25 leadership programme spotlights some of Aotearoa's trailblazing young women
Wednesday Feb. 3, 2021
Fortuitously it was a page in Viva that started it all, with YWCA's Chief Storyteller Angela Barnett reading about how Dilmah supported young women through their MJF Charitable Foundation. This spurred her to contact the brand's local arm and many cups of tea later, after hearing all about the work Dilmah do in Sri Lanka to support women in business with their 'Small Entrepreneur Program', they began to brew a partnership. Hearing how the latest YWCA project, Y25, was supporting Aotearoa's young women really rang home with Dilmah and they wanted to do what they could to support.
YWCA's Y25 project spotlights 25 trailblazing young women from around Aotearoa. "We were looking for young women, between the ages of 15 and 25, who were making change," says Angela, revealing that they searched for candidates who were fighting for a cause, creating something beneficial, and speaking up.
"The Y25 sought young women who are living their 'why'," explains YWCA Auckland CEO, Dellwyn Stuart. "They are doers, makers, shakers, changemakers and community leaders doing incredible things to wake up and change their world." Importantly, they were looking beyond social media, reveals Angela. "We weren't just looking for people who might be 'influencers'," she says, explaining that they also wanted women who were quietly pursuing their passions.
They initially aimed for 50 nominations, and ended up with 100 diverse candidates, which a panel of judges (including Michele A'Court, Kathryn Wilson and Qiane Matata-
Sipu) whittled down to the Y25 list. "The final 25 selected are a mix of those already kicking their goals, and others who are starting out on their journey," says Dellwyn. They come from
all over Aotearoa. Among their ranks are human rights activists, community leaders, artists, scientists, social enterprise entrepreneurs, and environmentalists. "Some had been covered in the media and others hadn't," says Angela.
"We wanted a mix of that too, known and not known so they can all support each other and learn from each other." The Y25 list for 2020 includes Sophie Handford, one of the country's youngest councillors, science advocate Shalini Guleria, youth mentor Te Aho Jordan, and environmental educator Annika Andresen.
With Y25, YWCA wanted to create a symbiotic network of support and growth. "We wanted all 25 to feel connected to each other, to build a strong relationship, so they can support each other year after year to keep doing their mahi, raising their voices, and fighting for a fairer Aotearoa," explains Angela. Rather than following a traditional mentoring model, the Y25 project provides a year-long wraparound programme, with support and guidance tailored to each candidate.
A key part of it was a two-day long hui at the historic Ellen Melville Centre in central Tāmaki Makaurau. Tea was supplied by Dilmah, of course, and the 25 young women took part in workshops, heard from speakers that included Chlöe Swarbrick, Oriini Kaipara and Karen Walker sharing their knowledge and inspiring the women before them.
Dellwyn sees tremendous hope in the women on 2020's Y25 list. "They are maturing in a world where uncertainty is the air they breathe," she says. "The climate crisis and pandemic have underlined how important it is to contribute to changing the way we live together and in the world. This is not a side hustle for them, this is it." They're united by their drive and vision, as Angela explains. "They are all deeply committed to making their passion, their work, to speaking up and bringing their unique perspective to how the future is shaped."
Through a turbulent year Y25 has provided enriching guidance, and YWCA aims to build upon by creating a community. "We are building an annual tribe of 25 incredible talented young women who can support and champion each other, year after year, and know that there are others like them out there also working hard to make the world better," says Dellwyn. "The role of the Y is to support them and let them be amazing!"
Nominations for Y25 2021 open on February 1 — March 31 — discover more:  facebook.com/akywca
Learn more about Dilmah's work supporting women and community: mjffoundation.org
Share this:
More Culture & Travel / > Local