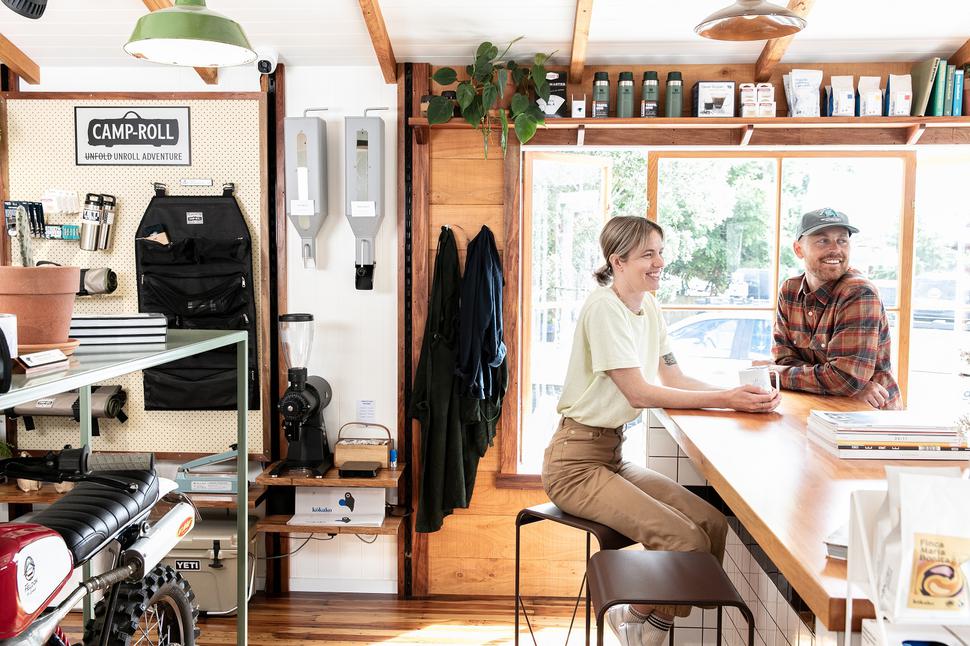 Outdoor Store West Supply Is A One-Stop-Shop For Camping & Adventure
The passionate duo behind Feldon Shelter tents open a community-minded outdoor shop
Thursday Dec. 10, 2020
In the West Auckland community of Waimauku, a well-known stop on the way to Muriwai and Woodhill Forest, the curious-looking shopfront perched across the road from the petrol station and a stone's throw from the roundabout, is a familiar sight.
Built in the 1950s, the Waimauku food station has had many past lives, including as a general store, a fruit and vegetable shop, and a fish and chippery. For Beth Eastell and Joel Hedges, who grew up in the area and live 7km away in Kumeu, this has always been a special spot.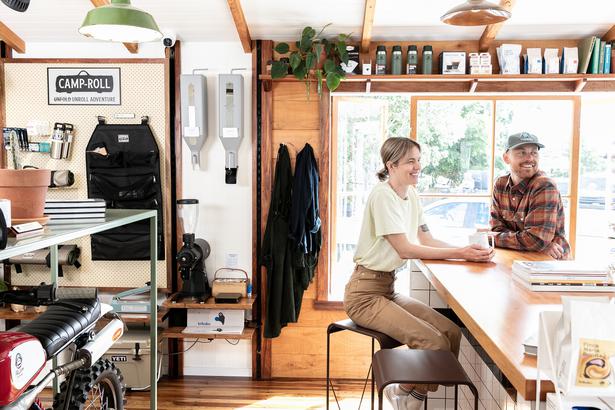 "We've always had our eyes on it because it was such a quirky building," says Joel, one half of rooftop tent company Feldon Shelter with partner Beth. "The space has always been quite an iconic spot among the community in Waimauku, although it had got really old and rundown."
Two months ago, after a year and a half of extensive renovations to the building, including two lockdowns and a "few spanners thrown in the works", Beth and Joel opened the doors to their one-stop-shop for camping and outdoor gear, West Supply. Transforming this odd food shack into a store that encompasses everything they love about the outdoors is the realisation of a long-held dream for the duo — who've made a living out of their passion.
The "cosy-cabin-meets-surf shop" is not unlike a surf shack you'd see along the coast of California. Inside it smells like freshly sanded and oiled wood, with warm timber beams offset with crisp white paint.
There are many thoughtful details, including handpainted signage by Beth's sister, Veronica, and welcoming yellow signage by graphic designer Jason Domancie on the scalloped tile facade.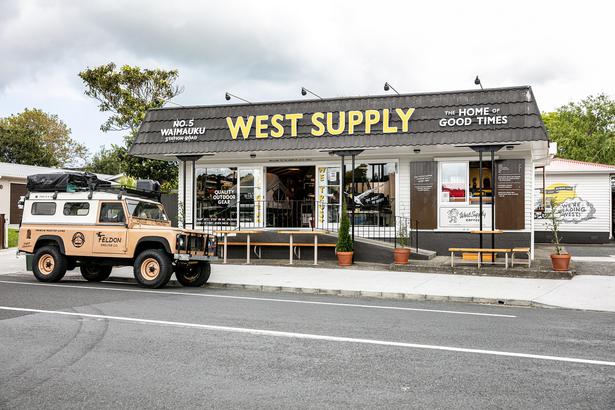 Offering a coffee element was important to Beth, and the coffee corner by Kokako encourages visitors to stay a little longer. "For people to want to hang out, there needs to be good coffee — that goes without saying," she says.
In a shed out the back is friend and ex-Feldon staffer Dan Marsden's surfboard-shaping workshop, and the Feldon Shelter vehicle installation workshop is here too, creating an all-in-one experience for customers having rooftop tents fitted.
On the shelves is a selection of camping equipment and accessories from New Zealand and overseas brands Front Runner Outfitters, Yeti, Pretty Fly, Coleman, Dometic, Ironclad Pans, Goodlids, Maxtrax and more. The duo call it a wish-list of everything they'd take on an adventure, and as expert campers, they've tested and approved it themselves.
For Beth and Joel, who had been running the original Feldon Shelter from a workshop in nearby Kumeu, bringing all that they love about camping under one roof was a natural step for the brand.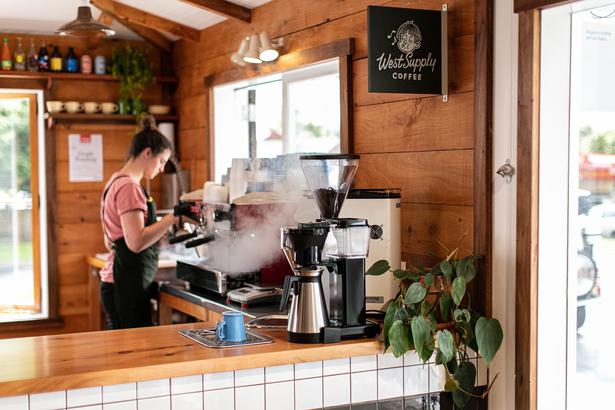 "All day we were kitting out people's trucks and vehicles with our rooftop tents and the first thing they'd say to us is, 'where can we go adventuring?' and the second is 'where do I get all of this cool gear that I need to go on this trip with?'" The pair would send customers all over the place to get certain items, or advise them to order online from the US or overseas.
"So we decided to make a store that catered for everything that we liked about the outdoors, and where a customer could come in and get their Feldon tent fitted and then get everything else, all really good quality, buy once and buy right items and then shoot off on their adventure."
READ: The Best Summer Day Trips From Auckland
Chasing adventure — and chasing waves — is the backbone of the Feldon Shelter brand and the pair's genuine enthusiasm and passion for camping means they live and breathe the lifestyle. It was through seeking a solution to their own needs that Feldon Shelter was born in 2016.
Rooftop tents have been around since the 50s, but haven't been widely available in New Zealand, and those that were didn't suit the conditions.
Joel, with a background in textiles, having started the label Earnest Workwear just after university, and with experience in metal fabrication (his brother is a race-car driver and fabricator, which meant tinkering with cars as a hobby), thought he could make one himself.
"When we couldn't find anything we liked, we felt we had the skills to make it," says Joel.
Through trial and error they hrefined their offering, perfecting the design of their tents and tweaking them to suit New Zealand weather.
Feldon Shelter's Crow's Nest tents are designed to sit atop a vehicle's roof racks, and unfold with ingenious built-in bedding and a relatively effortless set-up, meaning more time adventuring and less time wrestling with poles and pegs.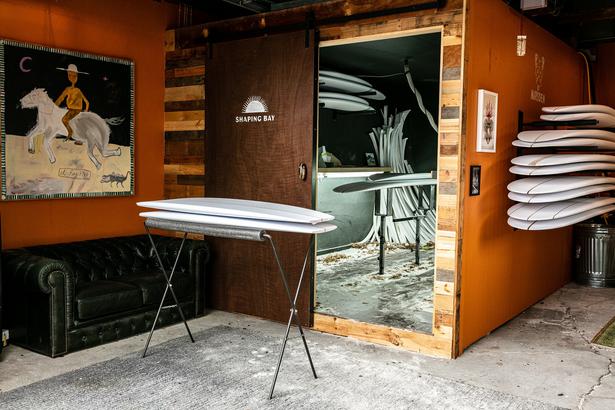 Dan Marsden's surfboard-shaping workshop. Photo / Babiche Martens

"We did two years of testing and developing," says Beth. "We like to say that to sound fancy, but we did do a lot of scientific testing like waterproofing and on the flipside we did a lot of DIY testing, which just consisted of a lot of camping."

Over a two-year period, they hit the road every weekend, spending a great deal of time in the tents. "And a lot of it hasn't been easy," says Beth. They did a lot of storm chasing, on purpose, to see how the tents would hold up in extreme weather. "My friends would ask us 'what are you doing?' and I'd say 'we have to go and get stuck in winds. Even though I'm not going to get a wink of sleep, I just need to feel comfortable and confident that this product is going to last'."
On a trip to the South Island last summer, it rained the entire time. "It poured for four weeks. My towel remained wet, everything was soggy." Although miserable, this experience led to the development of the extended Crow's Nest tent, which is designed to cantilever out from the roof, propped up by a ladder, providing extra shelter underneath and a dry entry to the tent. They also designed base-mounted shoe and gadget pockets to keep everything dry and off the ground.
Beth and Joel have been documenting their adventures on the Feldon Shelter website and Instagram from the start of their journey, and what began as a hobby for Beth, has now progressed into an important part of their marketing. The photos sell a dream, and people want in.
"If we were trying to tell people in words how amazing it is travelling around New Zealand, most people, especially in this day and age, aren't going to pay attention to that," says Joel. "They need something visual, that's going to give them a sense of what we're feeling when we're travelling — and motivate them to want to do that. The imagery Beth captures has been super-critical to our success."
Camping and surfing has taken them to every corner of New Zealand multiple times, through the Australian Outback in an old Land Rover, and around the Aussie coast, surfing and taking photos as they go.
"We're genuinely using the product every weekend," says Joel. "We're going surfing, we're going on trips. We're in love with the lifestyle the product creates. I think people attracted to the brand could see that the people making it were living it too. They can see us going out and getting stuck in the snow and catching waves — it makes people want to do it too."
And with the doors open to West Supply, these curious adventurers have somewhere to gather, to stock up on supplies for their own adventure, or just stop in and chat.
The hope for West Supply is that it becomes a community hub, with events in the works, and a place where "things are always happening and contributing to the area", says Joel.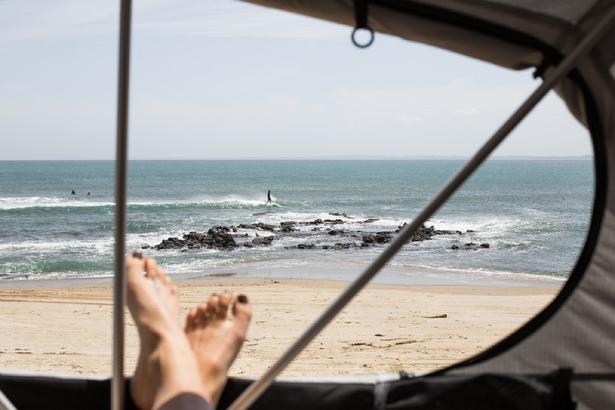 The view from inside a Feldon Shelter rooftop tent. Photo / @FeldonShelter Instagram

In the meantime they've created their own community with the people and brands they've chosen to work with.

"We've always wanted to support all the friends of Feldon that we've met along the way. Like Dan, Kokako, Goodlids and Ironclad Pans. They're just cool people doing good stuff locally. I think it's important for the area to have businesses that are doing more than just trying to sell products, you're stopping for the community and the lifestyle and the vibe that's going on."

And there is a vibe — Beth and Joel don't get much work done when they're on the shop floor, with locals and friends dropping in to say hi.

"We always wanted to have a place that wasn't just somewhere you'd stop to buy products. We wanted people to stop by and hang out." Dreams do come true.

West Supply, 5 Waimauku Station Rd, Waimauku
Share this:
More Culture & Travel / Going Places