Five Tranquil & Diverse Stays On Waiheke Island This Summer
From the grandiose to the discreet, here are a few recommended places to escape to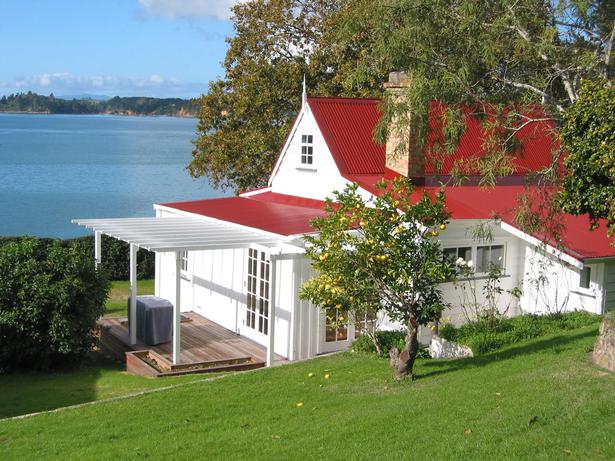 Monday Oct. 26, 2020
The Private Art Sanctuary: Connells Bay
If time and space is something you're looking for, the sprawling property at Connells Bay toward the eastern side of the island is worth exploring. Owned by passionate art and theatre lovers John and Jo Gow, Connells Bay provides guests with free access to the property's impressive collection of art sculptures featuring the works of some of our most celebrated artist's including Fatu Fe'u (the majestic 'Guardian of the Planting' is a sight to behold); Graham Bennett, Fiona Connor, Gregor Kregar and much more.
The sculptures differ in scale and media, and each of the commissioned sculptures tells a story about its existence. The Gowshed (get it?) Gallery contains resource material about each of the commissioned sculptures, a collection of books and DVDs on international sculpture, and small/medium-sized works for sale. It is an ideal place for visitors to the Sculpture Park to soak up information on contemporary sculpture.
The Victorian-style guest cottage is a sweet two-bedroom villa with private access to the beach, gardens and upon check-in, John and Jo have thoughtfully included complimentary groceries including bacon, eggs, milk, and fresh jam; and if you're lucky, you might just befriend the property's charming cat JJ. Having a vehicle, preferably a decent four-wheel drive is helpful as the entrance to the property is down a steep drive.
If you're an avid art lover or looking for an idyllic escape from the hustle and bustle of everyday life, this charming property leaves you to your own devices. Take the time to explore the sculpture park with a picnic; having it all to yourself is a luxury not to be missed.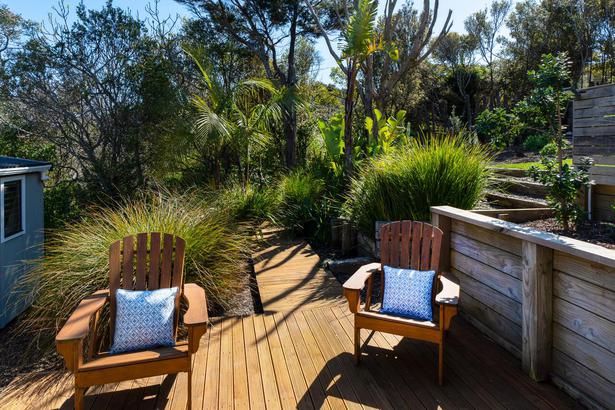 Hot tip: make sure you are fully stocked once you get there, as you'll want to make the most of the property and not have to venture back and forth for essentials, once you're there, you'll never want to leave. Conveniently located restaurants nearby include Poderi Crisci, Peacock Sky Vineyard, and Passage Rock Wines Bistro.
142 Cowes Bay Road, Connells Bay. To book visit Connellsbay.co.nz.
The Architectural Masterpiece: The Lantern House
A chic, sophisticated and elegant home for discerning travellers, this Herbst Architects designed home sits cantilevered 90 meters above the blue waters of Onetangi. An elegant interior boasts three ultra-luxurious bedrooms with generous indoor/outdoor living spaces. Don't miss the opportunity to plunge into the infinity pool and take in the beautiful vistas from your lofty point of view.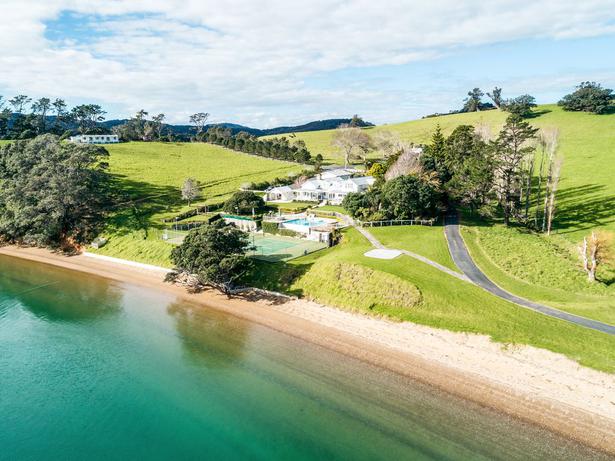 Kauaroa Estate is a sprawling playground. Photo / Supplied

This award-winning stay includes 'Big Sur' style north-eastern views above Onetangi Beach across to the Coromandel, gourmet Electrolux gas BBQ, outdoor fireplace and a chef's kitchen - a perfect home for entertaining.

READ: Waiheke's Lantern House Is The Perfect Respite From Modern Life

Situated in a quiet location, this home is positioned close to both Palm Beach and Onetangi Beach. Three minutes to Ostend, 10 minutes to Oneroa.

To book visit Staywaiheke.com. Read more about this fabulous home here

The Compact & Convenient: Dove Cottage


If being surrounded by lush greenery is your vibe, this cute cottage is worth checking out. A short stroll from the white sands of Little Oneroa beach, Little O playground, the local dairy and much loved Dragon Fired pizza takeaways, Dove Cottage is a tidy two-bedroom holiday home, perfect for a couple or small family.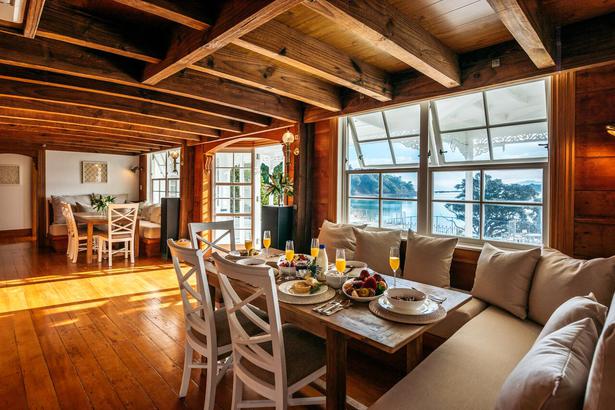 Kauaroa Estate's sprawling dining room and bar. Photo / Supplied

This open plan cottage features a modern kitchen with a dining nook, comfortable lounge, and outdoor dining with BBQ area.  Easy to maintain, this low-maintenance and recently refurbished property is perfect for those with discreet and simple taste.

27 Goodwin Ave, Onera. To book visit Staywaiheke.com

The Grand Escape: Kauaroa Bay Estate

The ultimate party palace, this grand property is for those with a big budget and a big lust for life. Whether it's a family getaway, a group of friends coming together, or perhaps a work event, this elegant estate at Kauaroa Bay is an oasis of peace and privacy on your private bay, with a full panoramic vision that begins the moment you arrive on the property. Owned by US billionaire Julian Robertson Jr, a lodge developer and philanthropist, Kauaroa is a unique stay.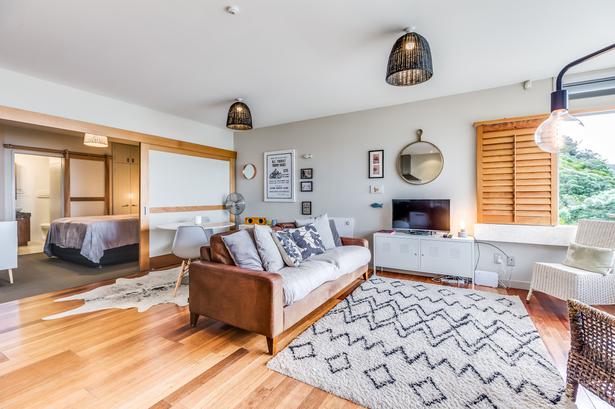 Where do you start with a place of this grand scale? sitting on 34ha of property, this homestead includesfive double bedrooms accommodating up to 10 guests, billiards/game room and pub-style bar, infinity pool with spa, pizza oven and tennis court, two boat moorings for vessels up to 40 feet, and much more.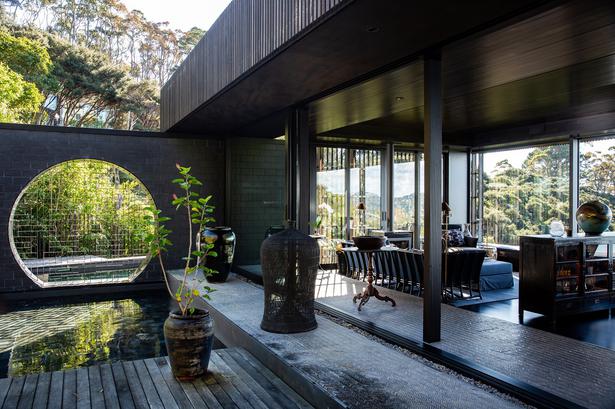 Guests can easily access by boat, helicopter (helipad on-site), seaplane, or vehicle.  You'll get lost with so many great pockets to unwind too; whether it's a garden nook with a good book; or drinks at sunset by the pizza oven, this is a beautiful way to celebrate life with loved ones. Also a great venue for a wedding. 
341 Gordons Road, Rocky Bay. To book visit Staywaiheke.com
The Crowd-Pleaser: The Sands Apartments and Villas
Featuring a variety of self-contained apartments just steps away from the stunning Onetangi beach, this is a great option for groups and families looking for their own self-contained apartment.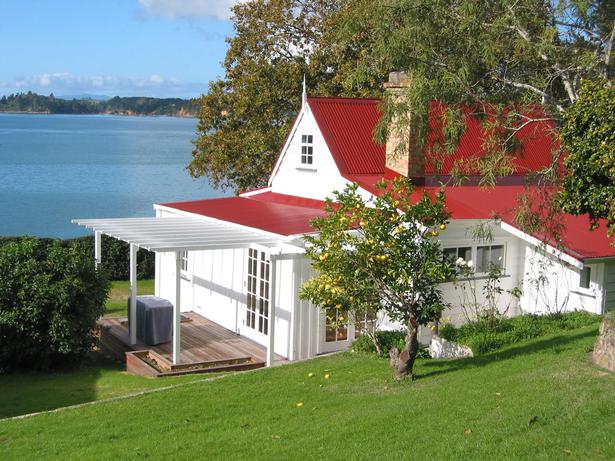 All within walking distance to cafes, beach and wineries, each apartment features one parking spot per apartment, laundry facilities and BBQ.
141 The Strand, Onetangi. To book visit Thesandswaiheke.co.nz/
Share this: