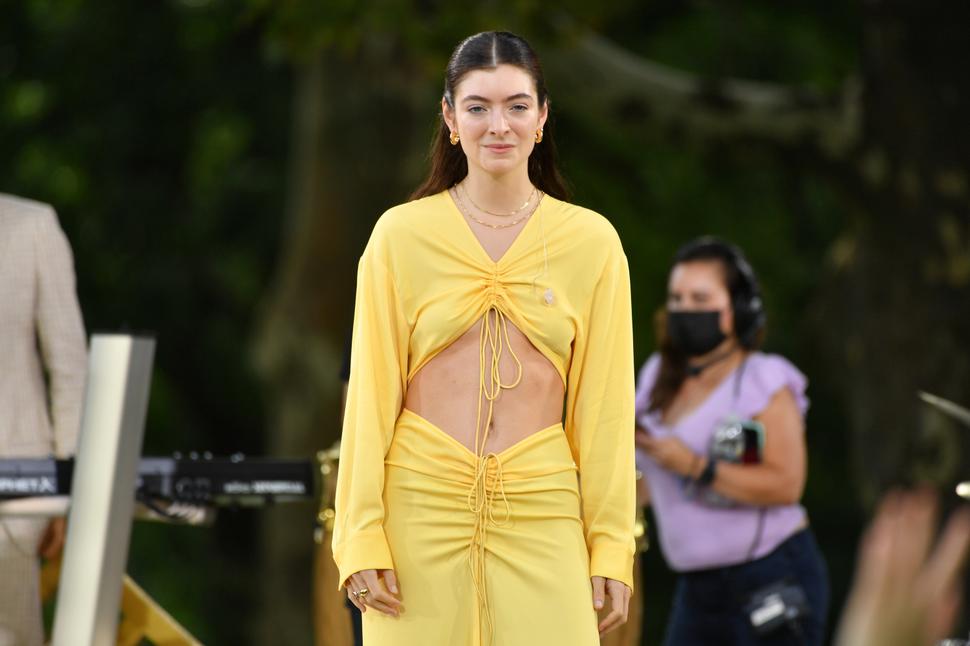 Lorde's 'Solar Power' Companion Piece Is A Significant Step Forward For Te Reo
In time for Waiata Anthems Week, and ahead of Maori Language Week, the pop star pays blissful tribute to our indigenous language
Friday Sept. 10, 2021
It's been a major week for 24-year-old singer Lorde, who revealed a stunning cover and shoot for American Vogue's October issue, photographed by Théo de Gueltzl and styled by Camilla Nickerson.
Closer to home, she has also debuted a companion piece to her new album, Solar Power, sung entirely in Te Reo Māori, called Te Ao Mārama.
The artist revealed the news in a release on Thursday afternoon, writing, "I've been waiting a really long time to share this with you."
READ: Lorde's blissful new song Solar Power is here
"It is my great pleasure to present Te Ao Mārama, a five-song companion piece to Solar Power, sung entirely in Te Reo Māori, the indigenous language of Aotearoa New Zealand."
She also spoke of the Māori principle of kaitiakitanga, which refers to caring for the sky, sea and land.
"I'm not Māori, but all New Zealanders grow up with elements of this worldview. Te ao Māori and tikanga Māori are a big part of why people who aren't from here intuit our country to be kind of 'magical', I think."
Lorde said that as a New Zealand artist, it was important for her to showcase te reo Māori in her work.
"It's also just a crazy beautiful language — I loved singing in it. Even if you don't understand Te Reo, I think you'll get a kick out of how elegant my words sound in it."
Lorde thanked friends Hemi and Hana for translating the words into Te Reo. Prominent New Zealand artists Bic Runga and Marlon Williams also feature on the tracks.
"I know I'm someone who represents New Zealand globally in a way, and in making an album about where I'm from, it was important to me to be able to say: this makes us who we are down here."
All the proceeds from the EP will go to two New Zealand charities: Forest and Bird and Te Hua Kawariki Charitable Trust.
READ: Jack Antonoff on songwriting, being an emotional baby & his quest to find joy
The making of Te Ao Mārama was overseen by producer and musician Dame Hinewehi Mohi (DNZM) and Māori performing arts academic Sir Tīmoti Kāretu (KNZM QSO).
Dame Hinewehi Mohi has made a significant contribution to raising the profile of te reo through music and the Waiata Anthems initiative, and is best known for her double-platinum and groundbreaking 1999 album, Oceania, featuring the now-iconic track Kotahitanga.
Watch the seven-part mini-documentary series now on TVNZ OnDemand about the journey for some of our greatest musicians recording and singing in Te Reo, featuring Drax Project, Katchafire's Logan Bell, Bic Runga, Che Fu, Melodownz, Annie Crummer, Hollie Smith and Don McGlashan.
Each episode tracks the artist's path, through the origin of the song to its translation and meaning, exploring how it came to be with a powerful live performance.
TE AO MĀRAMA TRACKLIST
The EP is available to listen to on Spotify
1. Te Ara Tika / The Path
2. Te Ao Mārama / Solar Power
3. Mata Kohore / Stoned at the Nail Salon
4. Hua Pirau / Fallen Fruit
5. Hine-i-te-Awatea / Oceanic Feeling
– NZ Herald, with additional reporting by Dan Ahwa

Share this: