Artist In Residence: The Graceful Moves Of Dancer 'Isope 'Akau'ola
A moving performance art piece conveys a mixture of emotions for this talented performer as part of Tautai's Fale-ship residencies for 2021, exploring themes of hope and home through his practice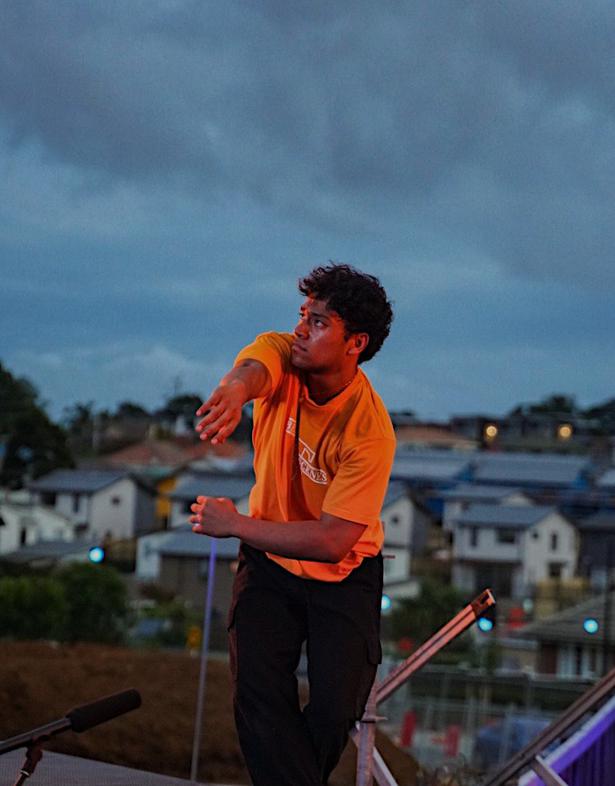 Friday Oct. 15, 2021
As part of our Tautai Fale-ship artist in residence series, we get to meet the 10 artists who have successfully gained the opportunity to partake in this year's Tautai Fale-ship residencies.
The leading Pacific arts organisation officially launched its two-week digital residency this week, responding to global transformation through a localised lens, helping amplify, collaborate with and support the indigenous authorship of Tagata Moana artists in Aotearoa.
Each artist receives a grant of $2000 to support the development of new or existing projects in their own creative centres.
"The Fale-ships form part of a deeper kaupapa to bolster the creative expression of Moana artists during this time of great change," explains Tautai director Courtney Sina Meredith.
"The residencies are about more than platforming exciting talent during lockdown, they are driven by an indigenous determination to re-centre the power dynamic within the wider arts landscape. The celebration of Moana artists creating within their own sacred spaces is as political as it is beautiful. I cannot wait to see what these residencies inspire in the 10 selected artists and within the Tautai community."
The Tautai Fale-ship Residencies are generously supported by Creative New Zealand and Foundation North.
Our first profile is with Fale-ship recipient 'Isope 'Akau'ola, a Tongan ('Utulau and Lotofoa) performance artist who was born and raised in Tāmaki Makaurau. He is currently studying towards a Bachelor of Performing and Screen Arts majoring in Contemporary Dance.
'Isope's passion for dance originated from a love of Pasifika dance and theatre and he has worked with various artists and groups including Aloali'i Tapu, Sau e Siva creatives and Tanya Muagututi'a.
As a child of the Pacific diaspora, 'Isope has found parallels within his own identity and the art that he wants to create and aspires to develop a practice for himself and his voice as a New Zealand-born Tongan artist. 
For his 2021 Fale-ship Residency, 'Isope has created a new moving image work titled Manatu ki 'Api (Remember Your Home).
In this new work, 'Isope reflects on the value of Tauhi Vā (nurturing relationships) and asks 'What is home?' from the perspective of his mother and himself. Inspired by the language of music videos, Manatu ki 'Api (Remember Your Home) combines performance, dance and sound design in a deeply personal and evocative video work. Domestic and urban scenes from 'Isope's home in Mt Roskill, Tāmaki Makaurau, are layered with symbolism to create surreal moving portraits.
Tongan tau'olunga, retro video aesthetic, a construction site and a caped superhero create a referential matrix of icons and images reflecting on 'Isope and his mother's experience as part of the Pacific diaspora living in Aotearoa.
'Isope says, "I have lived in the same state home in Mt Roskill for my whole life. Mt Roskill is currently going through a huge redevelopment phase where state homes are being demolished in favour of new houses and the people who live in them, the majority being Pacific and Māori, are and have been evicted."
How important is the Tautai Fale-ship residency to you?
I'm really grateful for this opportunity, to be able to share space and create within a Pasifika-centred organisation has been so rewarding. I feel so lucky to be able to create in a space where my integrity and culture are being uplifted, and all of what makes me Pasifika is embraced.
As an artist, what from your personal experience have you learned about yourself when it comes to your capacity to create during lockdown?
At first I found lockdown quite draining. I found myself suddenly negotiating all aspects of my life — my studies, my family and my partner — all in one space. The Fale-ship and the ability to create became quite a therapeutic experience for me, as I was able to bring forth all of these different aspects of my life to collaborate and help create the work. I think sometimes when you are blinded by the stress of the world you forget what's around you and the blessings they hold. It was a nice way to return to the people and the things that make me, me.
Where are you currently studying for your Bachelor of Performing and Screen Arts and how have you applied yourself and your practice within that environment?
I am currently studying towards my Bachelor of Performing and Screen Arts majoring in Contemporary Dance at Unitec. Pasifika and Māori have always been minorities within this programme but they are continuing to and have contributed so much to the contemporary dance community here in Aotearoa.
I am sitting within a really interesting place where the landscape of this community is being interrogated and things are slowly shifting and changing. I'm really grateful to be in this space at Unitec as I feel like the acts of interrogation and change are being welcomed and I feel like my voice as a Pasifika is valued.
Within this environment, I have been trying to define my voice and practice. I have been able to research my own culture, decolonial practices and also what it means to build community. Moving forward into my third year next year, I hope to put more of my research into practice.
Your video Manatu ki 'Api (Remember Your Home) is an emotional and personal story. Through the process of this work, how has it helped you emotionally in dealing with losing the home you were brought up in your whole life?
Through the process of creating Manatu ki 'Api (Remember Your Home), it has prepared me to say goodbye and to be at peace once my family and I are told to leave our home. My home now has been the only home I've ever known, and when you see your neighbours, who are some of your first friends, get evicted and when you see their homes be destroyed, sometimes it evokes a sense of anger and loss.
I think while creating this process it has unconsciously become an act of healing for myself. Because of this work, once we are told to leave, I will be ready.
What was it like talking to your mother about her memories about moving to New Zealand? How often do you communicate with her about these stories, stories so many children of the Pacific diaspora are familiar with?
It was really moving to be able to talk to my mother about her experiences and I love hearing her stories.
I'm the youngest of five and my mother had me at a later age and there's a huge difference between the worlds we grew up in, both geographically and time-wise. I often feel a huge distance between my mother and I, but being able to listen to the stories of her growing up and Tonga, brings everything closer.
I feel at home when I hear her stories and that disconnection between my heritage and culture somehow becomes mended and tied.
What do you hope people will take away from viewing Manatu ki 'Api (Remember Your Home)?
This work mourns the loss of home and culture but it also speaks to hope and the desire for something more.
My mother and I are huge optimists and we imagine and hope for better possibilities for ourselves and I think that really bled through the work. I think it's beautiful to be able to dream and to hope and to desire for more.
Especially for Pasifika and Māori, when things are stacked up against us and we are expected to be grateful for what we have and our place in society, we are not often given the opportunity and privilege to hope. I invite those who view Manatu ki 'Api to take away this sense of hope and to dream.
There are so many layered references in Manatu ki 'Api (Remember Your Home), and much like a music video, there are stories within stories. How long did it take for you to work on it from conception to the final edit?
Once we were in lockdown I told my partner straight away that I wanted to create a dance film. I didn't know what I wanted it to be about but I had two images stuck in my head that I wanted to be expressed through the film. The first was of me dancing in a car park with a ngatu (tapa cloth) and the second was of my Mum's feet being washed.
When the Fale-ship was announced it gave me an opportunity and the motivation to actually fulfill my desire to create a dance film.
The expression of interest allowed me to really flesh out my ideas and the concept of the work was born. I did my research, brainstorming and choreographing for the film in four days and then I filmed in two days.
I then used the rest of the remaining days of my residency to edit. My favourite section of the residency was the research process as I felt like a huge sponge absorbing and learning from my tuakana. I am so inspired by BIPOC artists.
When creating this work I curated a huge mood board of all the work that has inspired Manatu ki 'Api and I began to really notice the importance and the urgency for our voices to be shared and embraced. I think the power to be able to create worlds we imagine for ourselves is just as vital as the way we critique and challenge the world.
Being able to create and plan the worlds for Manatu ki 'Api was such an inspiring experience as it required a lot of thought and care, especially for the symbolism in the film.
There's something nostalgic and familiar about the piece that a lot of Pasifika communities will relate to. What does the concept of home mean to you?
I feel like the themes explored in the work are universal and especially relatable to Pasifika. We walk this land but it is not ours, and we are often in search of home. I think home to me means a place of belonging, a place to call my own and a place to stand in.
It's a tricky question because I feel mafana (a Tongan concept that describes an overwhelming sense of warmth) and I feel empowered when I think about my ancestors and Tonga but I also feel disconnected from it and unable to call it my home because I have been raised here in Aotearoa.
I think this work was a way for me to selfishly reconcile with this inner dialogue and for me to start this talanoa with not only myself but also with those who may feel the same way.
Find out more about  'Isope 'Akau'ola and the Tautai Fale-ship residencies at Tautai.org.
Share this: