Meet My Muse: Trelise Cooper Shares Her Dallas-Style New Collection
Trelise Cooper dresses a 'muse' in a key look from her new collection ahead of NZ Fashion Week 2018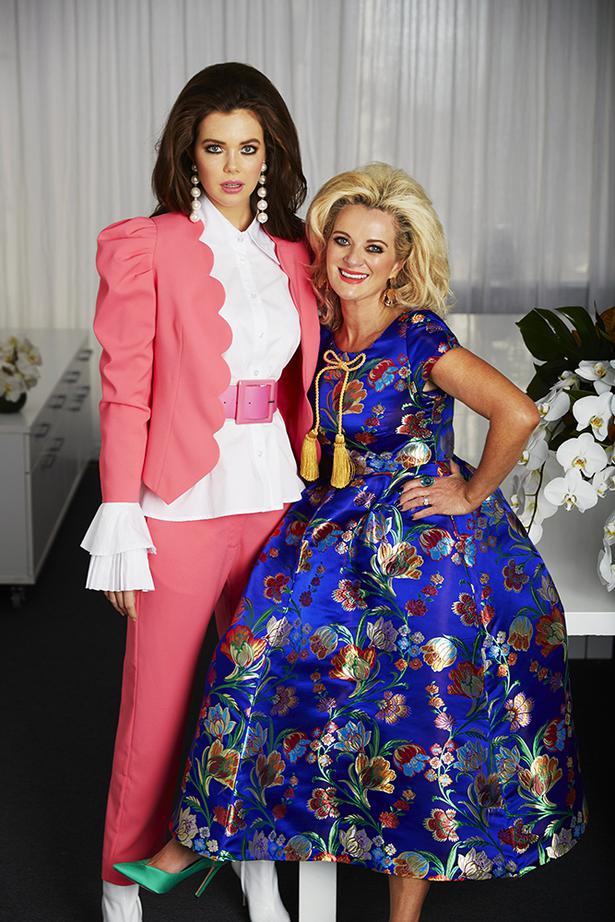 Thursday Aug. 30, 2018
Dame Trelise Cooper never thought she'd see the day the big-shouldered excesses of her 1980s designs would make a comeback.
But this season she's decided it's "all about the shoulder line and sleeve", with suiting in jewel colours of green, watermelon, yellow and lilac ("but not wussy lilac"), complete with exaggerated shoulders and flared sleeves.
Model and muse Sophie May Laurie perfectly embodies the "bold and beautiful, Dallas-style look" that Trelise's pre-fall collection is based on. "It's all about colour and texture and big hair and big jewels. I like the phase that fashion is going through at the moment. It's the complete opposite of minimalist, with Gucci's Alessandro Michele leading the way."
Maximalist fashion isn't exactly a departure for Trelise, who's known for her bold prints, embellished garments and use of colour.
READ: My Summer: Trelise Cooper
It's an aesthetic that's both expected from and inspired by, her customers. "I'm always blown away by how brave my customers are. Every collection it's the things that I'm unsure about that are usually the things that sell out the fastest — the most out-there, colourful thing. We can't keep bright brocade fabric in our stores, it goes that fast."
Explaining the appeal of colour is easy for Trelise. "Think of nature, think of the most beautiful fish or flowers or birds; people are attracted to that. They'll always pause over a flower garden overflowing with colour. It's the same with clothes. I love black, but if you want the attraction factor I think it's got to be colour, which is what women start to realise when they wear it and suddenly get comments on how great they look."
Trelise knows her customer through and through. It's a woman wanting a dress for an event or a special occasion that either covers her arms and waist or flaunts both. Her designs cater for those options.
READ: Dame Trelise Cooper's prestigious new accolade
"I'm totally driven by wanting to make women feel beautiful. So that when they put something on they have that elevated and transformed effect. They might be feeling flat and when they put the dress on it gives them the confidence to go and be out in the world.
"Whether that's the mother of the bride when they're not used to being in front of a crowd or whether it's a CEO giving a speech in front of hundreds of people. It's having the support of a really great garment."
Trelise's customers offer that support back by attending her Fashion Week shows in droves. After a brief absence from the schedule, she is back this year with two shows. These will highlight pieces from spring-summer, resort and a pre-fall across three brands. "We're using both runways so it will literally be the biggest show at Fashion Week."
In typical Trelise fashion, she's going to be hands-on with every element, even the seating plan. "My business is extremely personal, and we take everything seriously. It's like organising a wedding for 2000 people."
Muse: Sophie May Laurie, model at 62 Models
Wearing: Shoulder Like It's Hot jacket, The Shirt Degree shirt, Strut About Town pants (pre-fall 2019)
Share this: