Gucci's Spring 2022 Collection Is An Homage To The Glamour & Eccentricities Of Hollywood
Gwyneth Paltrow, Sienna Miller and Diane Keaton sat front row on The Hollywood Walk of Fame runway
Thursday Nov. 4, 2021
There are few brands with the power to close down Los Angeles' Hollywood Boulevard and turn the Hollywood Walk of Fame into a catwalk — which is exactly what Gucci did on Tuesday night to showcase its latest collection.
This label is not short of celebrity support and there were A-listers on both the catwalk (Jared Leto, Jodie Turner-Smith and Macaulay Culkin) and front row (Diane Keaton, Sienna Miller and Lizzo, as well as Gwyneth Paltrow wearing creative director Alessandro Michele's modern iteration of the red Tom Ford-era Gucci suit she wore to the VMAs in 1996).
READ: Made With Love: The Tight-Knit Renaissance Of Craft
It was the label's first in-person event since the start of the pandemic, and the message was clear: partywear is most definitely back, and with his 'Love Parade' collection, Michele is making a clear play for next year's Oscars red carpet.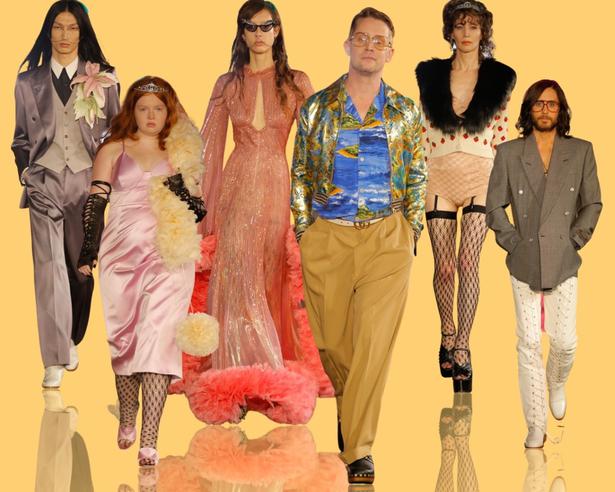 Even if the setting and models hadn't conveyed that this was an homage to old Hollywood glamour, the clothes certainly did. The feather-trimmed hems of sequin-embellished evening gowns almost danced along the pavement and ombre fringing shimmered under the spotlights. There was statement suiting in colourful satin, corsetry, bows, ruffles, Gucci logo hosiery, ultra-high platform heels and satin evening gloves.
There were sunglasses too, which, teamed with all that finery, made the models look like they were heading home after the world's coolest afterparty. If there is one fashion lesson to learn from this, it's that more is definitely more when it comes to dressing up.
It also showed Michele's commercial savvy though. While it's always fun to see Harry Styles rock a gender-bending Gucci look on the red carpet, accessories like sunglasses, tights, shoes and bags are the items that buoy a fashion brand's bottom line. The brand's retail sales are currently up by seven percent on last year, thanks in part to the relaunch of the 'Diana' bag, a version of the style loved by the late Princess of Wales.
House Of Gucci: A First Glimpse At Ridley Scott's Impossibly Alluring Film
For Michele though, the thread of inspiration ran deeper than the Golden Age of Hollywood. He was also thinking of his childhood in 1970s Rome, and the stories he was told about the film industry by his mother, who worked as an assistant at a production company. In fact, he initially wanted to become a costume designer, but film's loss was fashion's gain.
"I remember all the stories she told me, and the details and the sparkles, about that dream factory," he said. 'Everything felt like a fairytale. Back then, we lived in a squat in the outskirts of Rome… Those subversive tales helped me in piercing the greyness. That was my escape."
His nod to the Seventies was clear in the sharp lapels on the suits and voluminous silhouettes of the evening gowns, but it was still appealing to a 2021 eye in the sense that they look like the kind of treasures we could only dream of finding in a vintage boutique — just look at Gwyneth's new-old suit.
The Gucci brand celebrates its centenary this year, and with Ridley Scott's House of Gucci coming to cinemas later this month, there has never been more buzz about the brand. It is Michele's vision powering its renaissance though. The Love Parade collection was another purist display of that vision, and with such appetite for his work, there's no point doing anything else.
 WATCH: Gucci's spring 2022 The Love Parade show
The Daily Telegraph
Share this: