Model Moment: Meet All Is For All Model Geneva Hakaraia-Tino
Get to know Geneva Hakaraia-Tino and what's inspiring her this NZ Fashion Week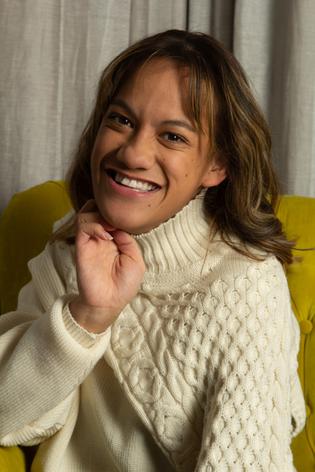 Twenty-six-year-old Geneva Hakaraia-Tino has a love of te reo and style. She works with innovative organisation All Is For All, founded by Grace Stratton, with help from Angela Bevan. A social change making agency, All Is For All works in the realm of accessibility and comprises an e-commerce platform, boutique modelling agency and consultation service, each focused on the need to make fashion and the wider world accessible.
You have a passion for te reo. Why is this important to you on a personal level?
It is part of who I am, keeping me connected to my culture and heritage. I was unable to attend kohanga and te kura kaupapa which meant that I was educated in a mainstream setting. Although my educational experience was fabulous, I felt I was robbed of being part of the Maori-immersed education system. I jumped at the opportunity to study te reo at uni and I am so grateful for this.
Meet Odette, The Breakthrough Australian Singer-Songwriter To Watch
What are your three favourite items of clothing in your wardrobe?
My black and white pinstripe jumpsuit, a mustard-coloured turtle-neck and a short Levis denim jacket. It's a good outfit to go out in on a chilly winter's night.
Why is it important for fashion to be more diverse and inclusive?
Everyone deserves to be celebrated, no matter whether one has access needs or not. It's important that the fashion industry shifts its focus from being trendy towards racial inclusivity as a core value. It will empower young women to feel comfortable with who they are regardless of their abilities, race or body type.
Favourite album?
Rainbow Valley by Matt Corby.
Last song you downloaded.
Wishing Well by Niko Walters.
Favourite snack?
Bluebird Ready Salted chips.
Favourite style icon?
My mother is the most stylish person I know. She knows how to pick an outfit and 99 per cent of the time, it looks great.
Favourite App?
Instagram. I like seeing what is trending, what other people are doing, and how it's being used to drive social change. #Fashionwithoutbarriers
Share this: