Artist Claudia Kogachi's Cameo For Ruby Is A Love Letter To Blue
The evocative hue, from shades of cerulean to cobalt, forms a kindred connection between the local label and the contemporary artist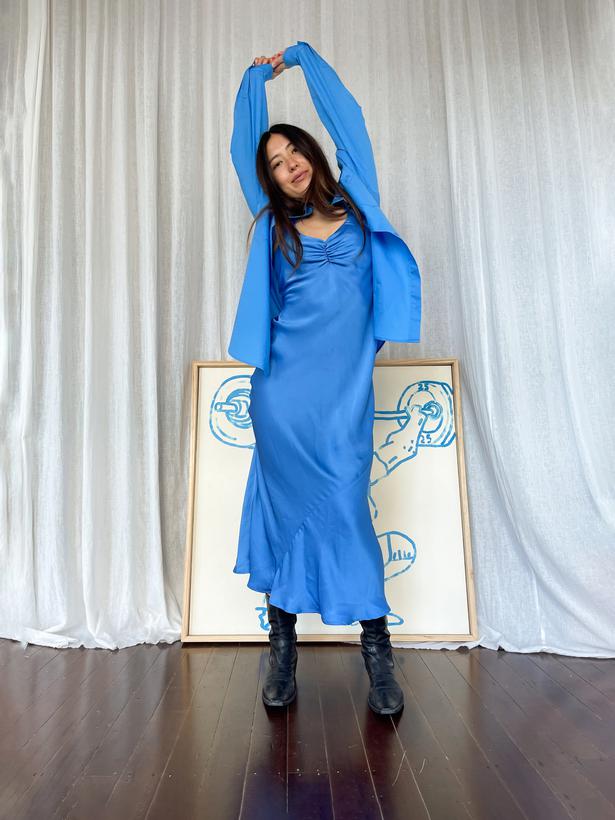 Friday Sept. 24, 2021
Fashion and art collaborations are nothing new, but when the partnership feels natural, it offers up inspiring new possibilities to think outside the box about how we dress. 
To mark the launch of its new summer collection simply entitled Blue, local label Ruby tapped contemporary artist Claudia Kogachi to star in its look book and campaign.
The creative synergy combines Ruby designer Deanna Didivoch's passion for the hue with Claudia's own love of an evocative colour palette.
"I was delighted to hear about the Ruby Blue collection as it's my go-to colour in my art practice," says Claudia.
"Blue has been a colour I am fascinated by for its ability to grapple emotion and its range of warmth and sensation."
Photographed during level 4 lockdown in Auckland, Claudia teamed up with bubble mate Hannah Davis-Gray, who photographed the collection in their home studio, with Claudia's artworks featuring in some of the resulting images.
"A few months ago, Emily [Ruby general manager and designer for sister label Liam] purchased a tapestry piece from Claudia, after which I began following her work," says Deanna.
READ: Emily Miller-Sharma and Deanna Didovich Celebrate 10 Years At Ruby
"I immediately loved her methods, subject matter, and use of colour. We were speaking through the development of the collection as a team, and discussing Claudia's work, and her use of the colour blue through her characters, and it seemed fortuitous that she be part of the collection in some way."
"It was a pleasure to work with her, and there was an immediate trust that she understood the aesthetic and energy of the collection, which can clearly be seen through the lookbook."
Exploring key colours of Capri, Cerulean, Lagoon and Surf, Deanna offers block-coloured dresses in vibrant shades of blue along with a floral print rendered on denim separates and a silk dress.
Her personal favourites? "The Butterfly Jacket and Jean, the Mermaid set and the Aquarius Satin Slip are at the top of my list."
"Having very little modelling experience in my lifetime, I was flattered yet nervous when approached," says Claudia.
"It didn't take long until I realised how enjoyable the shoot would be, especially in lockdown! Deanna was very kind and down to earth, she gave Hannah and I heaps of creative control during the shoot, which was fun. The clothes really do speak for themselves — I felt comfortable and confident in every piece."
Share this: