The Pacific Fusion Fashion Show Returns, Showcasing Emerging Maori & Pacific Designers
Among the talent is Alexandra Simpson, who tells the story of her journey via the runway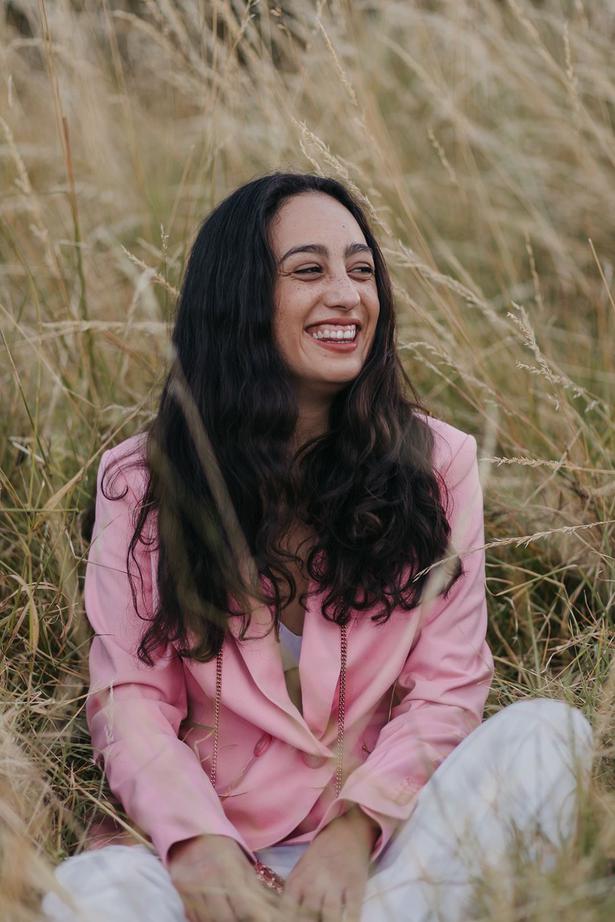 Thursday May 26, 2022
The Pacific Fusion Fashion Show is back for its sixth year, celebrating and promoting talent from Māori and Pacifica students who are studying design and fashion. 
This year, the event will showcase nine designers who have recently graduated or are in their final years of study.
One of those students is Alexandra 'Ellie' Simpson, a sustainable fashion advocate and lover of pink. We spoke to Ellie in the lead-up to the show and the special connection she has to fashion.
Can you tell us about yourself as a designer and why you wanted to pursue a career in fashion?
I'm actually still studying at Whitecliffe, this is my last year. I would say I'm a conscious designer who also values beauty, and yes, you can make a beautiful garment whilst still valuing the earth and its people.
Since I was a kid I've always wanted to be in fashion; it's the beauty, the art of creation and sharing that with the world whilst also telling a story that inspires me.
As a sewing tutor, what do you enjoy about the process of sharing knowledge with others?
I'm a sewing tutor at an art studio called the Thread Room. I'm so grateful for my job as it allows me to teach and connect with people of all ages about the skill of sewing, enabling them to create things of their own but also inspire them when it comes to creativity.
READ: Meet Megan Stewart, The Designer Fashioning Extremely Dreamy, One-Off Shirts
What can we expect to see on the runway from you this weekend?
Expect storytelling through garments about my journey as a Māori woman.
Pacific Fashion Fusion is one of only a few events that celebrate and spotlight Māori and Pasifika fashion designers and talent. Why does participating in such an event mean for you on a personal level?
I think it's so great they are doing this and it is very special to me. Healing the connection to my Māori side has been very relevant over these last few years, so to merge the two, a connection to my ancestry but also my love for fashion, makes me so happy and grateful.
What materials do you like to work with and why?
Natural fibers as, of course, they are better for the planet (though you have to do your research on each one) but reusing fabrics or buying secondhand/vintage is also great because you never know what gems you are going to find. I use a mixture of all these because of the feel of the fabric, breathability, sustainability, and also uniqueness. When working with natural fibers it can be advised to handwash. I love that as it slows down the process.
I sometimes like to handwash in a basin on the deck on a sunny day, connecting to the fabric or a garment and thinking about how much time but also how many hands have touched this at different stages is very special, whether that be the actual fabric itself before making or just a garment of my own.
What are your earliest fashion memories?
Watching runway shows like America's Next Top Model from a very young age, and thinking about how am I going to be in this world. Also, my friend's mom in high school worked for Dress For Success. Dress For Success supports and dresses women who are wanting to get into the workforce to empower them and make them feel confident. I would volunteer there and style them for their job interviews and help with confidence, it was great.
STYLE LIAISONS: In Conversation With Fashion Designer Havilah Arendse
What is the best piece of advice anyone has given you?
Probably my aunty who said something along the lines of, "You're always going to be growing and changing and drawn to different things, listen to your intuition and do what feels right for you".
Sustainability has become a buzzword in fashion and across all industries. How does your passion for sustainable practices influence your decisions as a creative person?
Yes, it has now, which I guess has its pros and cons, but I think it honestly just requires me to be more open-minded. It's not as easy as, "Oh, I'll just get some fabric." Where does the fabric come from? Or if I design this garment, will I actually wear this or can it be remade into something new after? It's mostly thinking outside the box with resources and how to be more conscious of how much I'm using and what I'm actually using.
Was there a person in your life who inspired your appreciation of style?
My nan, who passed away. Though I didn't know it at the time, the countless times I snuck in her wardrobe when I was little to try on gorgeous nighties and jewellery or to sneak a peek at her pattern books or button box I think definitely sparked something in me. The love for beauty and dressing up and how that made me feel stayed with me ever since.
What can we expect to see from you beyond Pacific Fusion Fashion Show?
My dream is to become a sustainable and ethical designer, whether that's in Aotearoa or somewhere else in the world, but essentially to have a brand that has a positive impact on not only me but the planet and people as well.
The Pacific Fusion Fashion Show will be held Saturday May 28, 2022. Tickets start from $85 and can be purchased by visiting Fusionfashion.co.nz
Share this: